To see this as the main website, click here . Also find the Teacher Directory, Shopping Opportunities, and Healing, Guides and Energy workers, Pampering sections online!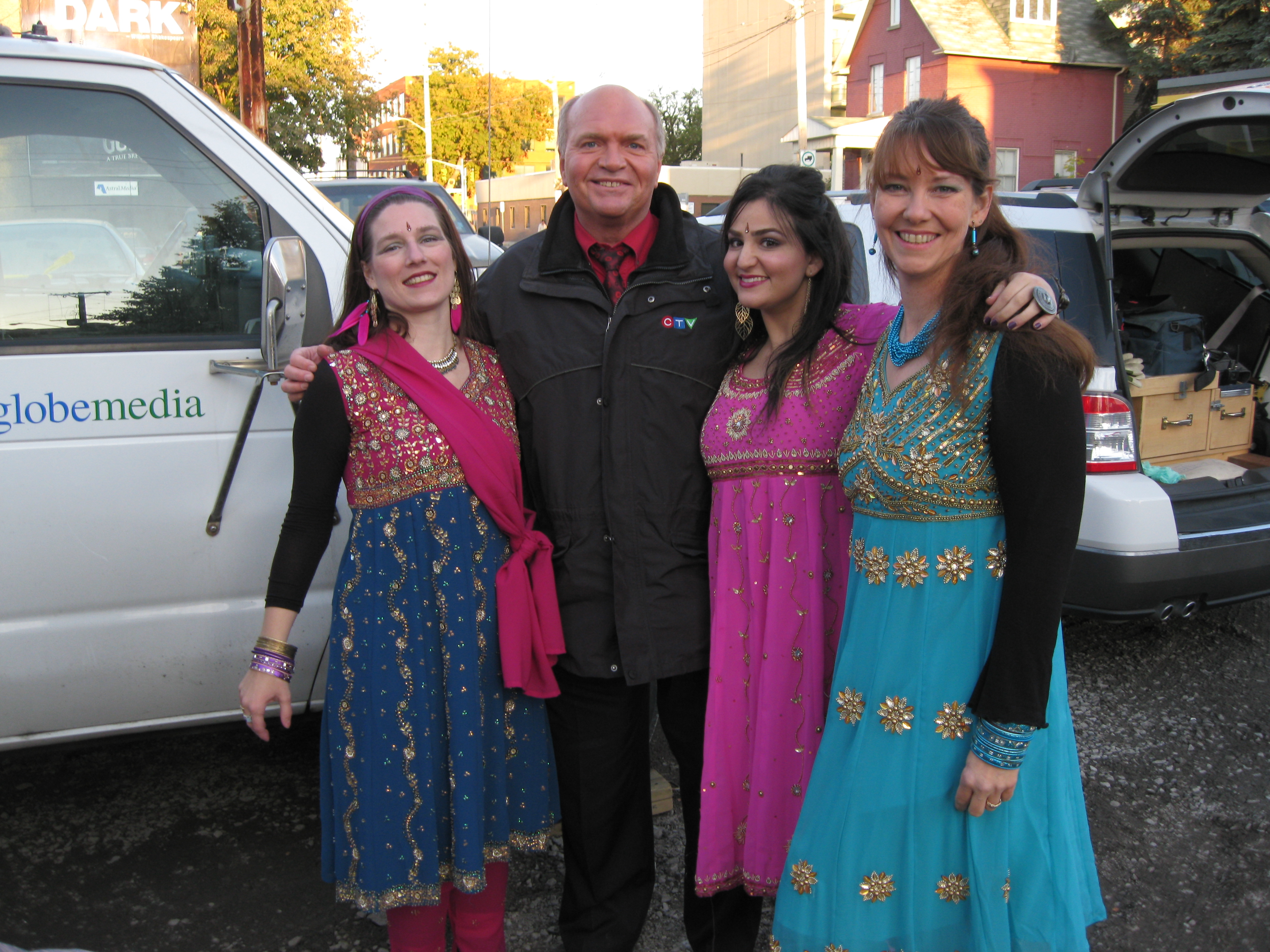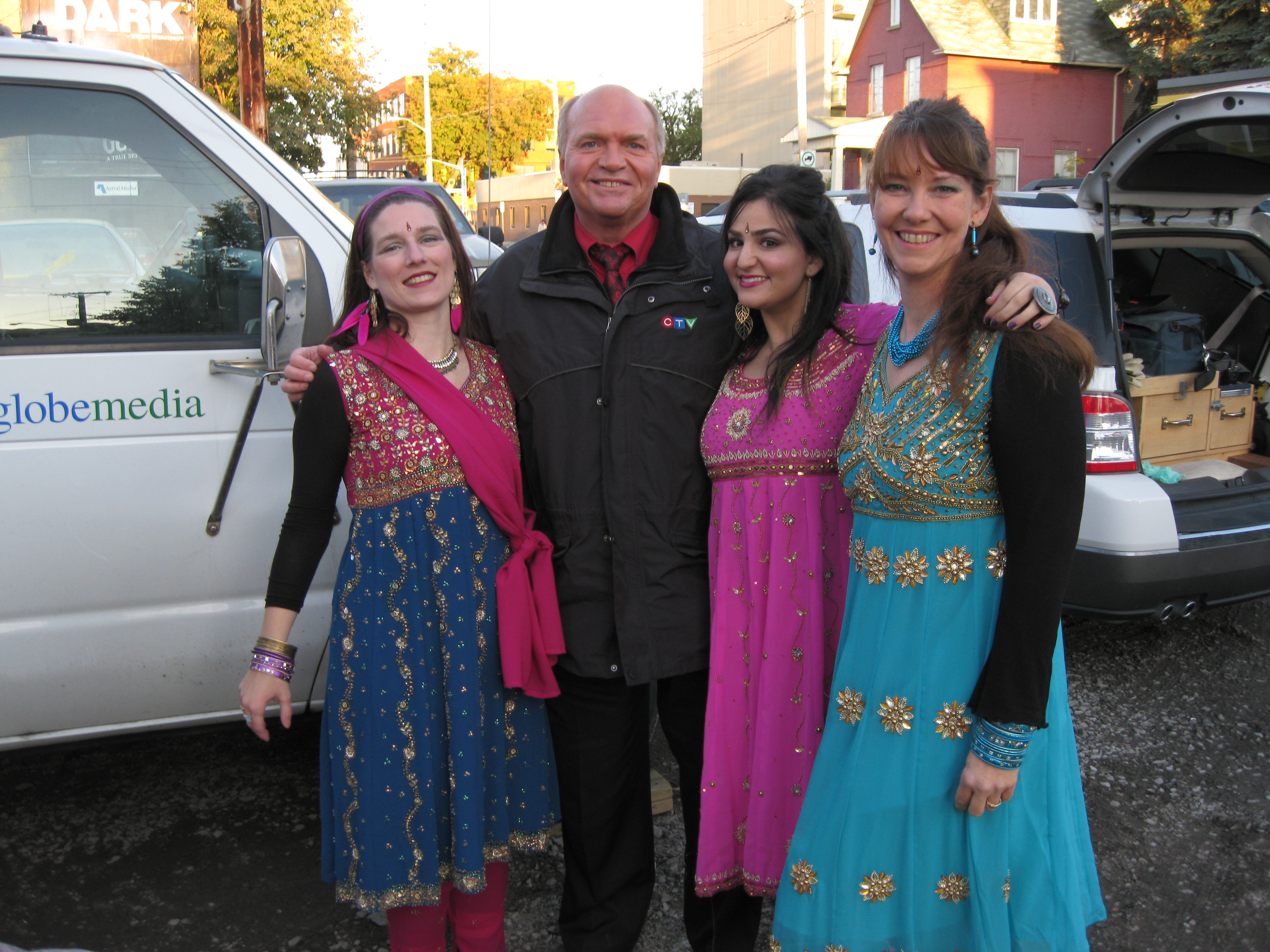 Good morning!
Thanks to those who came out on Friday in the cold to see us do our Bollywood thing and celebrate Diwali!  I'll be updating the Bollywood For Fun website soon with video clips etc. Busy, busy, busy!
The next few weeks seem to have something on every weekend – so be sure to check the Dancers' Newsletter online as well – It's hard to list everything every week and still call them Updates… So I have condensed things as much as I can, but there is a lot online!
Read on!
If you are able to help out at the Dancers' Bazaar on Saturday, please email me!  There are always benefits to being  a volunteer there!
Tracey/Halyma
DANCERS' NEWSLETTER – Update EDITION
Check out the Dancers' Newsletter Extra Features:
This week's Dancers' Newsletter Extra Feature is a visit to my blog for some advice on how to shop at the upcoming Ottawa Dancers' Bazaar! Check back this week for any extra comments – and please add yours too!
Click here for a quick look!
DOUBLE FEATURE:
Part 2 is your invitation to be creative and express your greenness!
Eco-TAV is running a video contest with prizes for the top 4 videos! If you have bought – or will buy – anything from my Eco-TAV line, I hope you will have some fun shooting a quick video clip sharing the ways you are "green"!
You can find the details online here!
INQUIRIES/Announcements
Teacher wanted:
"Do you happen to know anyone in my neck of the woods (well my school's area) who teaches Belly dance? We are putting together a set of community arts workshops and would like to invite community artists to participate. We can offer a little bit of an honorarium but I think one of the real benefits is exposure to potential new students / customers. The local glass studio has had a significant flow of customers through his involvement with previous workshops with our school.
Woodroffe High School, is in the west end. Near Woodroffe and Carling. Another easy land mark is Lincoln Fields bus station. Any one interested can contact me. Feel free to put my phone number out – 613-721-3458.
Thanks for your help."
Christy Stanhope  christy.stanhope@rogers.com
The Fall Fusion Cabaret – Special Thanks and DVD available!
"I'd like to extend a special thanks to everyone who helped make our sold out show, the Fall Fusion Cabaret, possible.  Mostly to Ms. Brice for travelling all the way up here for the weekend, and to our performers who came from other cities to dance in our show!  Locally, I'd like to extend gracious thanks to Tracey for all her help and support, Tom and Lainie for video and photo, Dantessa for the bar, and the Arts Court Theatre for their continued support of our events.  Thank you all for coming out to the show!
For those of you who missed out, or who would like a DVD:
DVD is available for order by contacting Tom at tom@darnermedia.ca and they are $20 each.
The DVD does not include Rachel's performances, but includes our guests Rosanna McGuire, Tribu Ghabal, Mat Jacob, Jamilah & Milana, Anna & Safiya, and Shakti fusion (including solos by Niki, Natasha and Leslie).  The sale of the DVD goes to support the production of the event and we are lucky to have so many original performances in one place!
Also please note: Anyone who took photos or film of Rachel Brice at the show, these may not be published without her consent! We always ask that no flash photography or filming happens, but sometimes it seems people can't resist.  Please do not post photos/videos of performers online without their express permission :)"
Leslie
2009 EVENTS
Tribal fusion workshops with Leslie!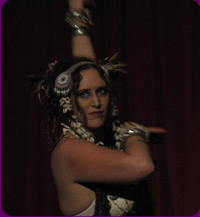 Sunday October 18th, 2009
Tribal Basics – new to tribal, or want to brush up on your technique?  This class is for you!
1196 Bank at Makin Moves
12:15-2:15pm (ish, depending on the class before ours finishing on time)
$30 drop in.
Friday October 23th, 2009
Tribal fusion combinations – this class is for the tribal experienced, or dancers well experienced in bellydance.
1196 Bank at Makin Moves
7:30-9:30pm
$30 drop in.
to register – leslie AT shaktifusion DOT ca
OCTOBER 18, 2009 onwards – Montreal
Gypsy/Folklorique/Bollywood Dances of India– For Belly Dancers
Workshop Series 2009 by Amrita Choudhury
18 October – Gypsy/folklore Dances of Bengal (River Gypsies) (1-5) $90
15 November – Gypsy/folklore/bollywood fusion! Part -1 (1-5) $90
13 December – Gypsy/folklore/bollywood fusion! Part- 2 (1-5) $90
Also check out this show Amrita will be a part of:
OCTOBER 23-25, 2009 ~ TORONTO
Hipnotech featuring: Rosanna McGuire
Labspace Studio
2A Pape Ave at Queen
Toronto
Doors at 830, 1st set at 930, 2nd at 1030Tickets $10 in advance at http://www.cleoflaptra.com/performance.html, more at the door, and reduced after the bellydance performance is over.
Weekend intensive Workshop:
http://www.cleoflaptra.com/instruction.html for details!
October 23rd-25th. 
Fees: 1/2 day: $45, or $90/day.
Friday October 23rd (Aurora Live Studios, 392 Queen Street E)
12-2pm: Yoga and fast technique.
230-430: Technique contin. and flexibility training

Saturday October 24th (Mad For Dance 263 Adelaide St. West)
1230-230: Fusion, movement invention, and creating choreography
3-5: Flapper fusion

Sunday October 25th (Mad For Dance 263 Adelaide St. West)
12-2: Funk styles for bellydancers – Funkifying your bellydance and bellydancifying your funk.
230-430: Slow technique and flexibility.
Rosanna
cleoflaptra@gmail.com
http://www.cleoflaptra.com
OCTOBER 24, 2009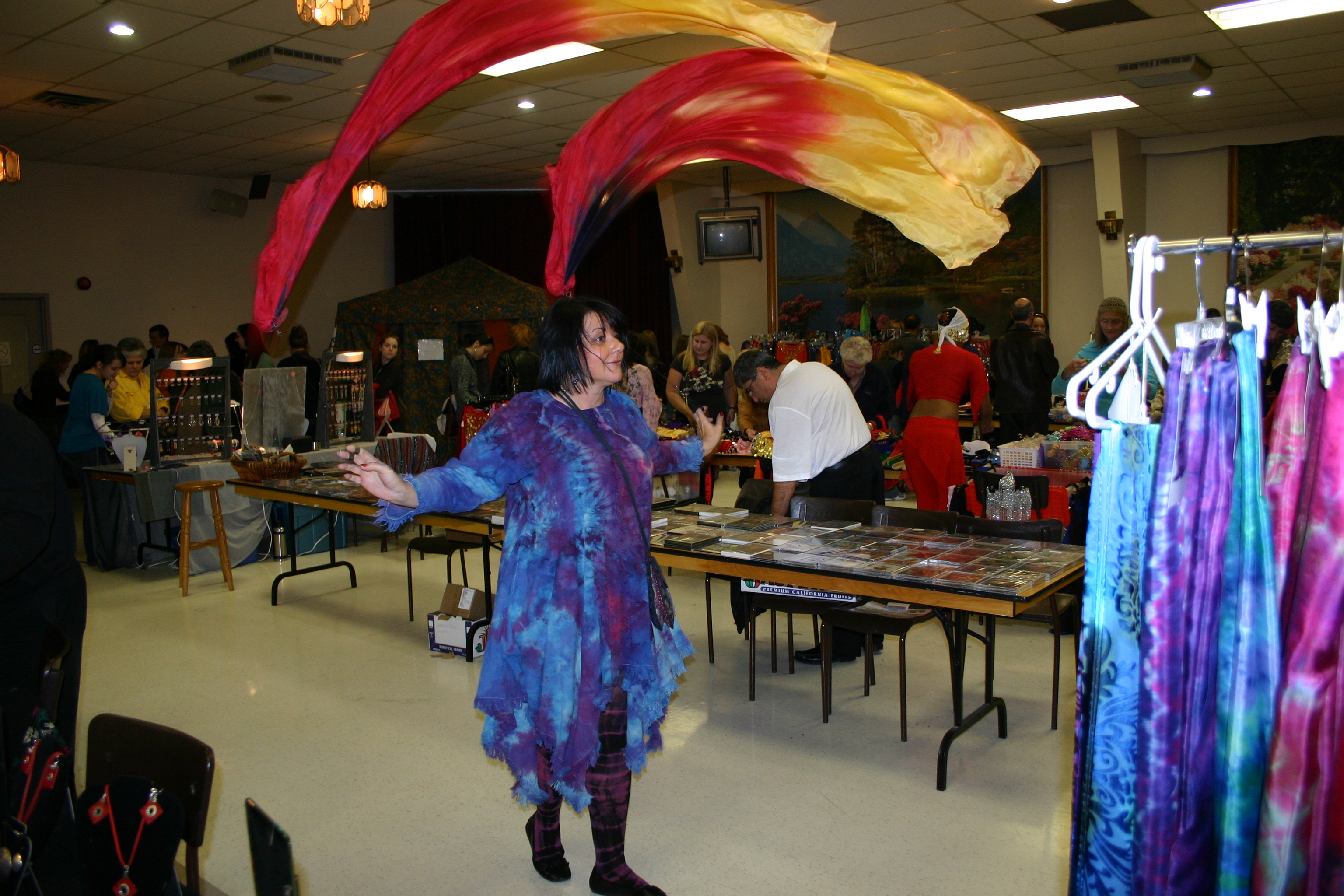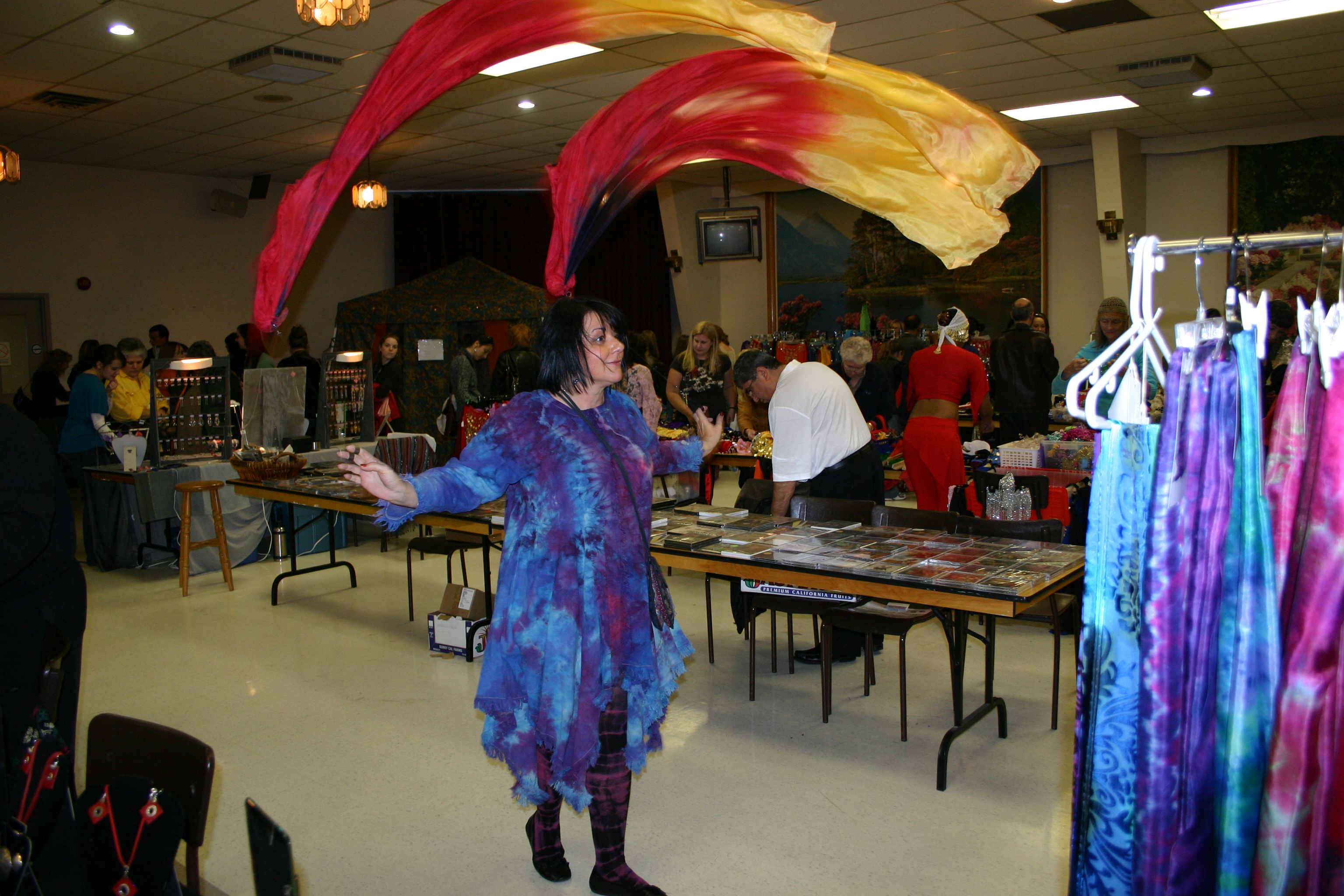 Yes, it's on Saturday
Ottawa DANCERS' BAZAAR

12:00 PM to 4:00 PM
260 McArthur (Knights of Columbus Hall), Ottawa.
VOLUNTEERS NEEDED – Email me if you can help! Tracey@tav-creations.com
GO TO THE ONLINE POLL to share your shopping requests!
Http://wwww.tav-creations.com/bazaar
November 1 2009 – Ottawa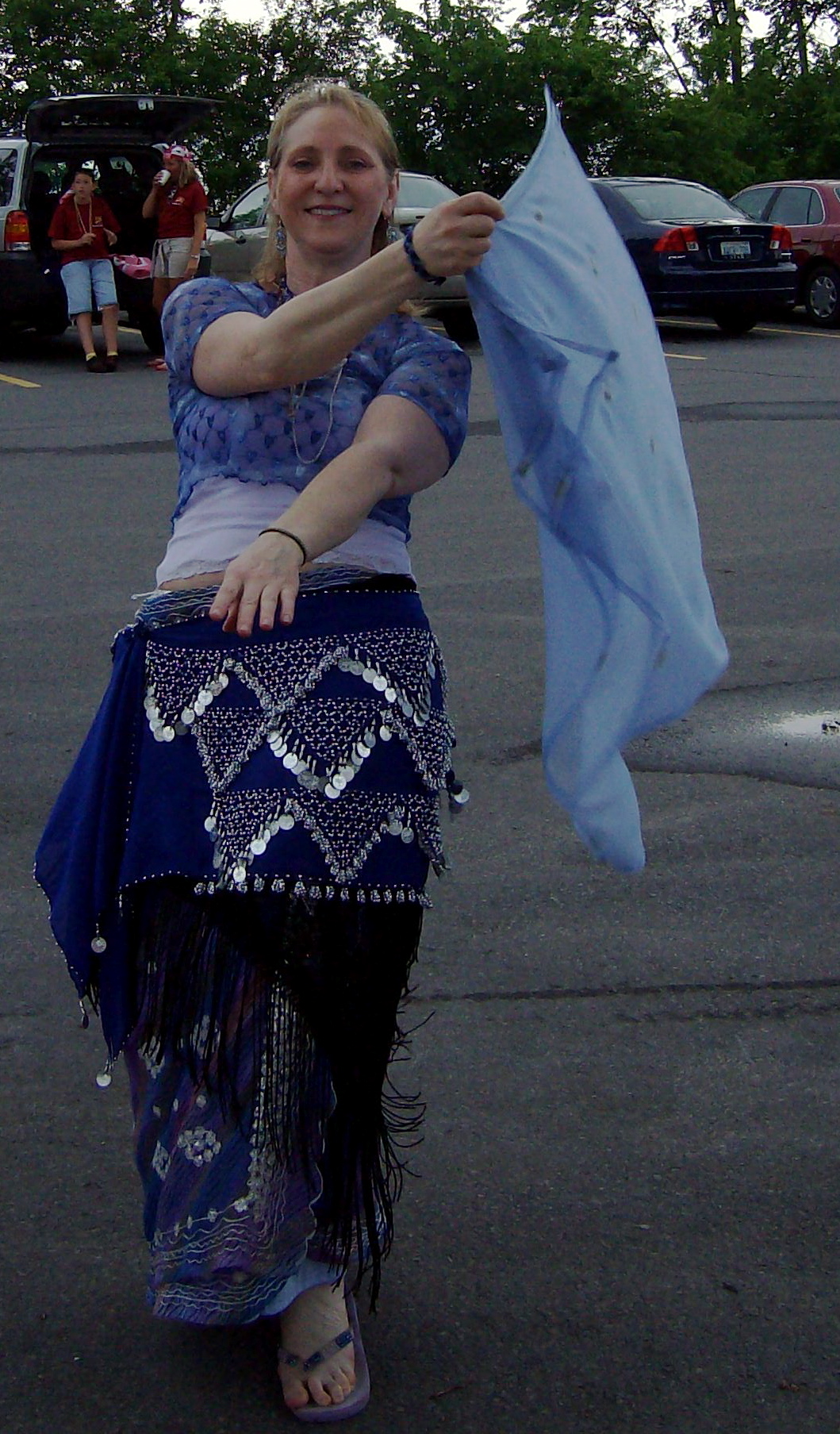 WEIGHTED VEIL WORKSHOP with Zamira
Sunday, 1 November 2009  1:00-4:00 pm
Location: Routhier Community Centre, 172 Guigues Street, Ottawa
1:00-3:00 pm Basic Workshop:
In this workshop you will receive instruction on all the techniques and
skills required to use weighted veils in your favourite choreography. From
basic movements to complex combinations and incorporating dance movement
with the dynamic movement of the veils. Weighted veils are rapidly
becoming the prop of choice for many dancers wishing to achieve a more
dramatic effect in dance or to add a new visual element. We will finish
off with a short choreography that will use much of what you learn in the
workshop.
Cost: $30.00 up to October 24th, $35 after. Buy a set of veils in advance
and get the workshop for $25 (must register by 24 October 2009)
3:00-4:00 pm Advanced Workshop:
This advanced weighted veils workshop extension is for those who wish to
continue into more advanced spins, turns, combinations and choreography
work. You must have participated in at least one workshop before taking
this advanced class (includes the above workshop).
Cost: $15.00 up to October 24th, $20 after. If you are taking the earlier
workshop that day you will receive a $5.00 discount for the extension.
PayPal payment accepted. Please add $1.00 service fee and PayPal to
zamira@theveiledeye.com
Email money transfer accepted. Please add $1.00 service fee and email to
zamira@theveiledeye.com
Routhier Community Centre, 172 Guigues Street, Ottawa
Parking available off-street. OCTranspo buses #1 & #9 stop within 1 block
For registration and information contact Zamira:
zamira@theveiledeye.com
613-797-4068
NOVEMBER 7, 2009
*Workshop with a twist*
Roxane (creative Clothing) is giving a workshop on NOV 7, from 1 to 5: HOW TO MAKE A BRA and BELT SET with pre-sequinned and embroidered fabrics. And to make it easier for you, she will have pre-packaged boxes of beautiful, shiny fabrics and matching trims and extras to make your set. All you would have to supply is the bra.
These packages will be on show and for sale at the upcoming Dancers' Bazaar on SAT. OCT 24.
Pre-register now or at the bazaar for $40 for the workshop, plus cost of your package. It will be $50 at the door. 10 spaces available and 8 only 8 are left.
7 NOVEMBRE 2009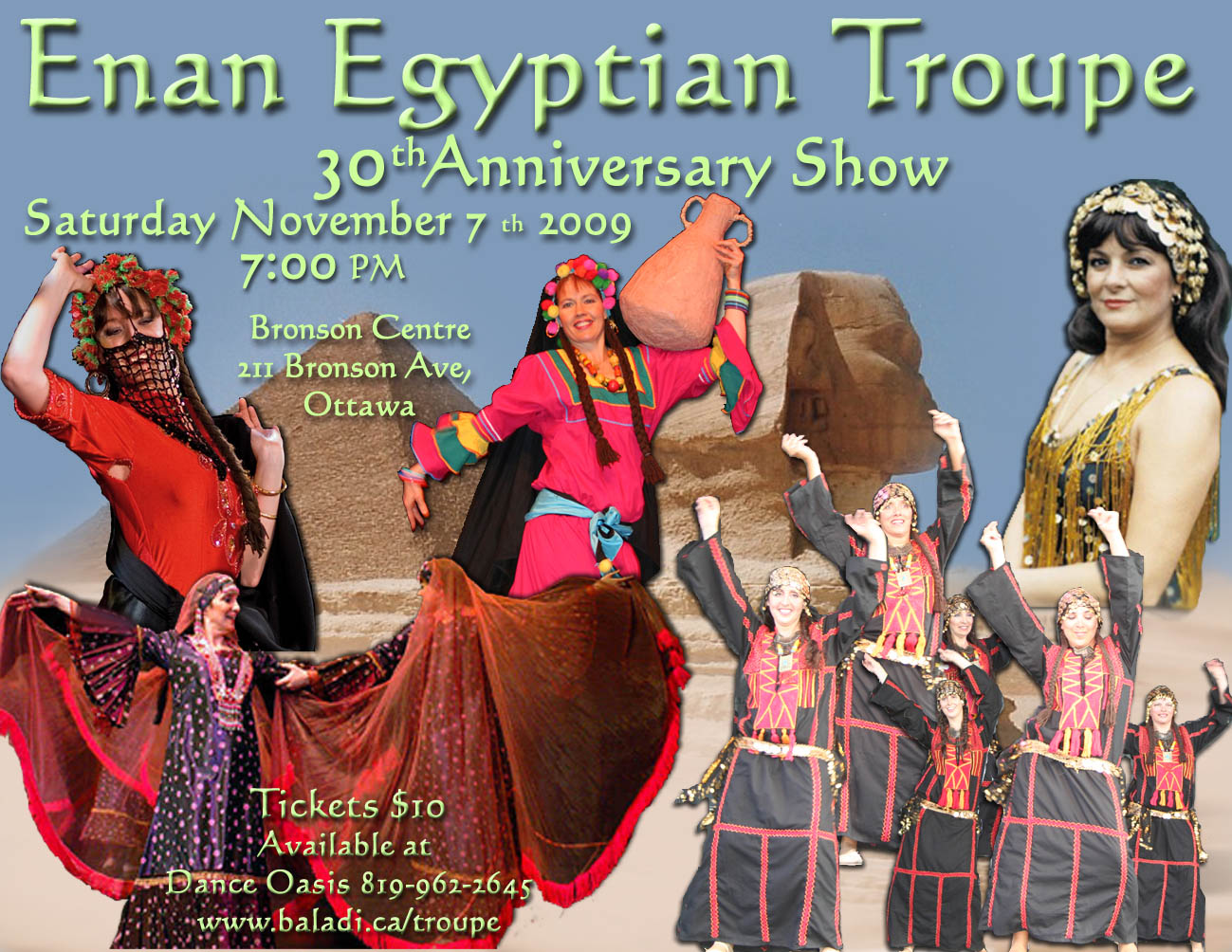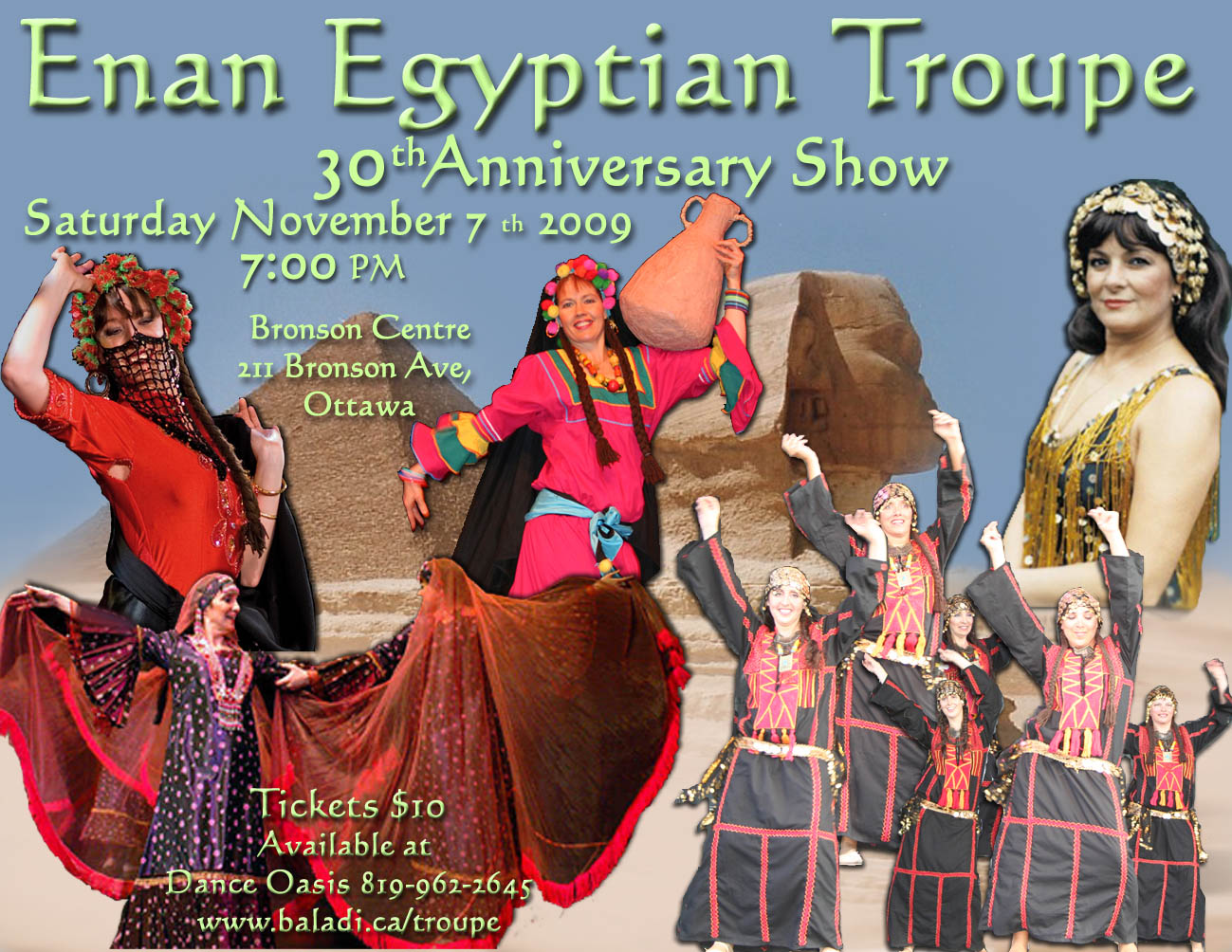 Spectacle 30e anniversaire de la Troupe Égyptienne Enan
Venez célébrer 30 ans de danse folklorique égyptienne au Canada avec les Enans!
19h00
au Bronson Centre, 211 Bronson Ave
prix spécial, seulement $10!
disponible a l'Oasis de la danse, 819-776-5033
ONLINE TICKET SALES
http://www.baladi.ca/troupe/
NOVEMBER 7, 2009
Enan Egyptian Troupe's 30th Anniversary Show
Come celebrate 30 years of the Enans sharing Egyptian Folkloric dance in Canada!
7:00 PM Bronson Centre, 211 Bronson Ave
Special anniversary price, tickets only $10!
available at Dance Oasis, 819-776-5033
ONLINE TICKET SALES
http://www.baladi.ca/troupe/
NOVEMBER 14, 2009
Nathalie Lebel Double Veil Workshop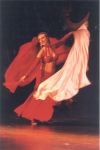 10:30 a.m. to 4:30 p.m.
Lunch and Bazaar from 1:00 p.m. to 2:00 p.m.
Dance Studios.ca, 151 Chapel Street (parking entrance on the side of the building)
$70 if payment is received by November 4, 2009 $80 thereafter.
To register: Send a cheque made out to Mouvance and mail it to Julie Tierney 84 McDermot Court, Kanata, Ontario K2L 3V1
Info: julie(DOT)tierney(AT)sympatico.ca
NOVEMBER 14, 2009
DANCE THE NIGHT AWAY FUNDRAISER
Legion Hall at the corner of Kent and MacLaren
Fundraiser for Kids Help Phone, Distress Centre, Bereaved Families
Doors open at 7:30
Party starts at 8 pm and goes 'till we drop!
Tickets $25, $30 at the door.
email: dragonslivehere.glebe@gmail.com
Buy your tickets online with Paypal(.50 nominal fee) to make sure you get yours!
NOVEMBER 22, 2009
WEST END BAZAAR:
Creative Clothing by Roxane is hosting a Belly Dance Bazaar in the west end of Ottawa to raise funds for the Iqaluit Women's Shelter.
Don't miss the new West End Dancers' Bazaar:
Bell's Corners at the Legion Hall,
4026 Richmond Road: easy access and lots of parking.
Sunday, November 22, from noon to 5 pm.
We have 15 vendors:
Creative Clothing by Roxane,
Tracey with TAV Creations,
Lisa-Marie *Sha'Vega*,
Gailene *Zamira*,
Darlene *Shibori Borealis*,
Rain Kazymerchyk our lovely Silversmith,
Sylvie Girard and her food,
Val DeWitt *The Trader*,
Zena Nesrallah,
Curves (the gym people),
Melissa Wakeling from Belleville too
and a few new artisans amongst them.
Free admission: all money raised is for Qimaavik the Women's Shelter!!
For more information contact Roxane at: roxkirkatsympaticodotca or phone: 613-726-9067.
December 12 & 13, 2009
Shakti fusion bellydance is excited to present a workshop and show with Rosanna McGuire (Toronto/San Francisco)
Rosanna brings her fabulous Hipnotech workshop to Ottawa!  A spectacular instructor and performer, she will bring her original fusions to the class and in performance at our show – for more about Rosanna, please visit her site at:  http://www.cleoflaptra.com/bio.html
Saturday December 12
dancestudios.ca
12-4pm
Yoga and Fast Technique and Flapper Fusion
See Rosanna's video from Tribal Fest 2008 to see Rosanna's original fusion style:

Sunday December 13
location TBD
Funk Styles for Bellydancers and Slow technique and flexibility.
See Rosanna's video from Tribal Fest 2009 to see her funkstyle:

Registration for both days is $170, $190 with ticket for the show, or $85 for one day only.  This is an event not to be missed!
to register:  leslie AT shaktifusion DOT ca
Space is limited!
Saturday December 12th
Show:  The Holiday Cabaret Spectaculaire!
The Mercury Lounge
56 Byward
Tickets $20 in advance, $25 at the door
Featuring our house dj, and special guest performer Rosanna McGuire, Shakti fusion, and many guests!
This event doubles as our first ever Christmas party, dress up in your best winter sparkle, and come dance with us!  Limited to 80 guests!  Santas and bad holiday sweaters welcome!
for tickets, email leslie – leslie AT shaktifusion DOT ca
DECEMBER 16, 2009
HALYMA'S OTTAWA CENTRE CLASS PARTY
Wednesday, December 16th, 2007
Doors open at 6:30 p.m.
Show starts at 7 p.m.
Ottawa University Alumni Theatre
Tickets will go on sale in November, but check with your teacher to see if she has reserved space for your class to perform in the show!
NOT QUITE BELLY DANCE EVENTS:
DARNER MEDIA: COMPUTER RELATED CLASSES
David Rostenne and Tom Leroux have a Social Media Crash Course starting on Tuesdays.
Social Internet Crash Course
October 20th
6:30 PM to 9:30 PM
This course  is primarily geared towards small business owners, but can apply to anyone who is curious about participating in the online world. We are covering a whole slew of "keeping in touch" methods in this course: having a web site, surfing the web, passwords and online safety, email and etiquette, newsletters, instant messaging, blogs, podcasts, Digg, StumbleUpon, Facebook, MySpace, Twitter – there's so much, and we will be doing our best to cover it all. We will let you know what it can (and can not) do for you, and answer your questions.
All classes are $150, or $275 if you sign up for two.
You can view more details online here: http://www.darnermedia.ca/training-and-consulting/classes/ , give me a call, or you can shoot an email to classes@darnermedia.ca.
Tom
NOVEMBER 8, 2009
Jewelry Sale
Hello everyone!
Myself and a handful of talented friends will be hosting a Jewelry and Art Sale on November 8, 2009! The sale will be held at Studio B (591 Bank St, near Pretoria) from 12-5pm, and will include the following artists:
Jewelry, artwork and honey by A Sassy Conspiracy (www.acidtrix.com)
Oil paintings and art bookmarks by Erika Doyon (www.tattoosbyerika.com)
Knits and plushies by Aeramel
Watercolour and oil paintings by Pookzilla
Watercolour paintings and buttons by Elektrafying
Artistic Cupcakes by Kasia
Stop in and say hello, and get your holiday shopping done early by supporting local artists! We promise, it'll be worth the trip!
We hope to see you there! Please pass this information on to anyone you think might be interested 🙂
Erika Doyan
edoyon(at)gmail(dot)com
FALL CLASSES
Tribal fusion classes with Niki
Tribal fusion classes with Niki
Tuesday 8-9pm
Oct 20 (6 week session for $70)
1196 Bank St at Makin Moves studios
to register: theodorn AT magma DOT ca
SHOPPING OPPORTUNITIES/BUSINESS LISTINGS:
Honey Bee Cottage
Hand-painted silks by Melissa Wakeling, Belleville, Ontario
Hand-painted silk veils using Heliographic "sun printing" technique to create unique patterns and colour variations. This special technique results in beautiful colour swirls and marbling – a look that is not quite watercolour and not quite tie-dye – a one of a kind treasure! Custom-painted bellydance veils available April-October only.
www.HoneyBeeCottage.etsy.com
qtmeliss34@yahoo.ca
613-961-2020