Halyma's Belly Dance Lesson Series start from the very beginning, showing beautiful belly dance movements up close and personal to ensure correct posture and safe practice of the ancient dance form, Halyma's Belly Dance Lesson Series is a great way to complement existing classes, or learn to belly dance in the privacy of your own home.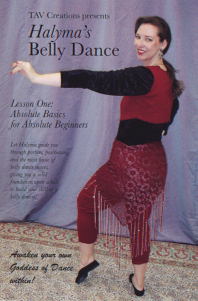 Halyma's Belly Dance
Lesson One: Absolute Basics for Absolute Beginners
Let Halyma guide you through posture, positioning, and fifteen of the most basic moves of belly dance, giving you a solid foundation upon which to build your skill as a belly dancer!
Inside Lesson One you will find:
Core Strength and Posture
Important for any physical activity, Halyma gives you some tips on safe exercising through proper alignment.
Warm Up and Cool Down
Halyma will help you get ready to move and relax after working out!
Basic Moves
15 of the most common belly dance moves, from arms to traveling and everything in between.
Combo Workout
Use your newly found moves to get dancing with Halyma.
Halyma Dances
A performance by Halyma to inspire!
Over an hour of belly dance fun!
Halyma's Belly Dance
Lesson Two: Basic Moves that Move You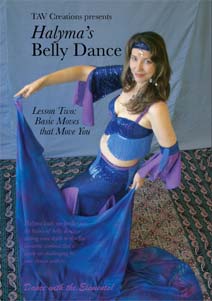 The second DVD in the series includes more basics to develop the dancer's repertoire, while adding to the fitness elements with more intensive focus on core control and isolations.
The introduction of veil work lets the student bring out a playful side, while getting a weight – bearing workout with the arms. Still accessible to all fitness levels, Lesson two aims to help bring a new depth to the student dancer's inner strength.
Inside Lesson Two you will find:
Posture and Isolations
The importance of correct form cannot be overstated. This section revisits the posture guidelines for belly dancing and introduces some practice movements to aid in increasing one's ability to isolate the movements.
Basic Moves
This section takes many of the movements learned in Lesson One, and adds variety and depth. The variations introduce increased control and challenge the student to a more intense workout. Halyma also adds some new moves to increase the dancer's repertoire.
Intro to Veils
Adding veil work gives a different dimension to the dance. As a workout tool, the veil can be surprisingly effective, and as a dance prop, notably feminine. Along with guiding you through a few of the basics, Halyma offers suggestions for fabric choices, sizes and shapes.
Combo workout
Including a Warm up and Cool down, this section gives you the opportunity to let the basic moves move you! This head to toe work out includes veil work and encourages clean isolations.
Halyma Dances
The short performance piece gives Halyma a chance to share her love of belly dance with her graceful style.
How to get yours!

Order Direct from Halyma
Order your copy for only $35.00 plus applicable taxes – FREE SHIPPING.
Expect delivery within two to four weeks  and begin learning the basics of belly dance, or perfecting your skills with Halyma.