Originally posted Feb 18,2010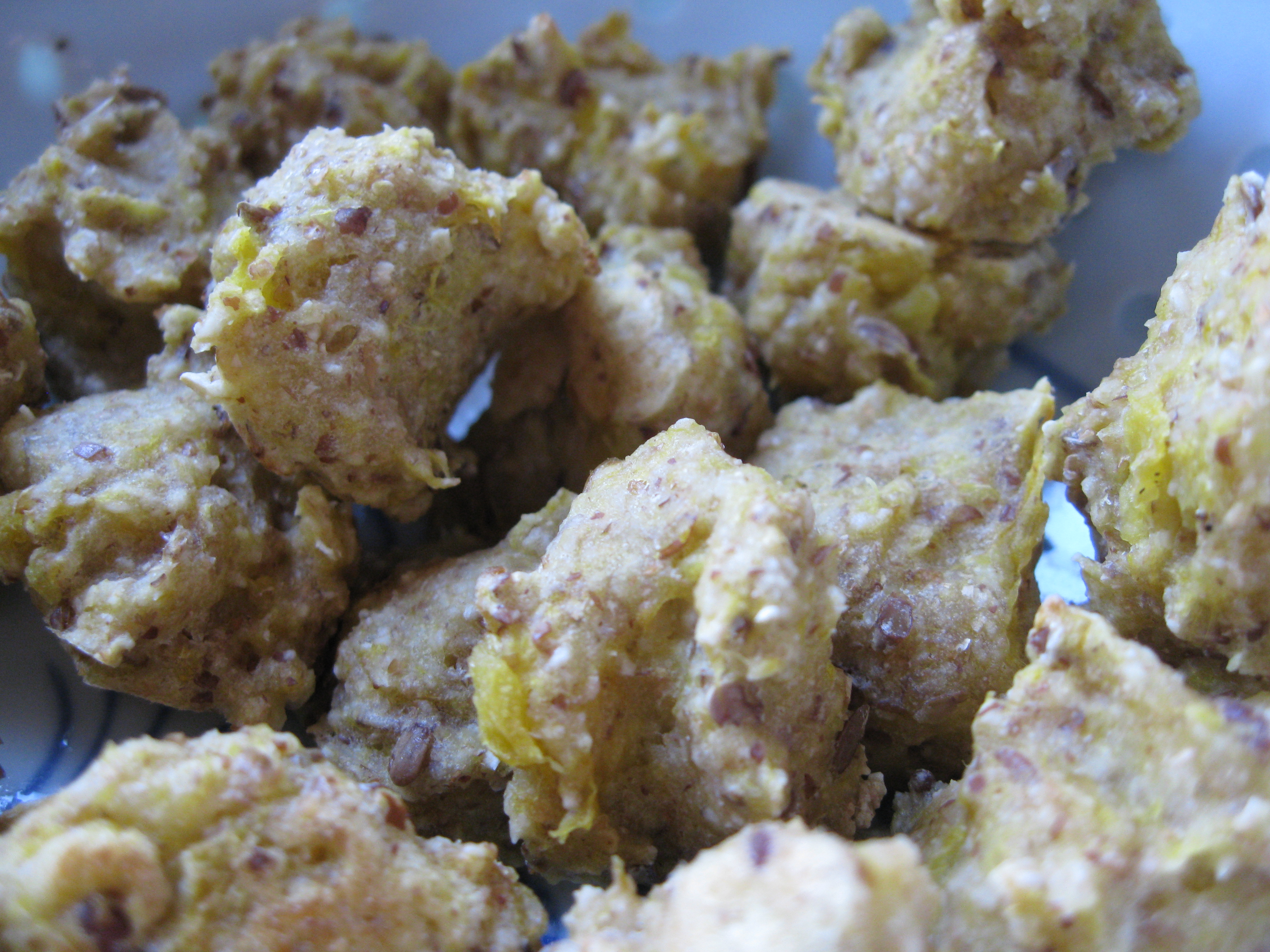 I don't "get" gnocchi.
I am thinking, pasta is pasta and dumplings are dumplings, but gnocchi is somewhere between the two… – and I welcome anyone who does "get" gnocchi to straighten me out in the comments 😉
That being said, I wanted some lunch and had some mashed pumpkin and tomato sauce, and thought I remembered hearing about how this gnocchi stuff was made with potatoes and flour… and off I went.
Here's the deal- or – the odd things I do, just because…:
1-I used pumpkin from a friend – organic backyard pumpkin – that I roasted and mashed a while ago and had put about 2 cups in the freezer.
2- I make my own oat flour and flax meal by using a designated coffee bean grinder to turn oats and flax seeds into powder on demand.
So that covers the sources of ingredients – do as you please, of course, to get your own!
On to the recipe :
Pumpkin Gnocch"offs"
3 tablespoons flax meal
1 cup oat flour
1 cup  cooked pumpkin – mashed, pureed etc.
1/2 cup whole wheat flour
Add just enough boiling water to cover the flax meal in a small bowl and let sit for at least 5 minutes. It will get a bit slimy – this replaces an egg – which you can choose to use instead if you are not vegan.
Dump it and everything else into a bowl and mix well.
Turn the over on to 375 degrees F.
Lightly spray a cookie sheet or two, and using a teaspoon, drop about 60 tiny dumplings onto the sheet[s].
Bake in the oven for about 15 minutes – checking them until they dry on the outside and lightly brown, but are still soft when you push on one.
Recipe  serves 2.
Vegan style  Gnocch-offs= 390 Calories per serving = loads of Omega shiny happiness…
Egg style:  = 240 calories per serving [ no flax used =  less Omega shiny happy depending on your egg choice!]
I heated up some tomato sauce and tossed my serving of Gnocch-offs into my bowl, covered them with sauce and ate up! Yum!
I think these would make great appetizers too with some fun dipping sauces…