From December 31, 2013
Blessings and happy wishes to you all! We are looking forward to some quiet times tonight with a big pot of Mexican Veggie Stew…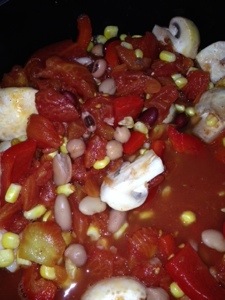 Some would consider it chili, others do not- but ya know…
Main thing=Healthy!
And super easy with canned tomatoes and 6 bean mix, along with fresh peppers, mushrooms and carrots and frozen corn for extra colour!
It is vegan, but there may be a cheese sauce on the side with some salsa infused brown rice…
Here's hoping everyone out there has a wonderous evening!