As so many folk are exploring alternative dietary choices, I find playing with food a fun way to try things too.
While not perfectly healthy, these went over well at our first ever "Munchkin and Munchies" party, I thought I would share the recipe.
Vegan Spice Cookies
Makes about 60 bite size cookies
In a small bowl combine:
1 cup rolled oats
1/4 cup coconut milk ( creamy chunks welcome)
1/4 cup vegetable oil
1/2 cup brown sugar
1/2 teaspoon vanilla extract
1/3 cup or so water ( enough to make it goopywet)
Larger bowl, whisk together:
1 cup whole wheat flour
1 teaspoon baking powder
1/2 teaspoon baking soda
1 teaspoon cinnamon
1 teaspoon ginger
Add the wet mixture and stir well – it should be a stiff cookie dough, if it's too wet, let it sit for a while or just treat it like drop cookies
Oven 400 degrees f
Make teaspoon size balls and flatten.
I get 24 on my cookie sheet.
You can sprinkle with cinnamon sugar if you like.
Bake til they smell awesome and look like this: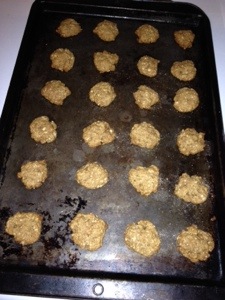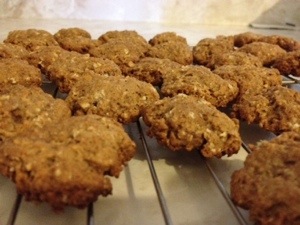 #cronchcronchcronch