Head on over to see more Events, Classes Teacher Directory, Shopping Opportunities, and Healing, Guides and Energy workers, Pampering sections!
Good morning,
June is the month during which all of my worlds converge!
Dance classes are finishing up for the season and I have my, now SOLD OUT, OCCP coming up – congrats to everyone who bought there tickets in advance!
Both dance adventures I am involved with, Belly Dancing For Fun and Bollywood For Fun are active and featured at many local events over the next few weeks!
I also am blessed with sewing work for the show as well as for the standard wedding season – which has some quickly approaching deadlines too!
And my Eco TAV products have just been reordered at Life without Plastic!
So that's my excitement, and I look forward to seeing many of you Wednesday evening as well as potentially tonight, and next Saturday!
Sunday, June 13
DANCERS' NEWSLETTER – UPDATE EDITION
2010 EVENTS
Bellydance with Anna & Safiya at the Carnival of Cultures!
Sunday June 13th (6:00 – 7:00 pm)
Marion Dewar Plaza (corner of Laurier and Elgin)
Come enjoy live and colourful performances presented by hundreds of local and out-of-town artists.
For weekend passes please contact Safiya at safiyadancer@gmail.com
or visit www.carnivalofcultures.com
Belly Dancing For Fun at Emily's Run
Saturday,
9:00 AM to 11:00 AM
Where:
Aviation Museum, Ottawa, Ontario.
Website:
http://www.somersault.ca/eventrunnerswebwomen.htm
In support of these world class athletes, Halyma's Belly Dancing For Fun will be on site dancing, cheering and teaching some fun moves that morning!
Come on out and support the racers and learn to shimmy!
BDFF Dancers at the MSMF India Food Festival:
International variety show including
Halyma's Belly Dancing For Fun!
JUNE 19, 2010




Alhambra Dance & Friends presents Red Hot Summer Hafla in Toronto
When: Saturday June 19th from 2:00-4:00pm
Where: Martha Hicks School of Ballet, 2345 Yonge St. 1st floor, back of Office Building
(East side of Yonge, North of Eglinton)
Price: $10 in advance, $15 at the door (*funds are being raised for troupe costumes*)
For advanced tickets contact Caliana:
416-821-4381 or calianadances@gmail.com
Description:
Summer will be here before we know it! Join Alhambra Dance & Friends in our "Red Hot Summer Hafla" (RHSH).
This event will be more informal, where performances & demonstrations will be interspersed with mingling, eating & free dancing time!
Snacks & refreshments will be provided -byob
Performances by:
Caliana, Jaene, Siham Sumaiya, Haifa, Alexandra, some students, live musicians and more (TBA)
JUNE 24 to JULY 29, 2010




FREE SUMMER PRACTICE EVENINGS
Thursday evenings of dance – come out and play
Where: 172 Guigues – Routhier Community Centre, 2nd floor
When: 6:30 to 8:30p.m.
What: Two hours in an air conditioned room with mirrors to play as you wish!
There with a cd player and music. Feel free to bring your own music too, or just take advantage of space and a safe fun atmosphere to test drive those belly dance moves you learned through the winter and spring!
Drop in anytime during the two hours to play, practice, and socialize.
Join us for a fun night out to get some exercise, to practice for upcoming performances, or try those props you have learned through the year and have nowhere to practice them!
OPEN TO ALL LEVELS – Beginner through professional!
Please note: this is not a class – but you'll learn new stuff by watching and playing.
JULY 2, 2010~Montreal




The One and Only Mira Betz
Absolutely unique as a dancer and teacher, Mira is a must see. Read more about here here :www.miramania.com
She will be with us for 9 hours of intimate teaching (max 25 people) and a show on july 2nd.
At first, we will only accept registration for the full week end. Individual workshops will be open for registration only if they don't sell out. We want to create a group energy that grows through the week end.
For 9 hours of workshops: 230 $
Registrations and workshop description at www.matjacob.com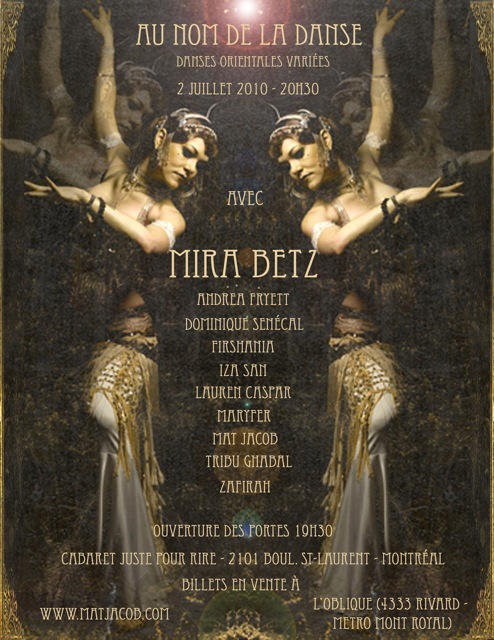 NOT QUITE BELLY DANCE EVENTS:
JUNE 13, 2010




TAKE THE LEAD SHOW
Bollywood For Fun will be part of the variety of talent performing in support of this great cause:
JUNE 20, 2010




Sister Bazaar event
Sunday June 20th (yes…. Father's Day) at 70 Third Ave in the Glebe,
from 1 PM to 6 PM.
We have received new stock of lovely floaty tunics and we do still have several excellent indigo printed items available. They won't last long…
Hope you can attend. Feel free to share this notice with friends.
www.sisterbazaar.com
Madeleine & Andree
JUNE 27, 2010




Can't Stop the Serenity 2010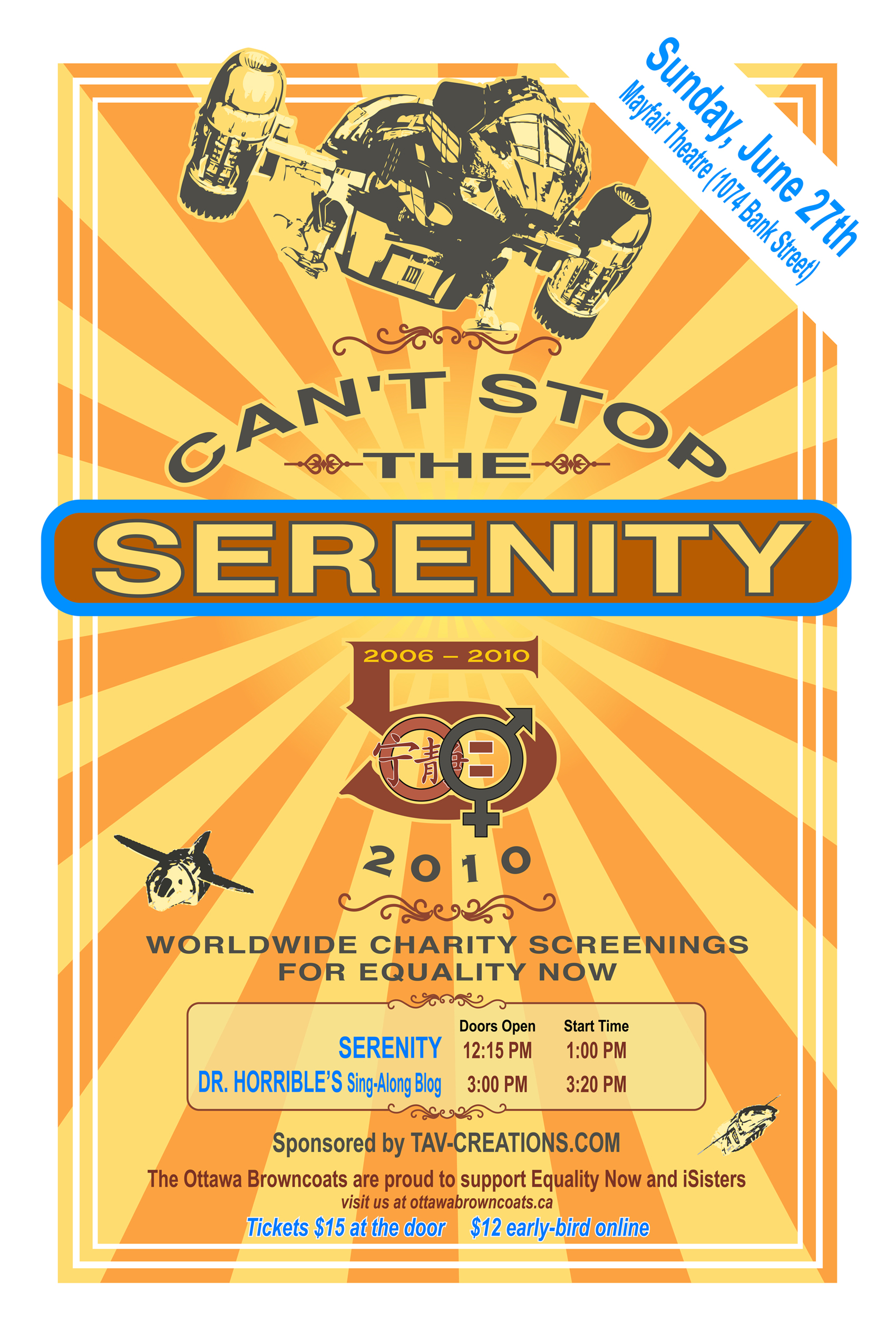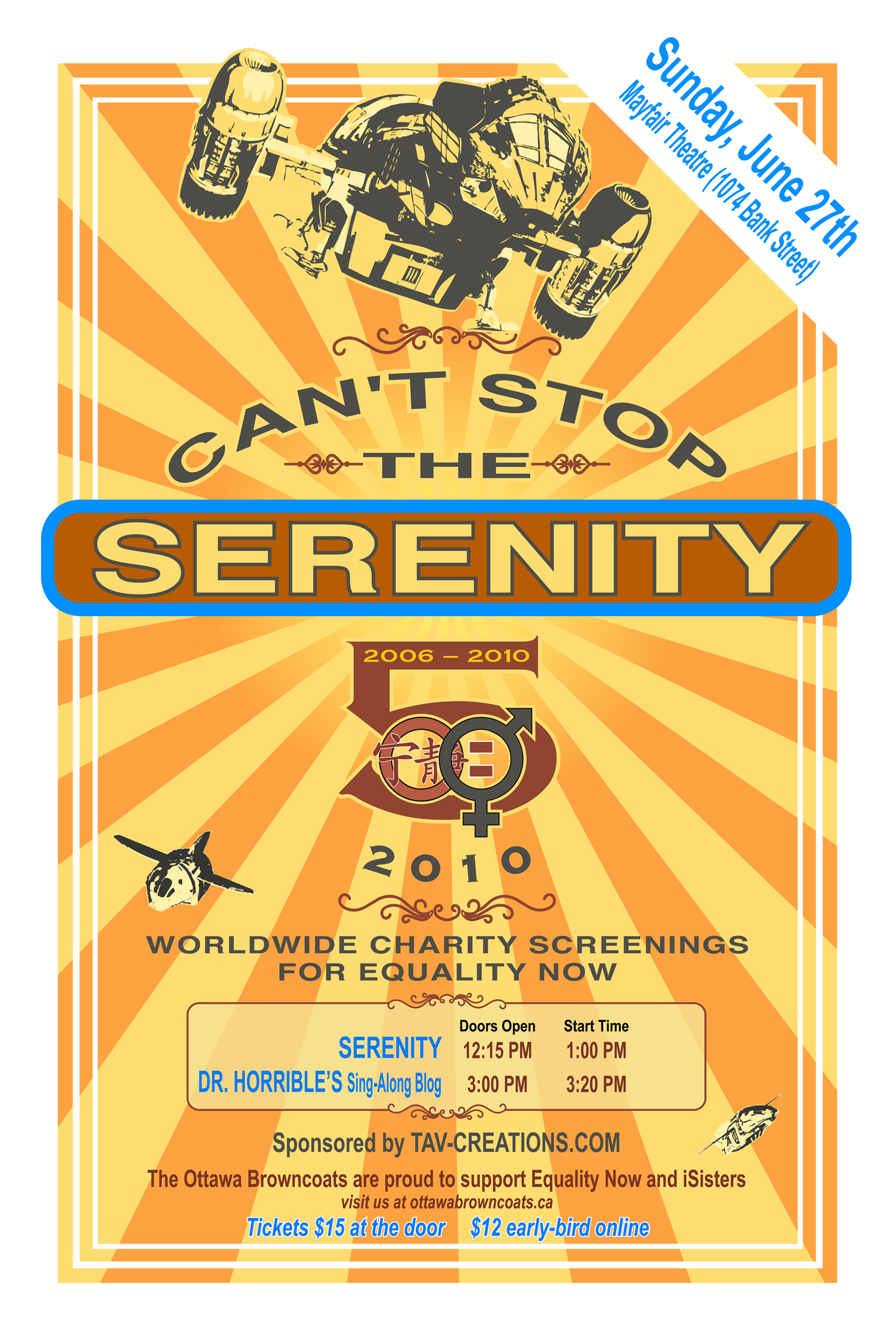 UPDATE: Advance price TICKETS AVAILABLE AT HALYMA's OCCP! If you are coming Wednesday night, you also have the chance to win a pair of tickets, courtesy of TAV Creations, Sponsor of Can't Stop the Serenity!
10&11 JUILLET/JULY, 2010 ~ Montreal




DANSE DE L'INDE – ATELIER INTENSIF!




INDIAN DANCE – SUMMER INTENSIVE WORKSHOP!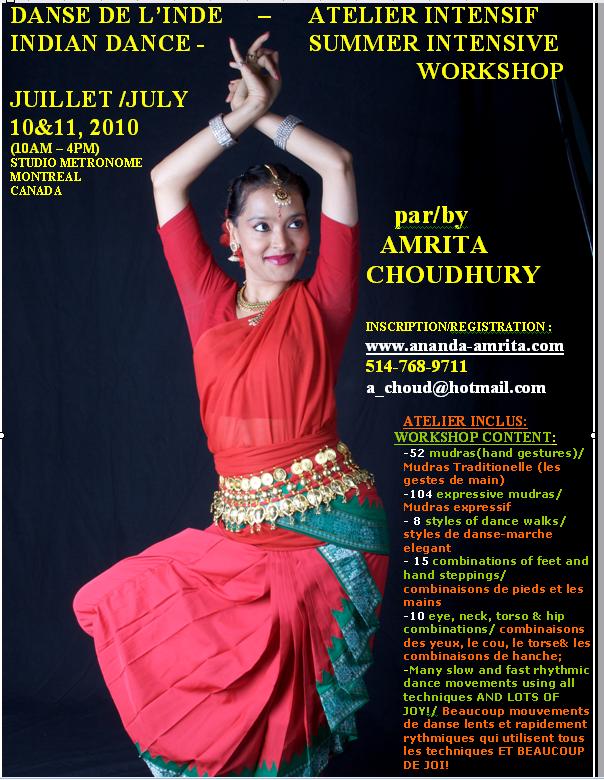 AUGUST 9, 2010




ART QUILT: CLOTH, COLOUR AND COMPOSITION | INTRO
Explore the possibilities of the non-traditional "quilt" as an
expressive art medium through this process-oriented, sewing machine based
workshop. Students begin the week by compiling a series of small samples
of colour and elements of design studies to use as a springboard for
developing their own personal style. Samples can be employed as a
reference for future work or used as the starting point for art quilts
that will be designed and constructed in class the second part of the
week.
Instructor : Karen Goetzinger
Fee : $225
OSO414A.601
Monday to Friday : 9h30 – 16h00
August 9 – August 13
5 sessions | 30 hours
Here's the link to the page
http://shenkmanarts.ca/course_workshops_camps/osa_en.html#P120_10920
http//:www.karengoetzinger.com
SUMMER CLASSES:
Tribal Fusion Leslie and Tools for your Practice with Leslie
Starts Tuesday, June 15th – 7 week session!
This class is both for the absolute beginner and the more experienced tribal dancer looking to deepen their practice.  Drills for strong technique will be taught, along with some combinations thoughout the session.  This session takes us through to the end of July.
Tuesdays 8:15-9:15pm
1196 Bank at Makin Moves studio
email leslie AT shaktifusion DOT ca to register!
$90 for this 7 week session