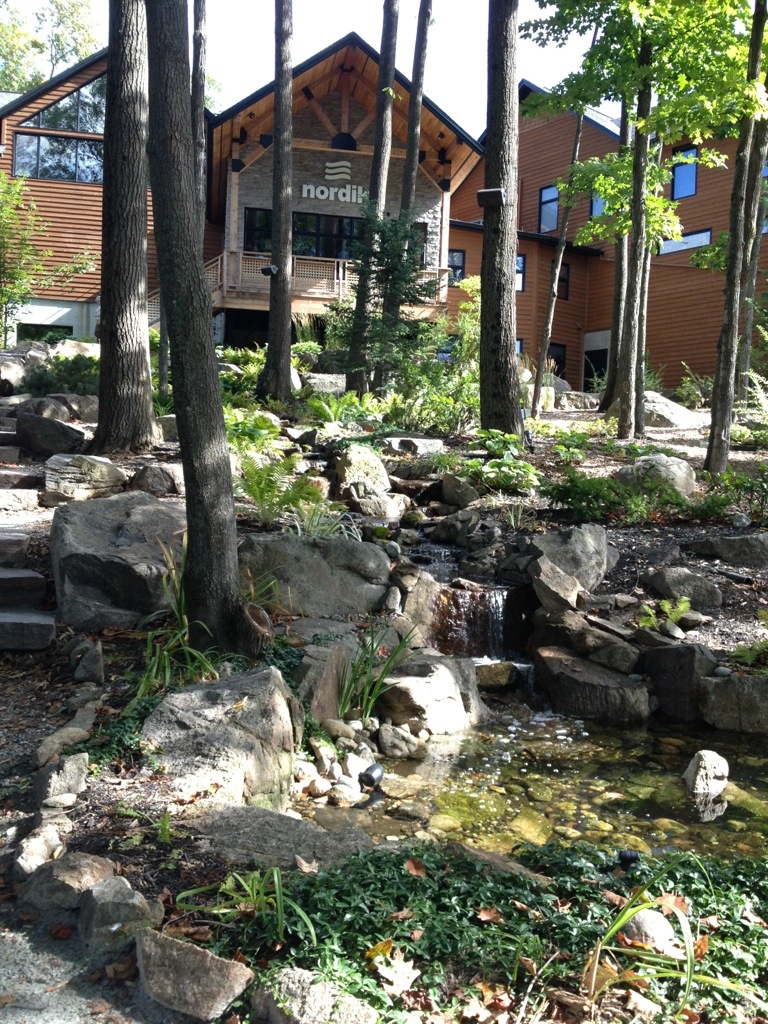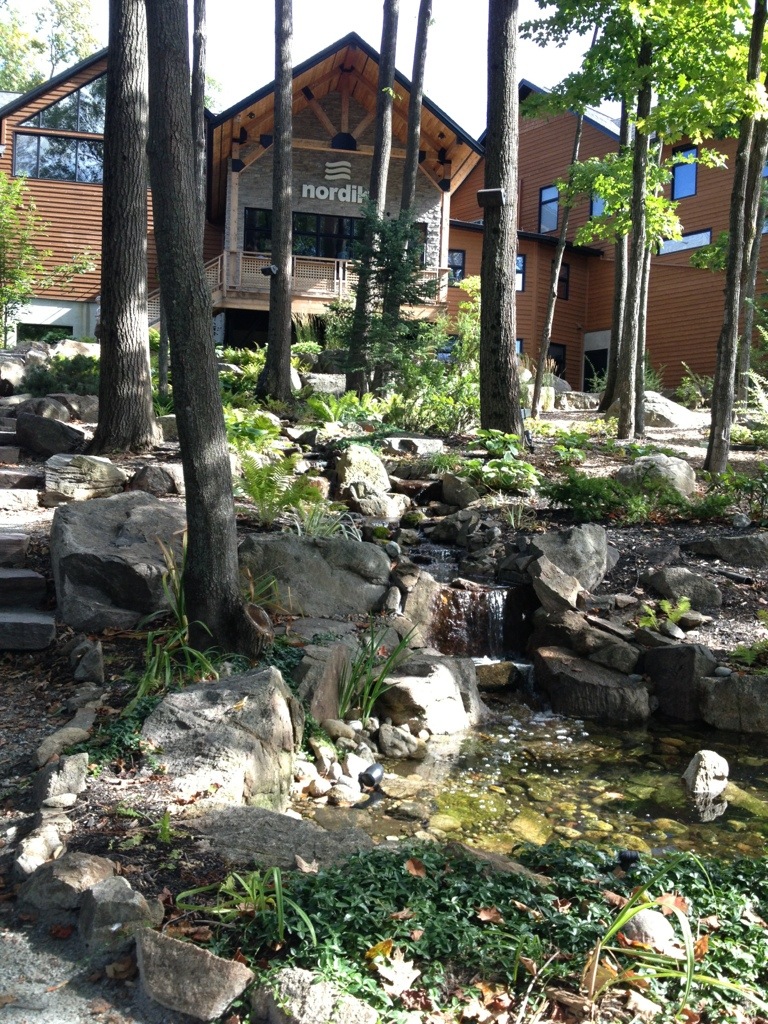 For a few years now, I kept being told how amazing Le Nordik is and how easy it is to get there, blah,blah,blah.
As my own life's stresses increased, with work being more and more intense, changes occurring in small but accumulative ways within my dance world, and the need to extend my holidays as much as possible, I finally decided to give it a try.
I, of course, have a process for approaching new experiences that involves advance research online to determine the best choices for ROI ( I checked their website extensively, figuring out what I could afford that I would likely find the most enjoyable) and travel logistics (both checking out their online information along with google maps).
After much internal debate and planning, I chose to combine a treatment ( basic 60 minute massage) with use of the " baths". This allowed me a slight discounted price on both, and the chance to both spend some quiet time and get some physical pampering. The online appointment booking though does not clearly show you the combined option, so I booked the massage – which was easy – and decided they probably just allow you to add on your time in the general area when you get there and pay. They do, of course, need a credit card to book your treatment.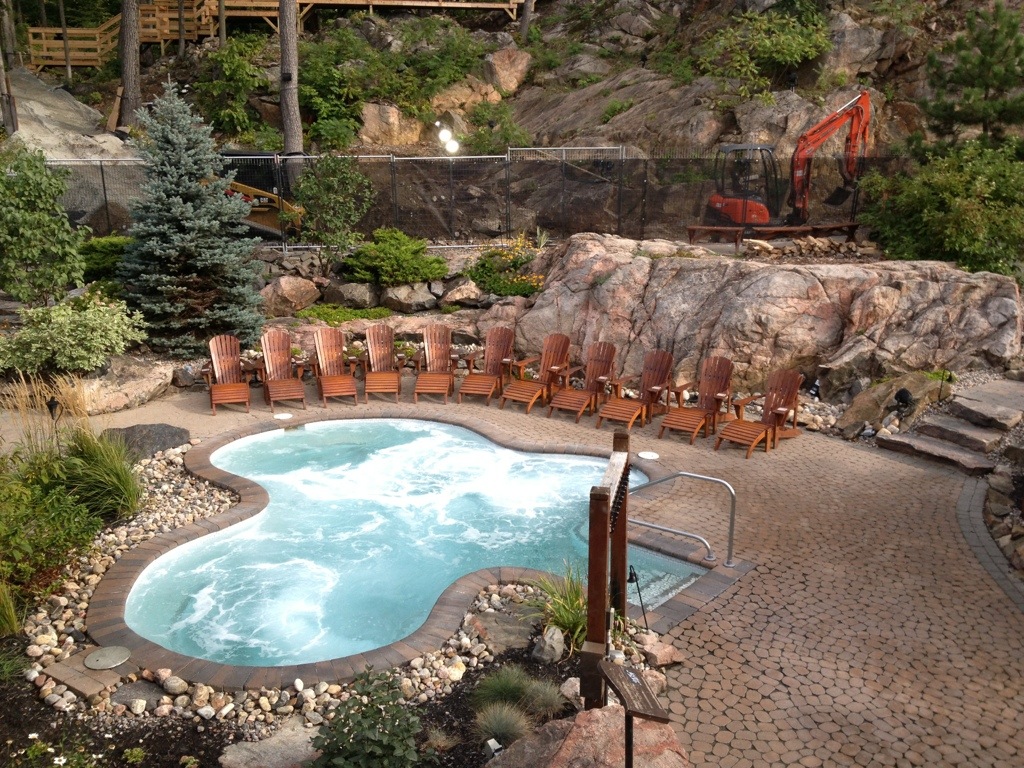 So, after I had my lovely time there, I had decided to share the important parts of my adventures for any other souls who also like a LOT of simple details before embarking on something new.
Getting there…
I live near King Edward, so, yes, super easy:
Turn onto King Edward headed towards Quebec.
Stay on the Quebec highway until exit 12 ( which is about 12 km from me).
There are lovely signs on the highway clearly saying " Le Nordik" *yay*
Exit the highway and turn left at the stop sign.
Drive past the grocery store, cycling store and be prepared to turn right onto a dirt road ( called Chemin Le Nordik) directly across from Doozy Candles.
Drive up the dirt road and turn right again into the confusing and winding parking areas. There are a few, and if you can figure out the roads the first time, you are a good driver. Otherwise, take your time and it will all work out :-).
Once you are parked….
See the photo of the entrance?
You have a lovely uphill walk through random stone steps and flat landings. So if you have any issues walking, are injured, older etc. make note of the side benches where you can stop and rest. Or try the meandering path way that cuts horizontally like a labyrinth, slowly bringing you to your destination – the wooden stairs and entrance to the queuing area.
Yes. There is a queuing area, complete with ribbon divider to channel the eagerly awaiting patrons in an orderly manner into the reception area. I was lucky and arrived when there was no line up, but when I left I had to ask folks to let me by, as the way out seems to be the same as the way in ( I may have missed something there, but safely made my way out, so…).
Once you get to a service rep, he/she will take your name and credit card and set you up with a rubber coated bracelet (if you are using the baths) that gives you access to your own locker in the changing room.
Note: the little lights on the locker are about 2 cm above where you want to tap the bracelet part to unlock it. If you try to tap the lights, it probably won't work, slide down just a smidge!
On the website, they clearly let you know in advance about needing a water bottle, bath robe, bathing suit, and slippers/ sandals. You can rent some of this there, but its pretty easy to pack a small tote bag.
Do you need all this?
Water bottle? Yes, the process makes you sweat, and they have water fountains available to fill your bottle. You cannot bring drinks from the restaurant into certain areas, so have the bottle just to make sure you drink enough.
Bathrobe? I found I did not use mine. It was a hot, sunny day, and my bathing suit is very modest, so I felt comfortable wandering from pool to chair to sauna with just a towel*. I believe you may want it if you are going to the restaurant. I did not go there, but most folks seated inside seemed to have their robes on.
Bathing suit? – of course- this is not a clothing optional place.
Sandals? Yes, make them slip on type- you have to remove them to go into the saunas and pools, but want something to walk around the cobblestones, sandy area, inside areas.
* towels- they give you 2. I left one in the locker for my post adventure wipe down – there are showers if you like to get all of the sunscreen, pool water, sweat off before getting dressed again.
What else do you need to know?
~The staff is very helpful in both languages.
~Be quiet…Seriously- a staff member will come and remind you if you are talking too loudly. ( I slipped away in the pool, so he didn't catch me )
~Don't worry about walking into a space and walking right out again. I found a couple of the saunas were not comfortable – too hot, too strong scent, too many people… It's supposed to be about de stressing, so find a space you are comfy in – there are quite a few options.
~You also have to remove glasses along with shoes in some of the saunas, but it is indicated on the door before you go in.
Since I knew I would have a couple of hours before my massage*, I also brought a book, and they kindly gave me a plastic bag to put it in when I went into the humid places. You could do the same with an MP3 player I guess, I just chose an old fashioned book for simplicity.
* do it in the other order – massage first then the baths if you can. My appointment for the massage was towards late afternoon, so it just worked out better for me to do the baths earlier and end on the massage. But I would do it in the reverse if I chose to combine things again.
Will I go again?
Maybe. Probably alone, as I found it most logical for me to reduce my chances of talking by not knowing anyone there.
It is beautiful, but certainly busy, so it's hit or miss regarding how crowded it might feel. I was there on a weekday and it still felt like a lot of folks were taking advantage.
Hope this helps!