Here's what I get to be a part of on Friday:


The Dark Urban Cabaret
Friday, February 25 · 7:00pm – 10:00pm
The Arts Court Theatre
2 Daly St.Ottawa, ON
Doors open at 7pm Show starts at 8pm
Tickets are $25 in advance
$30  at the door/ after Feb. 14
email leslie AT shaktifusion DOT ca to order yours.
With whom am I sharing the stage ?  These phenomenal acts!
Ariellah Beatbox Guitar Luna Kuarta    Rosanna McGuire
And some amazing local dancers:
Zamira
Leslie & Shakti fusion
...AND SO MANY MORE AMAZING PERFORMERS!! Click on the image to find out more! There is also some amazing workshops happening, but I'll be otherwise occupied…
On Saturday morning, I start my Level 1 sewing class – not so much belly dance – but I do have a private gig that night too…
And SUNDAY MORNING, I go and set up for the: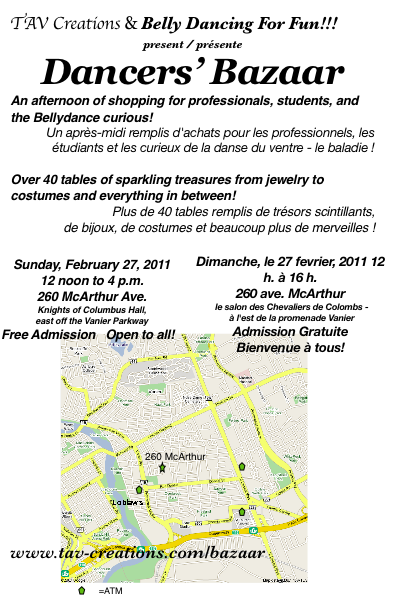 If you have ever wondered what the heck is up with Ottawa's Belly Dance community, come on out! You gotta be there to see it – door prizes every hour, great socializing with old friends and new, and shopping! Go here for some tips to help you enjoy your afternoon!
And sooo, I'll be spending the next few days, preparing for it all – if you don't hear from me, don't worry – I am just buried under a pile of sequins,coins and more- having fun for sure!