To see this as a website, click here . Also find more Events, Teacher Directory, Shopping Opportunities, and Healing, Guides and Energy workers, Pampering sections online!
Good morning,
February is just getting us wound up for loads of fun in March!  And Happy Chinese New Year, Valentine's Day and Family Day for those who celebrate any / all of these holidays this weekend!
May the Tiger bring you good fortune this coming year!
Hope Winterlude has been enjoying your company too!
Read on to check out some new updates to info and new postings – hope to see you at some of these upcoming events!
Tracey/Halyma
Sunday, February 14
DANCERS' NEWSLETTER – UPDATE EDITION
2010 EVENTS
JANNAH DANCE CENTRE- KITCHENER
Feb 20/21 – Dance with Jasmin – $175 – reg'n w/ Jannah
Jennifer (Jannah)
to Dance is Paradise!
www.jannahdancer.info 519.569-1432
Jannahdancer Dance Centre….a Positive Place to Be!
FEBRUARY 28, 2010




Bellydance Workshop with Zena
Sat. Feb. 28, 2010 @ 12:30 pm -3:00 pm.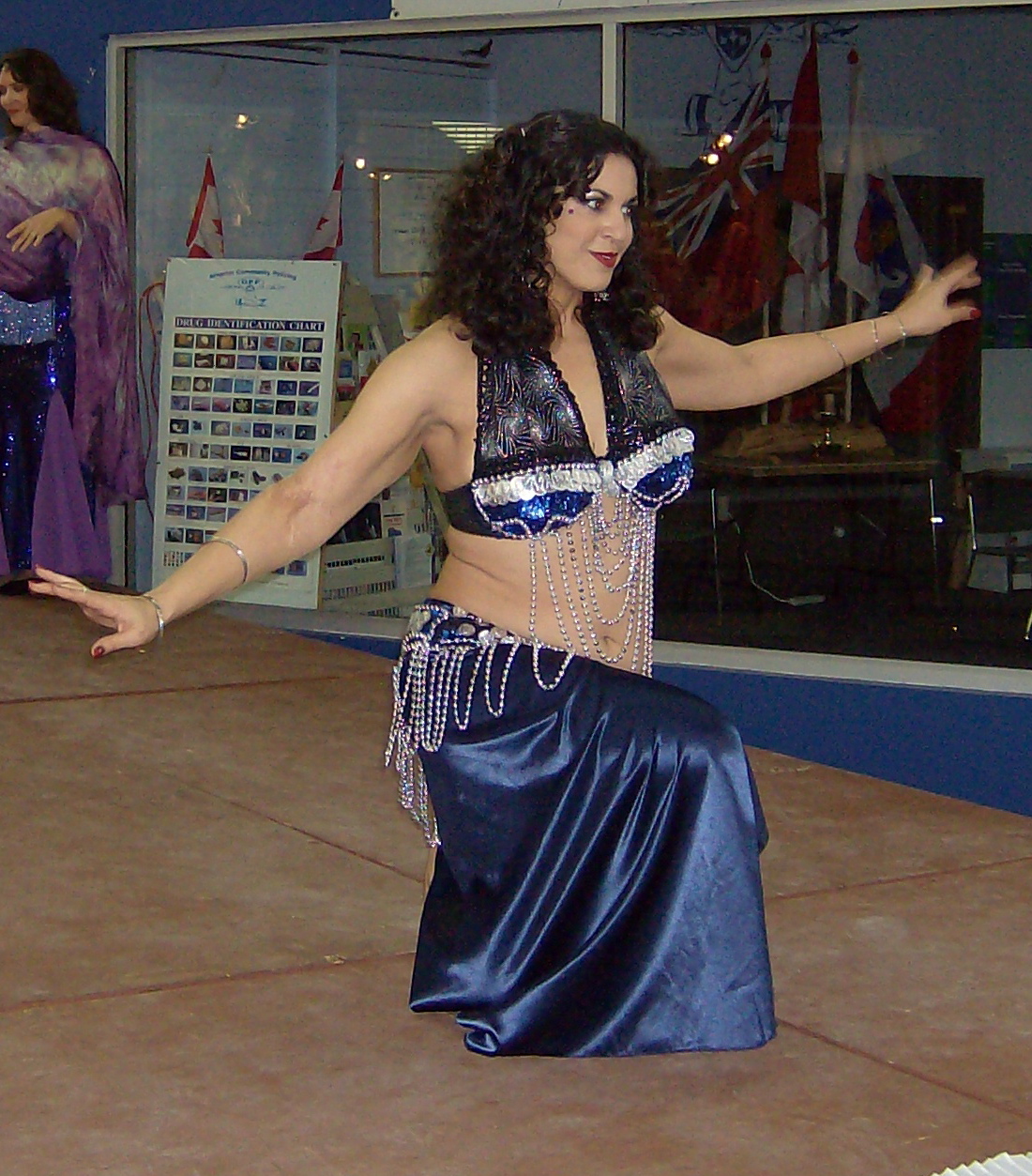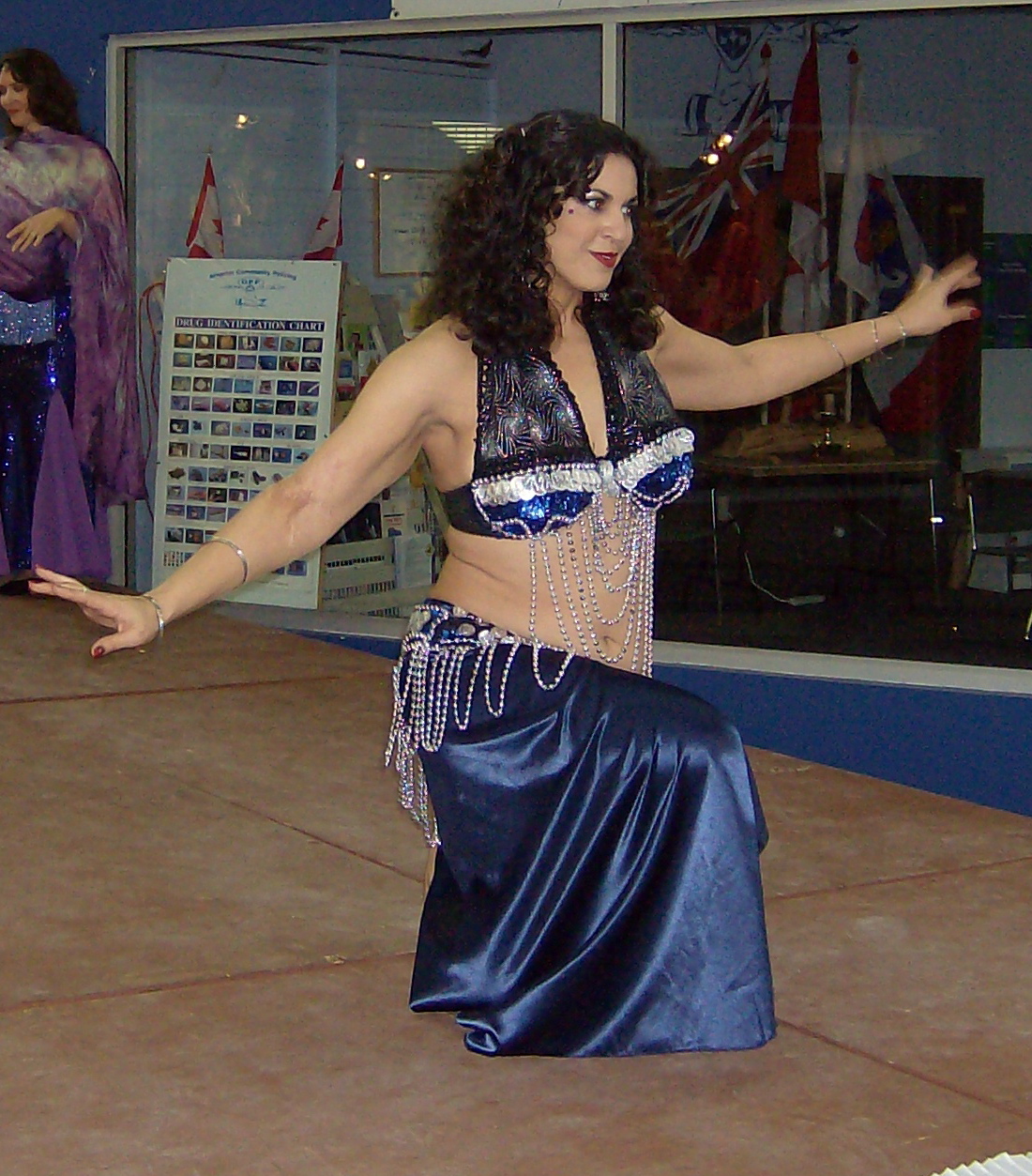 Fun basics of bellydance with tone-up exercises, drills, shimmywork and intro to veils. Light refreshments provided and water. Wear comfy exercise clothes, bare feet or indoor shoes and hipscarf/neck scarf or coin belt. Cost: $45 tax included.
Location: Nutriland, 3625 Rivergate Way
Tel: (613) 288-0106
To reserve/register, please email Zena:zena555@rogers.com or call Darpan dircectly at (613) 288-0106.
FEBRUARY 27/28,2010




Montreal workshops with Rosanna Mc Guire

(Toronto/San Francisco)!!!
Saturday February 27th, 1-4pm
Flapper fusion (technique and combinations):
A combination of vintage jazz dance and bellydance, completely fabricated from Rosanna's imagination. Don't know what on earth this could be? See Rosanna's video from Tribal Fest 2008

Sunday February 28th 2010, 1-4pm:
Hip hop fusion choreography
Fusing bellydance with hip hop and funk styles (popping, locking, waving, etc.)
Location: École Anichka
Cost:75$ for 1 workshop
140$ for both
To register: Click Here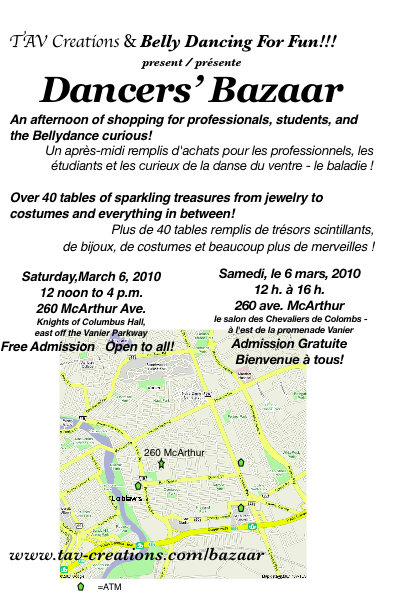 LOOKING FOR VOLUNTEERS – as usual! Email me if you are able to help out that day! tracey@tav-creations.com
10 TIPS for Shopping at the Bazaar!
MARCH 7, 2010




Fluidity and Slow Movements Workshop with Jalilah
SOLD OUT
To accommodate the overwhelming demand for this workshop the same workshop is being offered on Sunday May 2. The first workshop sold out in just 1 week. Be sure to mail in your registration and payment early to avoid missing out on the next one.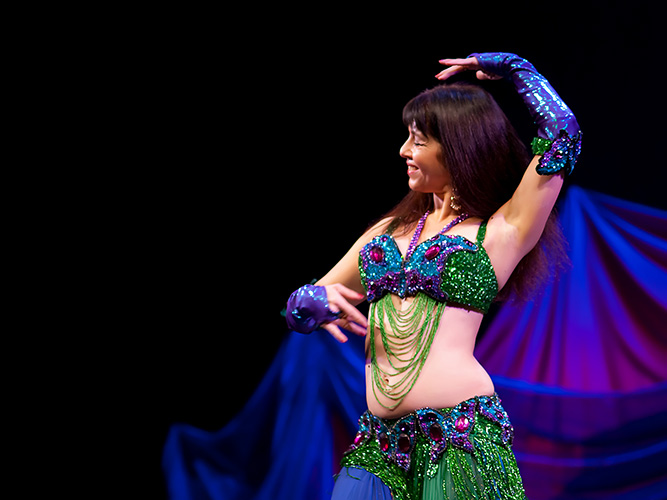 Do you long to move gracefully to those ethereal flutes, soulful accordions and haunting violins?
Would you like to gain more fluidity in your dancing and learn to make smooth transitions from one movement to the next?
Then this is the workshop for you!
Jalilah will teach you how to move gracefully and to connect your arms, hip circles, infinity loops (figure 8s) and undulations together into a beautiful seamless flow!
This workshop is accessible and beneficial to all levels of dancers from beginner to professional levels.
Jalilah has been a professional dancer since 1985. She has performed with over 25 different music groups and has produced 6 CDs in Egypt and Lebanon that are considered classics of Middle Eastern Dance. With her vast experience performing in the Middle East and having studied under various famous Egyptian masters she is widely regarded as an authority on authentic Middle Eastern Dance.
Sunday, May 2nd, 11:00 a. m. to 1:00 p.m.
Nepean Creative Arts Centre, 35 Stafford Rd., Nepean (Bells Corners)
To register contact julieDOTtierneyATsympatico.ca for the registration form or if you are on docod you can download the flyer from.
Cost: $35 if received by April 23, $45 thereafter. No refunds.
APRIL 10, 2010    SPRING FLING/HAFLA FUNDRAISER
ALL BELLY DANCERS WELCOME – IT IS YOUR PARTY
We will once again be partying and raising funds for great causes.
(Distress Centre, Bereaved Families)
The party will be at the Legion hall at the corner of McLaren and Kent (lots of parking).
The doors (and the bar) open at 7 pm. The party starts at 8 pm. Food will be served from 9 pm till close!
Everyone is invited to dance: soloists, groups, troupes,bunches….out-of-towners are welcome again.
Tickets are $25 in advance….$30 at the door
Don't forget our great prizes, DVDs, the bar…so bring along some cash!! It all goes back to our community!
Contact Catharine at dragonslivehere.glebe@gmail.com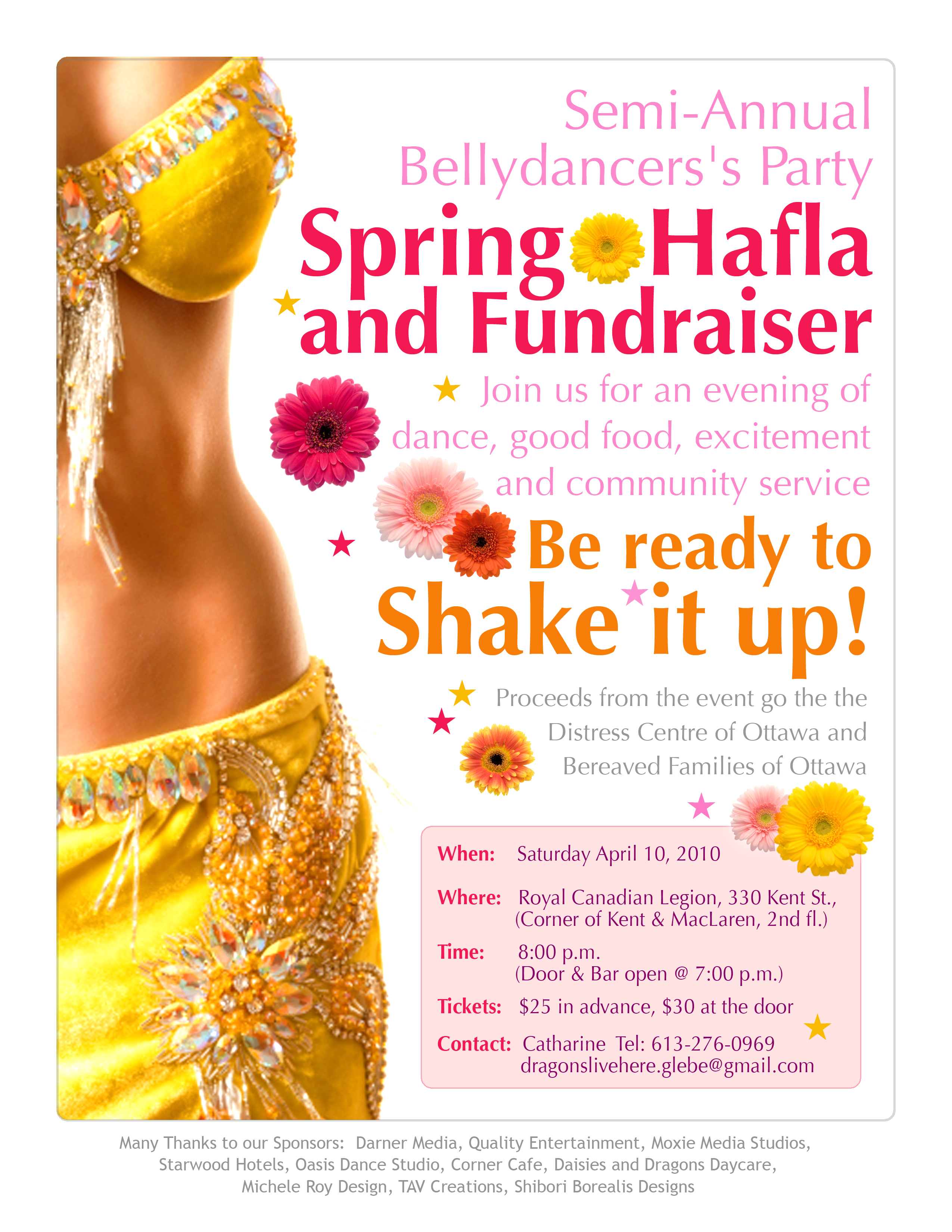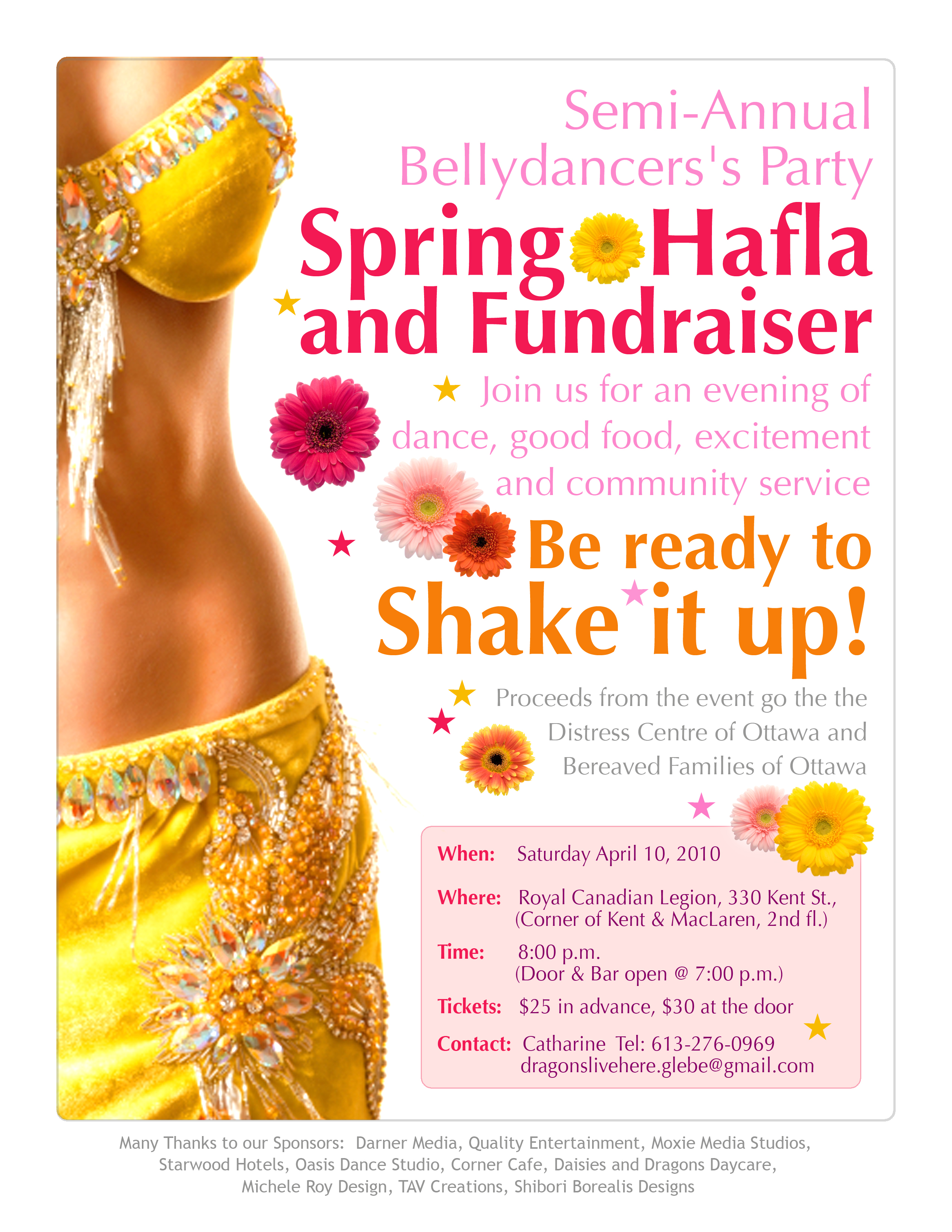 NOT QUITE BELLY DANCE EVENTS:
February 15, 2010   Meditation group in Crystal Beach
Anyone can join whenever they are free to come. For those of you who meditate and want to join like minded others or if you've wanted to try meditation but haven't gotten around to it this is the perfect opportunity for you.
The purpose of this group is to provide a place for people to come together to practice meditation and learn from each other so that they can enjoy the many benefits of meditation which include:
· Greater health
· Deeper levels of relaxation
· Improved brain function
· Decreased levels of pain
· Increased feelings of well-being
No experience necessary.
Mondays
8:00 p.m. to 9:00 p.m.
Maki House Community Centre, 19 Leeming Drive, Crystal Beach
(Between Bayshore and Kanata)
417 to Moodie Drive North. Turn right at Carling avenue, right at CrystalBeach Drive (your second street), left at Leeming Drive (your first street). Maki House is on the left right after the school.
Cost: Free
Info: julieDOTtierneyATsympatico.ca
DANCES OF INDIA: by Amrita Choudhury

MONTREAL
Classical/Sacred Dance(Odissi) 27 Feb, 6 & 20 March(1:30-4:30)
Classical dance video: http://www.ananda-amrita.com/classical-dance.htm
Gypsy/folk/BOLLYWOOD Dance:
– 20 Feb Gypsy/Bollywood – Mudras(hand gestures) & feet movements: Workshop #1(1-3:30)
– 13 March Gypsy/Bollywood – Expression & Grace in Indian Dance : Workshop #2(1-3:30)
– 17 April Gypsy/Bollywood – Choreography combining workshops 1 & 2(1-3:30)
Gypsy video: www.ananda-amrita.com/gypsy-folk-bollywood-workshop.htm
Bollywood video: http://www.ananda-amrita.com/bollywood-bhangra.htm
Yoga of Dance- The Joy of Shakti! 23, 24 et 25 April a 3 day retreat at L'Ermitage Centre de Retraite http://www.ermitage.ca/index.html
Video: www.ananda-amrita.com/video_test.htm
Reservation: www.ananda-amrita.com 514-768-9711 a_choud@hotmail.com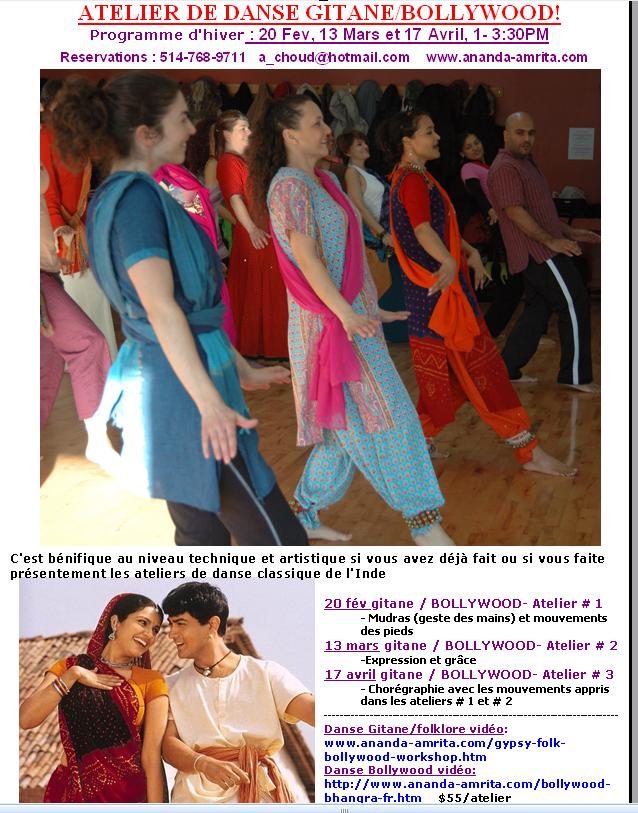 Full Moon Drum and Dance Circle
Saturday February 27, 2010
7:00 to 8:30
Maki House
19 Leeming Drive

417 to Moodie Drive North. Turn right at Carling avenue, right at Crystal Beach Drive (your second street), left at Leeming Drive (your first street) Maki House is on the left right after the school.
Bring your own hand drums, shakers, bells and other percussion instruments. There will be some shakers for people to use if they don't have anything of their own.
Cost: Free
Please RSVP by email to julieDOTtierneyATsympatico.ca
FEBRUARY 28, 2010

Journey Dance Ottawa
Born out of Kripalu Yoga Dance, JourneyDance is a groovy celebration that will have you loving your body and loving your life! Weaving simple, guided movement sequences and free exploration, JourneyDance reconnects you with your innate state of joyous well-being. Your mind becomes clear, free and positive, and your body feels supple, energized, and powerful. Practiced barefoot to inspiring world music, your dance is an empowering journey of transformation.
Next Class for February will be on Sunday 28th @ 4:30-6:00 pm at Routhier Centre in Lowertown.
See website for details: http://www.journeydance.blogspot.com/. Everyone is welcome, because we are all dancers!!

"The Present is a Gift from The Past, and an Inspiration to the Future." -Tracey "Halyma" Vibert, TEDxOttawa Talk, December 2009.