Good morning!
Feel free to go to the main page to get your full info including all of those classes you can still join  even though they've already begun!  Great seeing some familiar faces at the Women's Show yesterday – hope to see some after the Hike for Hospice !
Happy Dancing!
Tracey/Halyma
DANCERS' NEWSLETTER
2010 EVENTS
MAY 8, 2010
West End Bazaar
This is a bazaar fundraiser for the women's shelter known as Qimaavik, in Iqaluit, Nunavut. These ladies need help for supplies, utilities and security at the only shelter in the entire Territory.
25 vendors will be offering their wares, from Belly dance and Tribal costumes and accessories to food and Artists. Here is the list:
Creative Clothing by Roxane: costumes
TAV Creations and Eco-TAV: costumes and Eco-friendly bags!
Shibori Borealis: hand painted silk veils
Zamira: costumes and weighted veils
Zena: accessories for dance
Hollywood Music Centre: CDs and DVDs
Patricia Zaid and Bahiya: costumes and dance accessories
Boutique Baladi Ruby: coin belts, accessories, costumes
Nassim Naturals: natural make-up
Rain Kazymerchyk: from Gallery6: silver jewellery
Wendy Stevenson: from Gallery6: photographer
Carol Pillar: from Gallery6: watercolour artist
Tara Heft: glass jewellery
Margaret Toner: gemstone beaded jewellery
Tarot by Lisa-Marie
Curves Gym
Carolyn Penney: jewellery
Margaret Cape: jewellery
Divine Image: dance teacher
Janet Brown: A More Beautiful You esthetician
Joan Jesion: BeautiControl beauty products
Aloette products ptresented by RoseMarie Keogh
Sylvie the Incredible Pastry chef
Belly Dance Supplies
Venue:
OUR LADY of PEACE Catholic School
3877 Richmond Road
Ottawa (Bell's Corners), ON, K2H 5C1
Canada
contact Roxane at : roxkirk at sympatico dot ca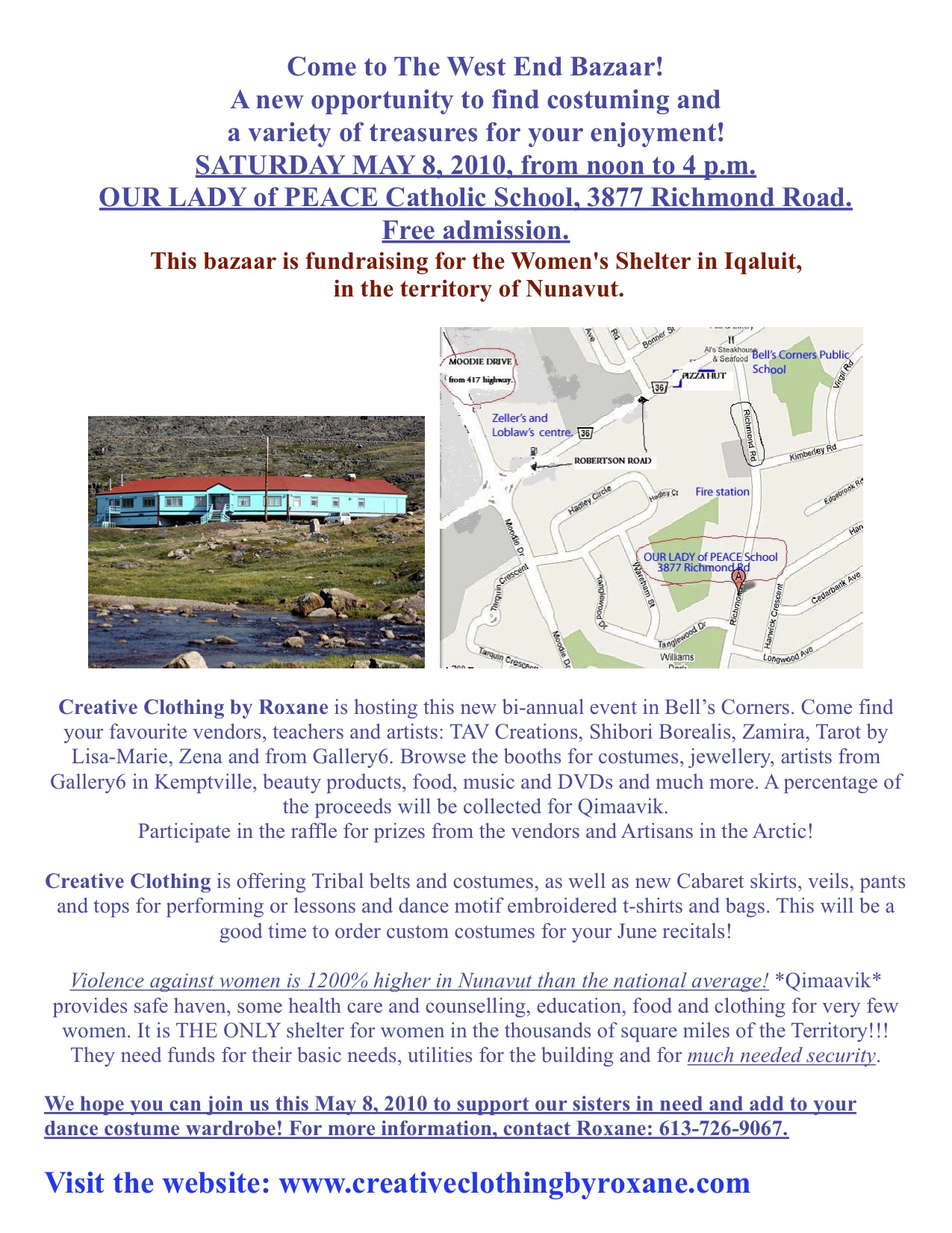 Check our FACEBOOK EVENT
May 21-24, 2010
Aswan Troupe at the Tulip Festival
The accomplished Aswan Folkloric Dance Troupe of Egypt will travel to the capital city of Canada to participate in the 2010 Canadian Tulip Festival that celebrates the tulip as a symbol of International Friendship.
Come and enjoy its performances that depict the great heritage of the Aswan region at Major's Hill Park and Commissioner's Park from May 21 to May 24.
They will bring their Ud, tabla, and tar to accompany the various songs, intricate patterns of hand-clapping and foot-stomping that are spectacular to watch.
Nubian folk dances of Aswan are performed on everyday and special occasions such as marriage and nuptial ceremonies, harvesting, community functions and merry-making. The Aswan folk dance troupe manifests these themes of folk life in very entertaining performances.
Don't miss the Nubian Tahtib (stick dancing) – and the Gha Wazi and the El Tahtip, two famed folk dances of Aswan that are enjoyable to watch.
Visitors to the Commissioner's Park will have the opportunity to dance with the performers as they will be mingling and inviting spectators to take part.
The Aswan Folkloric Dance Troupe has participated on various international  stages across continents including the International Folklore Festival in Veliko Tarnovo, Bulgaria, Charles De Gaulle Festival, France, Nairobi Festival, Kenya and at other important events at the India International Centre in  New Delhi and Tagore Theatre, India; Toronto Cultural Week, Canada, and the Kennedy Centre for Arts in Washington D.C. and New York, U.S.A.
The Aswan Folkloric Dance Troupe shows have the following time slots at the parks.
Major's Hill park May 21 12:00 – 1:00 pm May 22 1:45 pm – 2:45 pm May 23 1:00pm – 2:00 pm May 24 11:30 pm – 12:30 pm Commissioner's Park May 21 4:30 pm – 5:30 pm May 23 4:30 pm – 5:30 pm May 24 4:30 pm – 5:30 pm
For more information contact the Press Office of the Embassy of Egypt.
Counsellor Elsayed Elhady, Director, Press Office
Telephone: 613-563-1248
Email: egyptian.embassy@rogers.com
MAY 22, 2010
Studios OASIS de la danse annual recital
Performances featuring
the Oasis students and teachers,
the Enan Egyptian Troupe, and
special guest dancer Amelia from MontrealCarleton University theatre
Tickets only $10Contact Denise or Ahmed, or your Oasis teacher, for tickets
819-776-5033
info@baladi.ca
www.studiooasis.ca
MAY 23, 2010
Workshop with Amelia from Montreal

http://www.ameliaorientaldance.com/
at studio OASIS de la danse
200 boul St-Joseph Gatineau
The workshop was sold out, but due to a few cancellations, some spots have opened up!
Contact Denise 819-776-5033
info@baladi.ca
www.studiooasis.ca
MAY 30 – JUNE 15, 2010
EGYPT TOUR
Travel in Egypt with Denise and Ahmed Enan!
Details of the next tour now available on their website: http://www.baladi.ca/tours/
Nobody, but nobody can bring you the years of first-hand knowledge and
experience with authentic Egyptian dance! Denise and Ahmed will share
entertaining stories of their time with the Firqa Kaoumeia (National Dance
Troupe of Egypt) and life growing up in Egypt. Without missing any of the
tourist must-sees, we allow special time for dancers to go costume shopping,
take optional dance lessons, and outings to see dancers performing.
Call Ahmed for more details 819-776-5033.
May 30, 2010
Canadian marathon race day – belly dancers welcome!
8:30 a.m. to 11:30 a.m.
Freestyle Bellydance with Gee Robinson et al – contact Gee Gee for more details:
613-731-0815
MAY 30, 2010 – Montreal
Bellydance Superstars workshops: Sabah and Sabrina F

o
x
9h30 à 13h30 (incluant une courte pause): Atelier danse orientale avec Sabah
14h30 à 18h30 (incluant une courte pause): Atelier tribal-fusion avec Sabrina Fox
Collège Ahuntsic:
825 Émile-Journault (Émile-Jounault/St-Hubert), Montréal.
L'atelier se donne dans la palestre des miroirs (bloc sportif).
Dance class studio = Palestre des miroirs
About Sabah: http://www.bellydancesuperstars.com/sabah/
Description de l'atelier de Sabah: Warda
Atelier entier consacré à la musique d'une des chanteuses favorites de Sabah: Warda! 
La classe sera composée d'un échauffement, d'une partie technique et de combinaisons qui mises ensemble formeront une courte chorégraphie dansée sur de la musique faisant partie du répertoire de Warda.
L'atelier est ouvert et conçu pour tous les niveaux.
Sabah workshop description: Warda
Come learn a full workshop dedicated to one of Sabah 's favorite singers to dance to – Warda!
This is an open level class.
The class will be broken down into warm-up, technique, and combinations that lead into a short choreography all using Warda's extensive repertory of music.
Description de l'atelier de Sabrina Fox: Atash Maya style Dark and Sexy Choreography ~ Combos
Chorégraphie gothique et sombre ~ combos pour vos performances non-traditionnelles. Chorégraphie composée de 3 combos pour danser de façon stylisée en improvisation.
Atash Maya (troupe de Sabrina Fox) est connu pour son style "edgy and sexually powerful".
Cette chorégraphie, vous ne voudrez pas la ramener à la maison à vos parents, mais vos fans et vos amis du "dark side" l'adoreront.
La chorégraphie sera de niveau avancée incluant une parite au sol, une descente lente à partir de la position debout, des techniques de superposition de mouvements lentes et rapides et des tours rapides.
Les danseuses de tous les niveaux sont bienvenues, mais les débutantes devront s'allouer du temps d'observation avant d'essayer les techniques.
Sabrina Fox workshop description:
Atash Maya style Dark and Sexy Choreography ~ Combos
Dark gothic stylized choreography ~ combos for your not so traditional performances. A choreography that is broken down into 3 combos for Improvisational stylized belly dance.
Atash Maya has been known for their edgy and sexually powerful style. This choreography you may not want to bring home to your parents, but your friends and fans on the dark side will love it, you can wear your vampire teeth with this one :)=.
This is an advanced choreography including floorwork, a slow drop from standing, layered techniques both fast and slow, and fast spot turns. All Level dancers are welcome to attend, but beginners please allow yourself time to journal and observe techniques before trying if needed.
Prix pour un atelier/1 workshop only (4 heures):
• 75$ avant le 14 mai/ before May 14
• 85$ après le 14 mai/ after May 14
Prix pour les 2 ateliers/ both workshops (8 heures):
• 130$ avant le 14 mai/ before May 14
• 150$ après le 14 mai/ after May 14
Pour réserver votre place, vous devez effectuer le paiement directement sur le site/For registration, you should buy your place direclty on the website:
www.boutique.anichka.ca
Les paiement disponibles sur le site sont:
• Paypal
• Accès D (before May 25th only)
• Dépôt dans mon compte bancaire/ Deposit into my bank account
• Chèque (soit être reçu et post-daté pour maximum 14 mai, aucun chèque ne sera accepté après cette date)(should be received and post-dated maximum May 14th, no cheque after May 14th)
• Argent comptant (sur rendez-vous en boutique)/Cash (at boutique on appointment)
* Il est à noter qu'à compter du 14 mai 2010, les chèques ne seront plus acceptés pour l'inscription à ces ateliers.
Thank you,
Anichka
www.boutique.anichka.ca
June 5/6 , 2010
Art in the Park – Belly Dancers Welcome
Noon to 4 p.m.
Routines welcome: soloists/Groups
Bring your music! Contact Gee Gee for details – 613-731-0815
JUNE 13 , 2010
Saidi : Cane & Choreography Workshop with Chantal Dos Santos in Toronto
When: Sunday June 13th, 2010 from 11:00am-3:30pm
Where: Martha Hicks School of Ballet – 2384 Yonge St. 2nd floor, Studio B
(West side of Yonge, North of Eglinton)
Pricing: $55 on or before June 1st / $65 after June 1st
To register contact Caliana: 416-821-4381 or calianadances@gmail.com
Description:
Work on your existing skills and gain new ones! This multi-level workshop
offers the opportunity to polish your cane skills to the tune of the earthy
Saidi rhythm. In the first half of the workshop, students will drill the use
of the cane from the basics and beyond, including balancing, flipping and
catching. In the second half, we will work on a 2 1/2 minute choreography, which can be performed as is or built on to fill the full 5 minute song. Students will be provided with a CD of both the edited and the full length version of the song.
Straight canes are necessary for this workshop. Please indicate when registering whether you will be bringing your own straight cane or will need to borrow one.
There will be a 30 minute lunch.
*BIO:*
Chantal Dos Santos is a dance artist from Canada, currently based in
Germany. Chantal's dance studies include Egyptian and Turkish style Oriental Dance, Contemporary, Creative Movement theories and various Roma dances. She has studied with many notable instructors including Hadia, Roula Said, Nourhan Sharif, Ranya Renee, Lesya Starr and Katjusha Kozubek. Chantal is also a certified Oriental Dance instructor through Hadia's Middle Eastern Dance Teacher Training Program. Chantal continuously seeks out cultural experience and opportunities to explore endless possibilities of expression through the study of world dances.
www.cdsmovement.com
*inspire movement…*CDS_June13_SaidiFlyer
JUNE 19, 2010
Alhambra Dance & Friends presents Red Hot Summer Hafla in Toronto
When: Saturday June 19th from 2:00-4:00pm
Where: Martha Hicks School of Ballet, 2345 Yonge St. 1st floor, back of Office Building
(East side of Yonge, North of Eglinton)
Price: $10 in advance, $15 at the door (*funds are being raised for troupe costumes*)
For advanced tickets contact Caliana:
416-821-4381 or calianadances@gmail.com
Description:
Summer will be here before we know it! Join Alhambra Dance & Friends in our "Red Hot Summer Hafla" (RHSH).
This event will be more informal, where performances & demonstrations will be interspersed with mingling, eating & free dancing time!
Snacks & refreshments will be provided -byob
Performances by:
Caliana, Jaene, Siham Sumaiya, Haifa, Alexandra, some students, live musicians and more (TBA)
JULY 3-4, 2010~Montreal




The One and Only Mira Betz
will be in Montreal the week end of July 3-4th!
Absolutely unique as a dancer and teacher, Mira is a must see. Read more about here here :www.miramania.com
She will be with us for 9 hours of intimate teaching (max 25 people) and a show on july 2nd.
At first, we will only accept registration for the full week end. Individual workshops will be open for registration only if they don't sell out. We want to create a group energy that grows through the week end.
For 9 hours of workshops: 230 $
Registrations and workshop description at www.matjacob.com
NOT QUITE BELLY DANCE EVENTS:
Bollywood/Classical Classes at Ottawa U

Anushya Vijayaraghevan, student at the University of Ottawa and head coordinator for the South Asian Alliance Dance Team will be running some bollywood and classical indian dance (bharathanatyam) workshops in order to raise money for the team.

Each class will be 3 hours long and will be $15 per class. Here are the details:

Bollywood Workshops:

Saturday, May 8th——————–5:30pm-8:30pm
Tuesday, May 11th——————-5:30pm-8:30pm
Wednesday May 12th—————-5:30pm-8:30pm

Classical Workshops:

Saturday, May 15th——————5:30pm-8:30pm
Tuesday, May 18th——————-5:30pm-8:30pm
Wednesday, May 19th—————5:30pm-8:30pm

***Specials:

Mix and match any of our Bollywood and/or Classical classes and get the following rates:

If you do 3 classes: $35

Group rate for 3 people per class: $35

****Groups rates will be available upon request (Must be a group of 5+ people)

The workshops will be taking place at the Ottawa U campus in the University Centre, 2nd floor, room 205.

Contact Anushya at: avijay90 at gmail dot com



M
A

Y 9, 2010
Mother's Day Fortune-Telling with Rainbow Totem Beads by Dot Iskra
Location
Twist of Fate Gift Emporium, 633 Somerset West, Chinatown Ottawa
Description:
A wonderful celebration of Mother's Day with Fortune-telling, Artisan jewellery, fine art and furniture display. Jasmine tea and fortune-cookies served. A chance to get Mom a unique present from a far corner of the world from a Twist of Fate Gift Emporium's collection of beautiful and rare shiny things.
Twist of Fate Emporium is a fair-trade emporium run by Miss Mika, who travelled all over the world to find rare handcrafted items to bring to Ottawa to share. Mika has lovely shiny things such as miniature jade sculptures of the animals of the Chinese Zodiac, semi-precious stone eggs, window hangings, and beautiful linen and silk purses.
The fortune-telling readings are most unique in that Fortune-Telling with Rainbow Totem Beads is a new,form of divination using the energies of glass beads in the colours of the Rainbow Chakra system, as well as various symbolic animal totems and beads from Aboriginal, Asian and Old World European cultures. A past, present and future reading is given.
Cost: Fortune Readings start at $5 for 5 minutes.
The first 5 minutes of the reading are free if you come in with a Fortune-Telling with Rainbow Totem Beads Coupon. Coupon is available directly from Dot Iskra and/or also from posters for this event hanging at Umi Cafe, on Somerset West St in Chinatown.
Contact information for more details:
Phone; Dot Iskra 613-627-6562 dotjewels2@gmail.com for Fortune-telling and hand-made artisan Rainbow Totem Bead jewellery,
Mika at "Twist of Fate" Emporium, 613-233-3283
May 15 and 16, 2010
Ottawa Sound Healing Conference
St. Paul's University
223 Main Street, Ottawa (across from the Green Door)
Be sure to check out the amazing line up of performances, workshops and talks at this year's 2nd Annual Ottawa Sound Healing Conference!
We are also asking for you to help us launch a full promotion by sending out this latest announcement to your email lists. Your support and co-creative assistance is important to the success of the 2nd Annual Ottawa Sound Healing Conference; the more people are informed about this weekend, the more ears and hearts we may touch!
The Ottawa Sound Healing Conference Team
May 16, 2010
Ukrainian Male Chorus from Edmonton along with Suzirya Ukrainian Dance group from Calgary are going to be performing "Kateryna" based on the literary work of Taras Shevchenko.
2 pm, Sunday, May 16, 2010
Centre Pointe Theatre
101 Centrepointe Drive, Ottawa, ON
Tickets: $40 dollars

JUNE 10-13,2010




Ontario Womyn's Drum Camp 2010
Thursday – Sunday
Come Join the Fun!
Whatever your interest, there will be something for you!
Our talented teachers will offer you their very best as they share their knowledge and the rhythms of the Earth.
Check out the details online:
ANNOUNCEMENTS
Leslie Presents Abstract at Univerisity of California Riverside (UCR) Dance Conference: Dance Under Construction – Economies in Motion
http://dance.ucr.edu/DUC/index.html
Leslie has been selected to present an abstract entitled: Slow Motion: The Minimalist Economy of Movement at the Dance Under Construction Conference at UCR. This student run conference features dance presenters from the University of California Dance Programs and beyond. This is an exciting opportunity to present on bellydance to an audience of student and professional dancers and dance academics!
In order to support travel to this academic event, Leslie is doing some fundraising! While Leslie is applying to York University for funding to support her travel, the University only provides a small percentage of funds required for participating in this event. The total cost of the trip including travel (flight & car rental), accomodations, registration and incidentals is approximately $1000. You can donate by sending an email interac transfer to oceanfiretribal@gmail.com – or, you can join or drop into Leslie's weekly class, Tuesdays 8-9pm at Makin Moves, or check out her Tribal Bazaar at: http://www.facebook.com/home.php?#!/album.php?aid=184379&id=547580498 – (you can join Leslie's facebook here too!)
Leslie will be teaching her Dance Under Construction choreography and presenting her abstract at a May workshop in Ottawa, date TBD and keep an eye out for information! Leslie is currently completing her Master of Arts in Dance at York University and is back in Ottawa for eight weeks for summer work.
Angelo Luzio bellydance shoes
in nude, black, gold and silver available for fall delivery.
Place your reservation now so that you will be one of the ones with his new and improved shoes on your feet when the fall session starts.
Contact Marcelle at Boutiqueisis@aol.com.
Chaussures danse orientale par Angelo Luzio en rose (nu), noir, argent et or ?sont disponible pour livraison à l'automne!
Placez votre réservation dès maintenant pour recevoir vos chaussures ?améliorée lors de la session d'automne commence.
Contactez Marcelle au Boutiqueisis@aol.com
Call for A Way to Women's Wellness 2011 ArtBra Submissions
As founder of A Way to Women's Wellness, Inc., I began the non-profit foundation in 2003, when I began to invite friends to create embellished bras. The term ArtBra was born and we continue to create ArtBras for our annual WTWW ArtBra calendar and exhibitions. 100% of the net proceeds from the sale of the ArtBra calendars are donated to different breast cancer centers.
Our group also designs a crazy quilt every year, which we donate to a breast cancer center.
This year the WTWW ArtBra Exhibit will appear at the Houston Quilt Festival and at national conferences of the American Sewing Guild and Embroidery Guild of America.
This year's deadline for ArtBra entries is June 5th. Bras should arrive at the Ribbon Smyth Studio no later than June 5th to be considered for inclusion in the 2011 ArtBra Calendar. Area photographers and quilt book editors will select the 2011 Calendar ArtBras. All bras submitted will appear at this year's exhibitions. Complete submission guidelines may be downloaded at www.artbra.org
There is a gallery featuring the latest ArtBra arrivals.