To see the main website, click here . Or check the Full Blog version here
Head on over to see more Events, Classes Teacher Directory, Shopping Opportunities, and Healing, Guides and Energy workers, Pampering sections!
The weekends are busy, and life is hectic, but as long as we keep on dancing we'll find those moments of peace!
Here's the latest news – read on!
Tracey/Halyma
Dancer's News-Update
2010 EVENTS
MAY 2, 2010
Fluidity and Slow Movements Workshop with Jalilah

ALMOST FULL!!
If you want to register please contact Julie at julie.tierneyATsympaticoDOTca first to make sure there is still a spot available for you.
Jalilah will teach you how to move gracefully and to connect your arms, hip circles, infinity loops (figure 8s) and undulations together into a beautiful seamless flow.
This workshop is accessible and beneficial to all levels of dancers from beginner to professional levels.
Sunday, May 2nd, 11:00 a. m. to 1:00 p.m.
Nepean Creative Arts Centre, 35 Stafford Rd., Nepean (Bells Corners)
Cost: $45 . For the flyer, contact julie.tierneyATsympaticoDOTca
MAY 2, 2010
CALLING ALL DANCERS & DRUMMERS ! !
Coming up in just 2 weeks, on Sunday, May 2nd, is the annual Hike for Hospice, the major fundraiser for this worthy organization which provides loving support to persons diagnosed with terminal illness, their families & all those who care for them.
For the past several years the Ottawa community of dancers & drummers have come out in large numbers to sing, dance, drum & encourage the walkers returning to the Hospice grounds at the end of their 5 km hike along the canal.   The purpose is to provide a colourful, noisy & congratulatory welcome back spectacle for the hundreds of walking, jogging, strolling, cycling adults, kids, babystrollers, decorated family dogs & even folks in wheelchairs. The warm thank-you's & appreciative comments we have received for our efforts in the past would have been enough, but the Hospice also provides us with a sumptuous picnic lunch & live entertainment in their glorious garden beside the Rideau River after the Hike.
So, if you have participated in the past, or would like to lend your own dancing, zilling, drumming, clapping, cheering or zagareeting support with our group this year, please get in touch with me ASAP so I can reserve a lunch for you for Hike day.  Husbands, kids, & interested bystanders welcome too.
There will be a place for you to change into a costume if you wish, or you can arrive already dressed.  Plan to arrive between 9:00 & 10 a.m. & park on a nearby street.  The walkers assemble behind the Hospice building for speeches & opening ceremonies prior to setting out on the Hike at 9:30.
For more information about Hike for Hospice, or about the Maycourt Hospice programs, please consult their website:
See you at the Hike!
Rosemary
RSVP
613-298-0788
MAY 8, 2010




West End Bazaar
This is a bazaar fundraiser for the women's shelter known as Qimaavik, in Iqaluit, Nunavut. These ladies need help for supplies, utilities and security at the only shelter in the entire Territory.
25 vendors will be offering their wares, from Belly dance and Tribal costumes and accessories to food and Artists. Here is the list:
Creative Clothing by Roxane: costumes
TAV Creations and Eco-TAV: costumes and Eco-friendly bags!
Shibori Borealis: hand painted silk veils
Zamira: costumes and weighted veils
Zena: accessories for dance
Hollywood Music Centre: CDs and DVDs
Patricia Zaid and Bahiya: costumes and dance accessories
Boutique Baladi Ruby: coin belts, accessories, costumes
Nassim Naturals: natural make-up
Rain Kazymerchyk: from Gallery6: silver jewellery
Wendy Stevenson: from Gallery6: photographer
Carol Pillar: from Gallery6: watercolour artist
Tara Heft: glass jewellery
Margaret Toner: gemstone beaded jewellery
Tarot by Lisa-Marie
Curves Gym
Carolyn Penney: jewellery
Margaret Cape: jewellery
Divine Image: dance teacher
Janet Brown: A More Beautiful You esthetician
Joan Jesion: BeautiControl beauty products
Aloette products ptresented by RoseMarie Keogh
Sylvie the Incredible Pastry chef
Belly Dance Supplies
Venue:
OUR LADY of PEACE Catholic School
3877 Richmond Road
Ottawa (Bell's Corners), ON, K2H 5C1
Canada
contact Roxane at : roxkirk at sympatico dot ca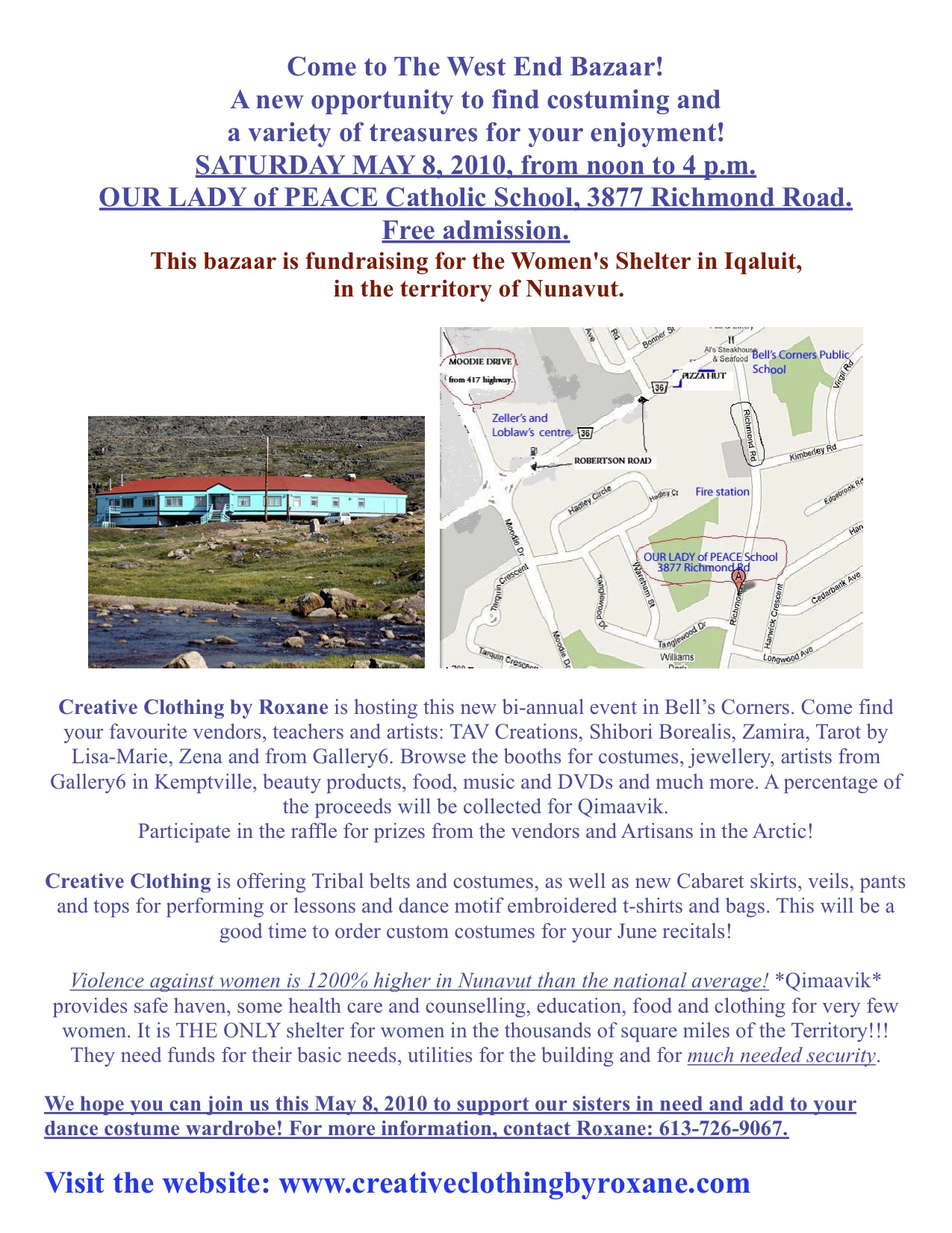 Check our FACEBOOK EVENT
MAY 22, 2010
Studios OASIS de la danse annual recital
Performances featuring
the Oasis students and teachers,
the Enan Egyptian Troupe, and
special guest dancer Amelia from MontrealCarleton University theatre
Tickets only $10
Contact Denise or Ahmed, or your Oasis teacher, for tickets
819-776-5033
info@baladi.ca
www.studiooasis.ca
MAY 23, 2010
Workshop with Amelia from Montreal
http://www.ameliaorientaldance.com/
at studio OASIS de la danse
200 boul St-Joseph Gatineau
The workshop was sold out, but due to a few cancellations, some spots have opened up!
Contact Denise 819-776-5033
info@baladi.ca
www.studiooasis.ca
NOT QUITE BELLY DANCE EVENTS:
MAY 1 and 2, 2010
TAV Creations/Eco-TAV at the National Women Show
Saturday, May 1 10:00 AM to 6 p.m.
Sunday May 2, 2010 10:00 AM to 5 p.m.
Where:
1015 Bank Street – Lansdowne Park, Ottawa, Ontario.
Website:
http://www.nationalwomenshow.com
TAV Creations and Belly Dancing For Fun is pleased to once again be participating in Ottawa's National Women Show.
Begun in 2003, TAV Creations has been a part of this weekend of information, demos, fashion, fitness and much more since the beginning.
Featuring information on custom sewing, examples of some of my recent designs, and products available for sale, our booth will be along the wall just past the fitness area!
Extra special sales events will include Halmya's Belly Dance DVD's , Eco-TAV Blossom Bags and so much more!
Cash and credit card sales accepted!
Come out and enjoy a day of adventure in exploring all of those great things women love so much – and be sure to stop by to say hi!
See their website for the Ottawa Spring National Women's Show for full details of the weekend!
Saturday 4:15 to 4:45
Sunday 3:30 to 4 p.m.
Main Stage Show featuring Halyma and Friends:
Belly Dance & Bollywood For Fun
Join us for some dancing fun from the middle east to the colourful fields of India! Halyma and friends will wow you with their colourful costumes and joyful show – and join them to learn a few moves too!
JUNE 10-13,2010




Ontario Womyn's Drum Camp 2010
Thursday – Sunday
Come Join the Fun!
Whatever your interest, there will be something for you!
Our talented teachers will offer you their very best as they share their knowledge and the rhythms of the Earth.
Check out the details online:
SPRING CLASSES
TRACEY/HALYMA – Byward Market Area
BYWARD MARKET AREA
172 Guigues – call 613 244-4470 to register or online through the City of Ottawa and follow the "how to register" instructions on the sidebar.
Mondays- start April 26:
Level 1 – 6:30pm.-7:30pm. ( $45/6 weeks) course code:434367
Level 2 -7:30pm.-8:30pm. ( $45/6 weeks) course code:434406
Thursdays – start April 29:
Level 1 – 6:30pm.-7:30pm. ( $ 45/ 6 weeks) course code:434373
Level 2+ – 7:30pm.-8:30pm.( $45/6 weeks) course code:434422
* Level 2+, also called "creative Intermediate", will focus on more personal development as a dancer/performer
General info about classes: www.bellydancingforfun.com
Classes with Zeevah
Cabaret Style Belly Dancing for Beginners/ Belly Dance Basics
Beginners will learn enough basic steps and veil movement for a complete choreography. The style taught is American Cabaret belly dance which allows for freedom in the interpretation of movement. Perfect for beginners. Wear comfortable clothes and bare feet or flat dance shoes.
Spring Dates 2010 8 Weeks $66/person + GST
St. Patrick's HS Tues 7:00 pm-8:00 pm Start Apr 20 (24028)
ON LINE www.winterconnections.com
Click on General Interest Courses to view program and to
sign up for a course. Login ID and PIN numbers are required for use of our online registration system. If you do not have an account but wish to create one please send your request for a login ID and pin number along with the student's full name, home phone, work phone, home mailing address, and return email address to Continuing.Ed@ottawacatholicschools.ca.
NEW! – CardioBellydance with Anna & Safiya!
Wednesdays 6:30 – 7:30 pm, starting April 21st, 2010
Capital City Dance, Ottawa
1309 Carling Avenue, Westgate Mall (lower level)
A fun and fast-paced hour of bellydance sequences danced to up-beat music!
All levels of Bellydancers will benefit from this class. There will be some explanation of moves, and various level options will be given, but the focus will be on cardio workout.
Come get in shape for summer…sweat and love it!
For pricing and location, please see www.annabellydance.ca/classes
TRIBAL CLASSES WITH LESLIE
Tribal fusion classes with Leslie – 8 week session – starts Tuesday April 20!
This Tribal fusion Basics session will challenge both beginners and experienced dancers in a supportive environment. In this drill oriented class, you will learn the basic elements of this dance style, more advanced students will be asked to increase their speed and timing and practice layering. Some combinations will be taught near the end of the session.
Tuesdays April 20th to June 8th
8-9pm
1196 Bank St at Makin' Moves studio
Registration is $100, space limited to ten participants!
Drop-ins possible for $15/class, rsvp by email to confirm space is available.
to register: leslie@shaktifusion.ca
Jewel's Spring CLasses
Richelieu-Vanier Community Centre (Vanier)
Beginner Bellydance for Fun and Fitness – 6:15-7:15 PM
Beyond the Basics Bellydance – 7:30-8:30 PM
Starts Thursday, April 29, 2010
Duration – 10 weeks
To Register call 613-580-2424 ext. 28464
Mother Teresa High School (Barrhaven)
Beginner Bellydance for Fun and Fitness – 7:00-8:00 PM
Beyond the Basics Bellydance – 8:15-9:15 PM
Started Monday, April 19, 2010
Duration – 8 weeks
613-228-3338
More info: bdinfo@magma.ca and 613-567-6675
—-