Head over to see the Teacher Directory, Shopping Opportunities, and Healing, Guides and Energy workers, Pampering sections!
GOOD MORNING!
Loads of new tidbits in the news this week and a few reminders as usual!  See you at some of the fun coming up this June!
Tracey/Halyma
DANCERS' NEWSLETTER – UPDATE EDITION
2010 EVENTS
June 5/6 , 2010




Art in the Park – Belly Dancers Welcome
Noon to 4 p.m.
Routines welcome: soloists/Groups
Bring your music! Contact Gee Gee for details – 613-731-0815
JUNE 5, 2010




Indo-Caribbean Cultural Celebration featuring Halyma and the Belly Dancing for Fun Dancers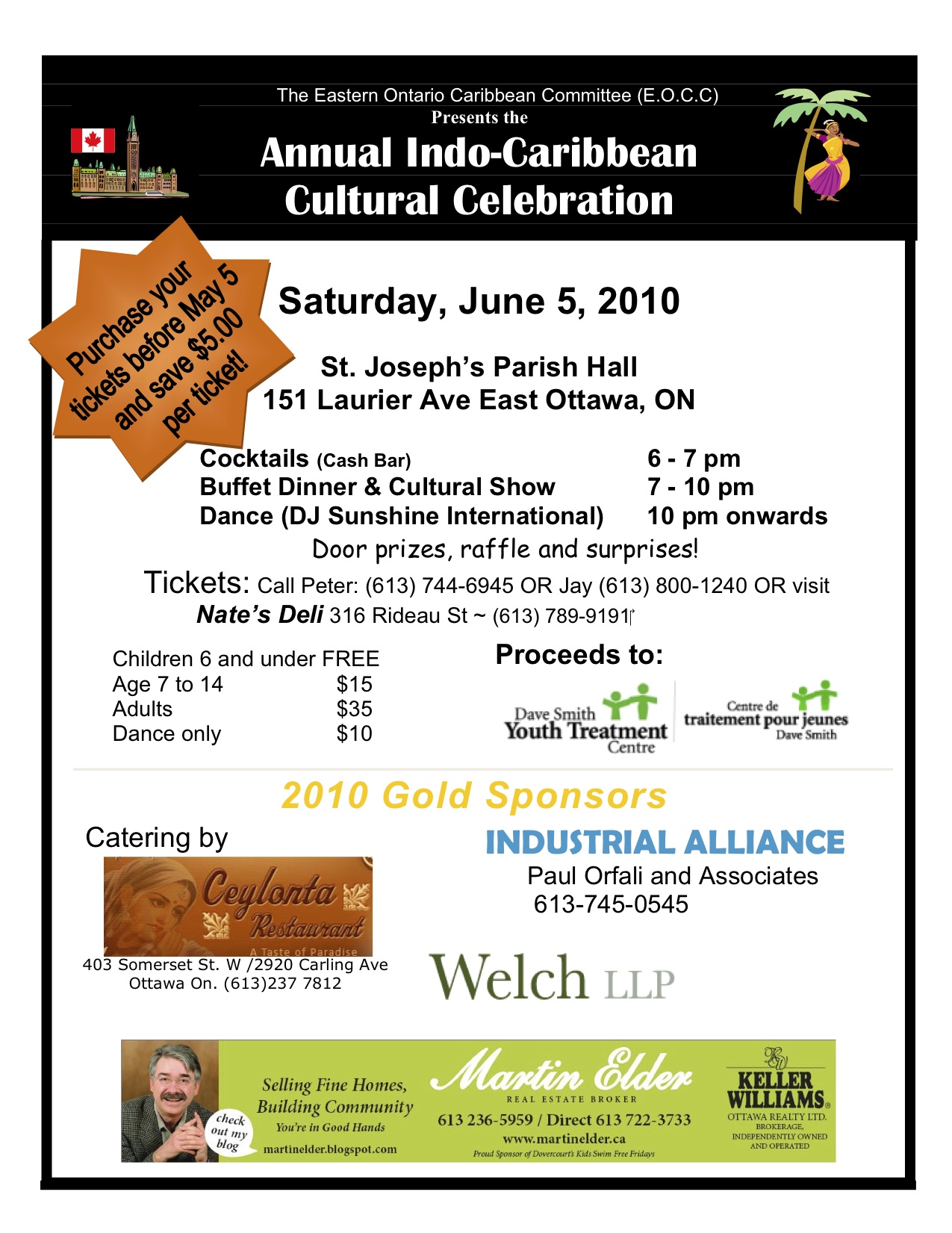 JUNE 6, 2010~MONTREAL




Spectacle de danse d'Ethereal Tribal
Ethereal Tribal et ses élèves vous invite à venir passer une soirée à
la saveur des mille et une nuits. Un moment pour découvrir la danse de
l'orient en fusion avec leurs inspirations d'aujourd'hui.
Ethereal
Tribal and their students invite you to an evening of intoxicating
oriental fusion dance, in the spirit of the 1001 nights.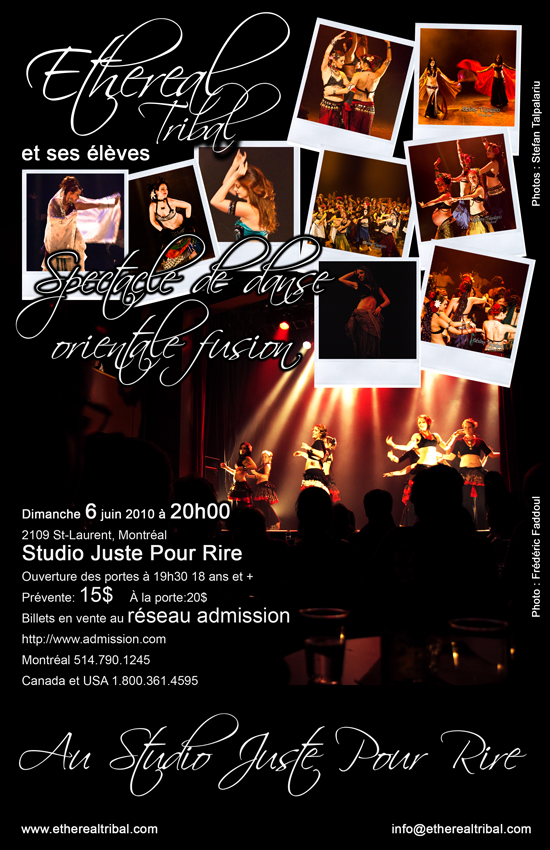 Bellydance with Anna & Safiya at the Carnival of Cultures!
Saturday June 12 (4:00 – 5:00 pm)
Sunday June 13th (6:00 – 7:00 pm)
Marion Dewar Plaza (corner of Laurier and Elgin)
Come enjoy live and colourful performances presented by hundreds of local and out-of-town artists.
For weekend passes please contact Safiya at safiyadancer@gmail.com
or visit www.carnivalofcultures.com
also check out the details for Bollywood For Fun's performances below in the "Not Quite Belly Dance Section"
12 et 13 juin 2010 – Quebec




FesTribal de Québec 2010 Tribale Kabbale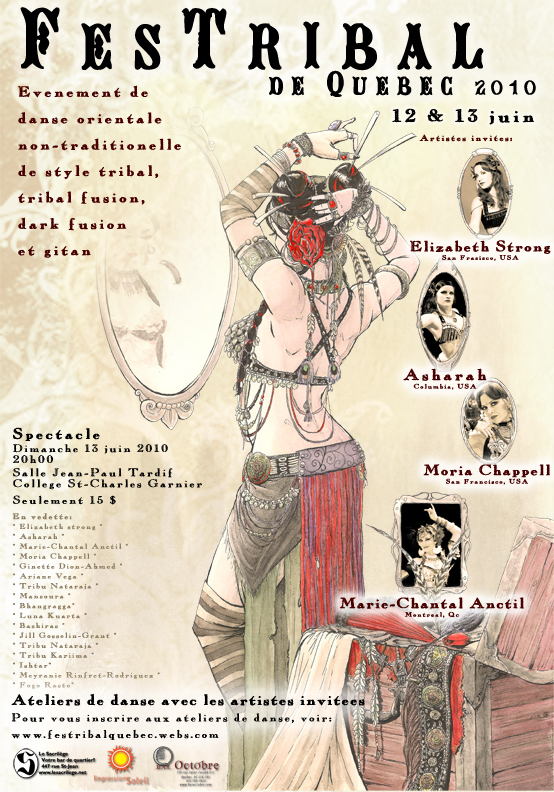 JUNE 13 , 2010




Saidi : Cane & Choreography Workshop with Chantal Dos Santos in Toronto
When: Sunday June 13th, 2010 from 11:00am-3:30pm
Where: Martha Hicks School of Ballet – 2384 Yonge St. 2nd floor, Studio B
(West side of Yonge, North of Eglinton)
Pricing: $55 on or before June 1st / $65 after June 1st
To register contact Caliana: 416-821-4381 or calianadances@gmail.com
Description:
Work on your existing skills and gain new ones! This multi-level workshop
offers the opportunity to polish your cane skills to the tune of the earthy
Saidi rhythm. In the first half of the workshop, students will drill the use
of the cane from the basics and beyond, including balancing, flipping and
catching. In the second half, we will work on a 2 1/2 minute choreography, which can be performed as is or built on to fill the full 5 minute song. Students will be provided with a CD of both the edited and the full length version of the song.
Straight canes are necessary for this workshop. Please indicate when registering whether you will be bringing your own straight cane or will need to borrow one.
There will be a 30 minute lunch.
*BIO:*
Chantal Dos Santos is a dance artist from Canada, currently based in
Germany. Chantal's dance studies include Egyptian and Turkish style Oriental Dance, Contemporary, Creative Movement theories and various Roma dances. She has studied with many notable instructors including Hadia, Roula Said, Nourhan Sharif, Ranya Renee, Lesya Starr and Katjusha Kozubek. Chantal is also a certified Oriental Dance instructor through Hadia's Middle Eastern Dance Teacher Training Program. Chantal continuously seeks out cultural experience and opportunities to explore endless possibilities of expression through the study of world dances.
www.cdsmovement.com
*inspire movement…*
JUNE 24 to JULY 29, 2010




FREE SUMMER PRACTICE EVENINGS
Thursday evenings of dance – come out and play
Where: 172 Guigues – Routhier Community Centre, 2nd floor
When: 6:30 to 8:30p.m.
What: Two hours in an air conditioned room with mirrors to play as you wish!
There with a cd player and music. Feel free to bring your own music too, or just take advantage of space and a safe fun atmosphere to test drive those belly dance moves you learned through the winter and spring!
Drop in anytime during the two hours to play, practice, and socialize.
Join us for a fun night out to get some exercise, to practice for upcoming performances, or try those props you have learned through the year and have nowhere to practice them!
OPEN TO ALL LEVELS – Beginner through professional!
Please note: this is not a class – but you'll learn new stuff by watching and playing.
August 6 – 8th 2010 ~Mississauga, Ontario




Fifi Abdo


First Time to Canada!
Also featuring Khaled Mahmoud of Cairo!
2 days of workshops. Saturday night gala starring Fifi Abdo!
Delta Meadowvale Resort & Conference Centre, Mississauga
Whole Weekend Package includes four 3-hour workshops
(12 hours of training) and Friday & Saturday night shows!
Only $399 before July 25th
Single workshops
$150 per workshop for Fifi Abdo.
$80 per workshop for Khaled Mahmoud.
Friday show
$25 in adv., $30 at door.
Saturday Gala
$125 advance
$150 at door.
Don't miss your chance to study with the Egyptian legend Fifi Abdo along with Khaled Mahmoud for the first time in Canada! Six hours of workshops each day!  PLUS Saturday night Gala starring Fifi Abdo performing with live band!
Saturday Baladi Workshop. Sunday Raks Sharqi Technique.
Saturday Oriental workshop. Sunday Tabla Solo.
Saturday Gala starring Fifi Abdo! With live band Layali El Sharq!
Click here for more details: http://www.littleegypt.com/fifi.htm
SUMMER CLASSES
Zamira's Summer Classes
New SUMMER 2010 classes CONTINUE
Belly Dance for Adults and Teens all levels
A Beginner-Intermediate Belly Dance class with an emphasis on flexibility, muscle isolation and increasing muscle strength and grace. To run this class a minimum of 6 students is required.
Wednesday 7:00-8:00 PM
June 2 – July 28, 2010: block of 6 consecutive classes $66
Drop-in fee $12 cash per class – no registration necessary
Classes take place at Makin' Moves Dance Studio:
1196 Bank Street at Ossington Avenue Old Ottawa South
For registration and information contact Zamira:
zamira@theveiledeye.com
613-797-4068
CardioBellydance at the Arts Court with Anna and Safiya
– 1 night only! June 2nd (6:30 – 7:30 pm)
Due to studio renovations, Anna & Safiya will be holding their CardioBellydance course on Wednesday June 2nd at Arts court (2 Daly Avenue Studio B)
If you are downtown and care to come dance with us, all levels of bellydancers are welcome to join in the sweat-infused fun!
Contact Safiya at safiyadancer@gmail.com , or visit www.annabellydance.ca/classes
(Starting again on Wednesday June 23rd, CardioBellydance continues all summer long at Capital City Dance (1309 Carling Ave, Westgate Mall), 6:30 – 7:30 pm)
NOT QUITE BELLY DANCE EVENTS:
JUNE 10-13,2010




Ontario Womyn's Drum Camp 2010
Thursday – Sunday
Come Join the Fun!
Whatever your interest, there will be something for you!
Our talented teachers will offer you their very best as they share their knowledge and the rhythms of the Earth.
Check out the details online:
http://www.drumcamps.ca/
JUNE 11-13, 2010




Carnival of Cultures
Bollywood for Fun will proudly be participating in the the 2010 Carnival of Cultures!
WE NOW HAVE WEEKEND PASSES AVAILABLE AT $12 each! Email us info@bollywoodforfun.ca and get yours!
Carnival of Cultures is Ottawa's unique international folkloric festival that brings to life music, song and dance of countries from the four corners of the globe each June.
June 11, 12, 13, 2010
Marion Dewar Plaza (Formerly Festival Plaza)
Corner of Laurier and Elgin
Bollywood For Fun shows:
Join us for the parade to kick off the festivities from 6 p.m. onwards!
Friday, June 11, between 9 and 10 p.m.
Saturday, June 12, between 2 and 3 pm.
J
UNE 13, 2010
TAKE THE LEAD SHOW
Bollywood For Fun will be part of the variety of talent performing in support of this great cause…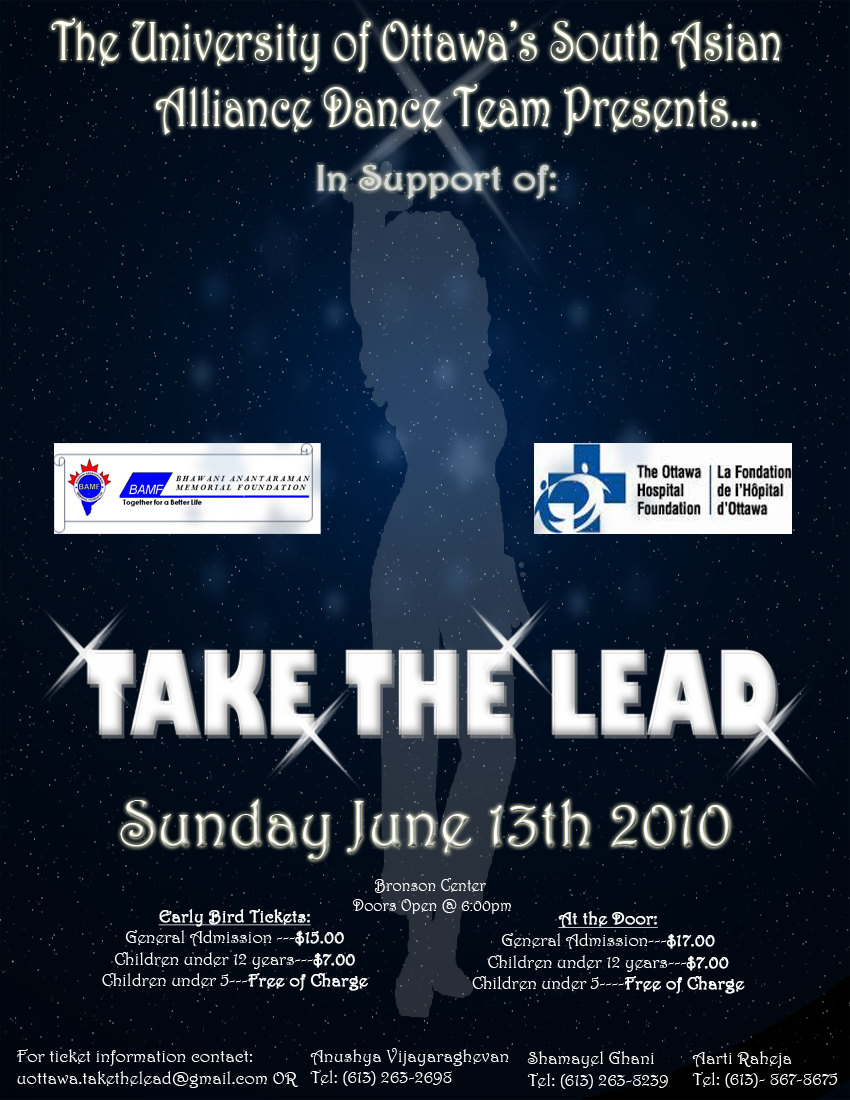 JUNE 27, 2010




Can't Stop the Serenity 2010
Sunday, June 27, 2010
Mayfair Theatre
1074 Bank Street
Ottawa, ON K1S 3X3
(613) 730-6552
What is Can't Stop the Serenity?
Can't Stop the Serenity is a charity event supporting Equality Now and iSisters Technology Mentoring. We are screening the sci-fi film "Serenity", and "Dr. Horrible's Sing-Along Blog."
ABOUT THE CHARITIES:
Equality Now is an international organization which documents violence and discrimination against women and mobilizes international action to support their efforts to stop these human rights abuses.
iSisters Technology Mentoring is a local charity that connects women in need with technology through mentoring. iSisters increases economic earning potential and independence for women in poverty in Ottawa who are unemployed, have limited education and depend on government services for basic needs.
ABOUT THE FILMS:
Serenity (film starts at 1 PM)
Called "the best science fiction film ever" by science fiction author and legend, Orson Scott
Card, it's hard not to like Joss Whedon's shiny space western. Indeed, watch the film that rose from the ashes of the celebrated Fox television show, Firefly, and you'll soon see why this movie garnered IGN's 2005 Best Sci-Fi and Best Story awards, as well as topping numerous fan polls.
Dr. Horrible's Sing-Along Blog (film starts at 3:20 PM)
A classic short film showcasing the writing talents of the Whedon family (and Maurissa Tancharoen) as well as the acting and singing abilities of none other than Neil Patrick Harris(Harold & Kumar Go to White Castle, How I Met Your Mother), Felicia Day (The Guild, Dollhouse) and Nathan Fillion (Firefly, Slither). You will laugh and cry in this amazingmusical about an up-and-coming supervillain, his nemesis and his one true love.
To purchase tickets ($12 in advance, $15 after June 20th) or to make a donation please visit http://www.ottawabrowncoats.ca