So first – here's the video – in case you don't feel like reading my rambling thoughts!

Thanks to Sarah Leigh Anne and Yvonne for being willing to suddenly, unexpectedly, and totally spontaneously joining me on the stage!
Now the rambling…
As I get older – and maybe wiser, but I don't want that kind of pressure, I am embracing those moments when my life is a full on spiral. Finding myself coming back to revisit experiences from my youth, but with new perspective and some joyful abandon, it's very freeing, and enlightening.
People who have had actual children, please do not be offended by the following – it's an analogy, a metaphor, a perspective…
I realized today that I have been having the wonderful experiences of my kids growing up, moving out, finding new relationships and moving on.  Without the loss, without the empty-nest feelings, without rancorous feelings about whoever they are choosing to hang out with/ get involved with/ move in with… it's fine.  It's great in fact!
Years back, I retired from hosting the Dancers' Bazaar, and it went off into a polyamorous relationship with two lovely organizers, tried being monogamous with one of them and has moved on to another poly situation. It's awesome.
Last December, I hosted my last Big End of Season Student party. I had already kicked that kid out in the spring  of 2016 and it also immediately sought out a couple of lovely young ladies with which to spend it's time.  It had to come home for the holidays, though, and I announced that night that I was done – fly, be free, leave the nest!  And it has gone one to party with a new tribe  < see what I did there?>, but with many or it's usual friends still coming out to play.
And it's also awesome.
So, back to the point of the video and my spiralling back upon things I did in my "youth". While I still get to engage audience members when we perform with Bollywood For Fun and have an interactive finale, I had stopped doing that spontaneous, "I want to get others up with me", stuff years ago as I was trying to be a better technical dancers, challenge myself with new costumes, props, artistic approaches.
So, this past week, I went back. Did I know my music – yeah…sort of… I had listened to it a couple of times when I took it from my students' potential songs, Thanks Veronique!. And I listened to it maybe 2-3 times on Wednesday before performing. Yeah, I'm busy, I've done a lot with pushing myself over the years, but I always had the most fun when I could just dance.
No pressure, no choreography, no stress – yeah – I don't get nervous if I am improvising. I get nervous if I am doing a routine with other dancers where it will show when my brain leaves the stage.
Anyway.
That's the rambling.
Super awesome time with SLA and Y – you ladies were so gracious to get up and join me!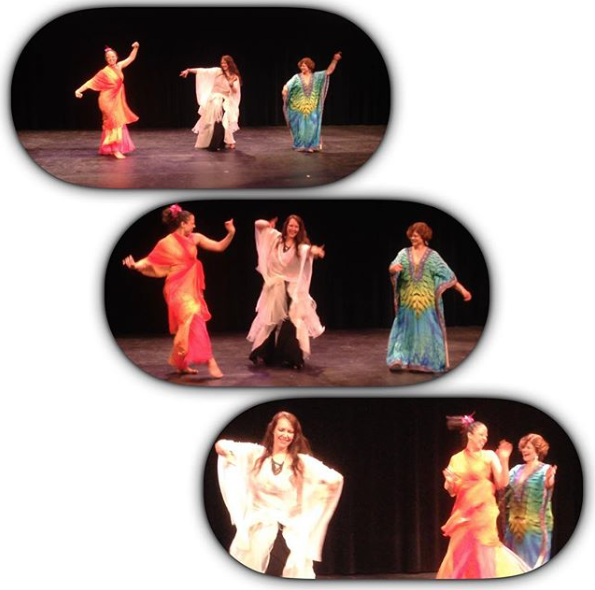 Thanks to my surprised dance partners who joined me on stage tonight! They did not know I was gonna do that! #ottawabellydance