Let me start by saying I feel like I spend a lot of time praising Ottawa's Belly Dance community – to the point where I am wondering if it is starting to sound like a broken record!  So I am hoping that some of you will add your comments below~ so that it does not just seem like me saying how fabulous Ottawa is!!
This past weekend, of which I believe I have now recovered, issued forth two great events in which our community could participate [ the Zombie walk notwithstanding!]
On Saturday evening, the Belly Dance Teacher's Fundraiser gave many local teachers the chance to strut their stuff in support of three charities close to the heart of the organizer, Catharine Crerar, owner of Daisies and Dragons Daycare.  Money raised was donated to Kids Help Phone, Bereaved Families, and the Distress Centre.
While we all find ways to comment, constructively criticize, and whine a bit – we are human after all – I feel that every event has to have a benevolent dictator to make it happen. Committees can work, but often too much discussion amongst equal powers leads to inertia, so I would rather have one person lead the way, with a strong bevy of volunteers to help make it happen.  This is also how I run my events, so I am a bit biased!
Catharine began these fundraising events years ago at Hartwell's, and when they were moved to the Glebe Community Centre, the ability to serve food/ a meal was added.  Some may not see it as a bonus for the evening, some do.  There are waves of energy that put out the thoughts and comments that the ticket price is too high for the community to support, but perhaps the question we should be asking is, why would we not be able to support a $25 ticket price?  If contrasted with other local Fundraising events I have seen advertised, $25 is nothing.  I have been invited to $60,$100 and more events, some with a full sit down meal, some with only cocktails and some entertainment.  Maybe we need to rethink our approach to these fundraising events from a bigger picture perspective.
And then, when I looked at how full the room was as the evening began, and there were plenty of folk willing to pay $25 to come enjoy an evening of beautiful dancers!  For all of the comments begin tossed around, our hearts are in the right place and we do know that the right thing to do is support each other's endeavors as best we can!!
The show was great – with lots of fabulous donated prizes – which I did not win – wonderful dancers and great volunteers.  I could write an entire post just reviewing the show – maybe later once Lainie has posted pics! 
Another topic of interest for me as a participant, volunteer, and general busy body at the event was hearing the energies brought up by the presence of the modern dance troupe from Makin' Moves.  
As I am primarily a belly dancer, and choosing on a path to enlighten those around me that belly dance is not derogatory, not shameful, not negative.  The cliches, the assumptions, the inuendos are still there that it is a "hoochy dance".  Seeing it from someone else's perspective though, are we suffering from an extreme case of denial?  We undulate, we wiggle our hips, we pop our chests, we let our arms snake about sinuously – are we not aware of how sensual and sexy it can be?  Maybe, just maybe, it is not wrong to be sexy.
 This is your new mantra: It is not wrong to be sexy.  Oh wait,  positive phrasing required: It is good to be sexy!
 This is the power we are creating when we dance – embracing that feminine energy which comes from our grace, our flow, our sensual energy.  So, if we can embrace this kind of thinking – and maybe you disagree – leave me a comment below, I want to hear from you! – but if we can go on the journey of allowing ourselves to be the sensual beings that we are, why do some of us look down on these other dancers? The Dollhouse Dance Company were covered completely – albeit some great thighs were shown, but the shorts covered lots, and the tops were full coverage, so, nothing wrong there…A lot more flesh is shown on television on a regular basis that we saw up close and personal during their routine.  
And they are strong dancers!  I challenge most of us who only belly dance to take on some of those moves for flexibility and balance!  I admire their strength, and their journey.  I took a moment to talk to them after their show, because I was so impressed by their routine.  They recognize that their style of dance may not go over well at a full-on, children in attendance, family event.  For them, Catharine's fundraisers offer them the perfect venue to show their skills in what could be considered a sister field of dance.  As we chatted, they reminded me of the very things I spoke of above, the undulations, the hips moving – all very strong female power moves 🙂   Maybe we can think about the idea that, just because the costumes are different, the moves a bit stronger, we are still all sisters in dance.
Anything else I need to express?  Hmm, well, I do re-iterate that we are a strong and community minded group here in Ottawa.  We still express ourselves quietly in back rooms – perhaps the influence of it being a government town – we then come together, pull up our bootstraps and get down to helping each other.  So good for us!  Please feel that pat on the back!
UPDATE: Lainie's Gallery is up!  Check it out!
On to Sunday…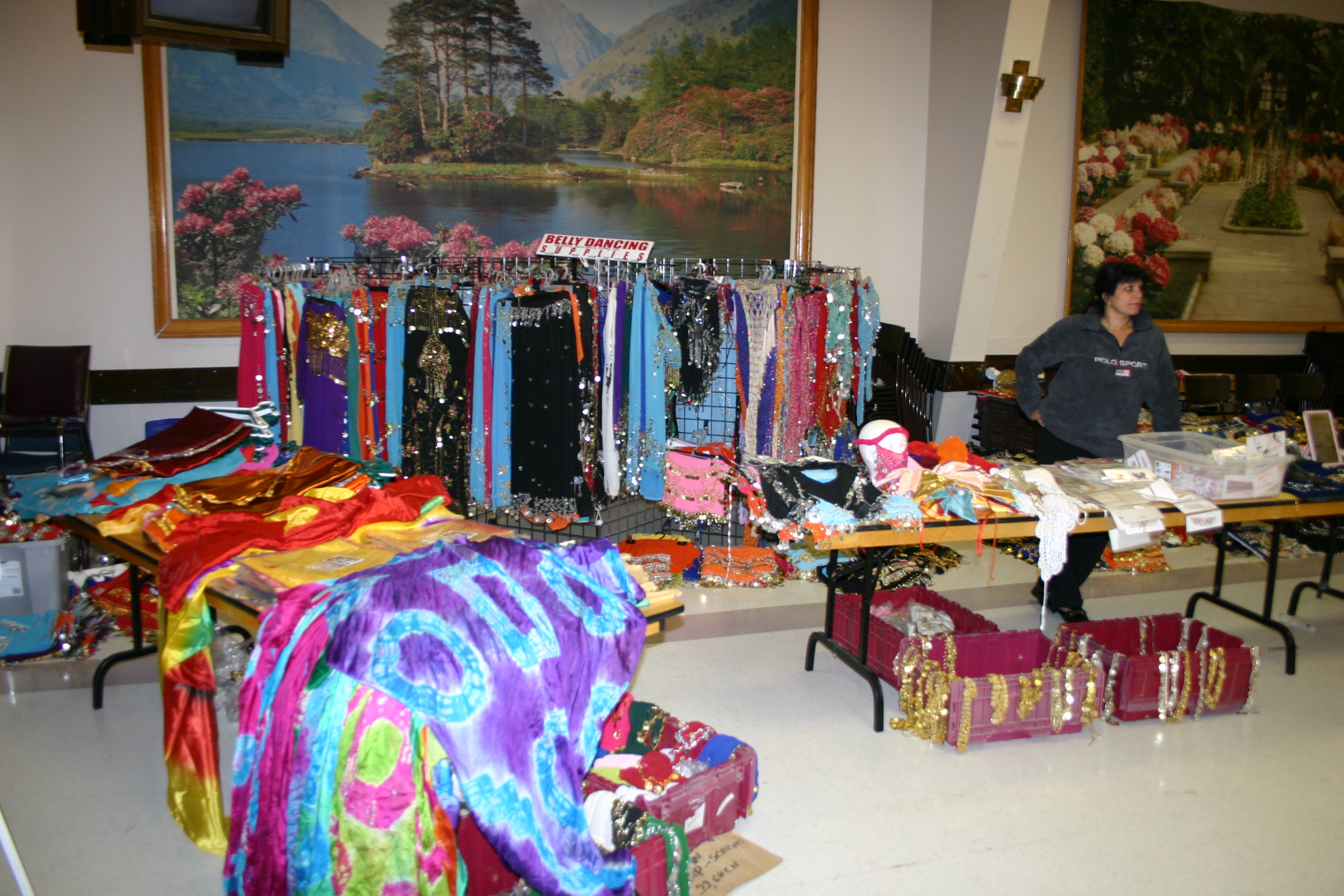 OMG.
You people totally rock!
About a week and a half before the Dancer's Bazaar, I realized that I only had three volunteers, based on the emails I had received at that point from those offering to help.  The other responses were from about 5 of my previous crew members who had other obligations and would not be able to attend!  
AAAHHH !!
So, I hit my Facebook group up with a message to all of the Attendings and Maybe Attendings.  My plea for help was answered whole heartedly by 12 people!!! And many more wishing they could help!
These fabulous souls showed up at various times through the day and did so much to help out that "thanks" is SO inadequate!  I am hoping that the Brad cookie and drink helped express my heartfelt appreciation!
The day was beautiful, so I was very pleased to see that over 340 people had come in by 3 p.m., when we handed out the final door prizes and opened the stage to Zahra Haddad and her drummers.  After that, though, even more people came through, so I am sure we hit closer to 370ish before we closed off at 4 p.m.
The vendors put so much work into bringing their goodies, and setting up their displays! I am always impressed by how creative these entrepreneurs get!  Thanks to their participation, I am able to give this community a varied selection of products that hopefully everyone was able to find what they were looking for on Sunday.
And if you could not find it, you know you can contact me for some custom sewing work 🙂
So, immense thank you to everyone who came out, sent good wishes if they could not attend, and especially those who shopped!
Reminder to check my Dancer's Newsletter to find out about more of these amazing belly dance related events!  Workshops, Shows, mini bazaars, you never know what is happening next unless you check it out online, or subscribe!
Next event for me:
Halyma's Ottawa Centre Class Party: December 17th, 2008