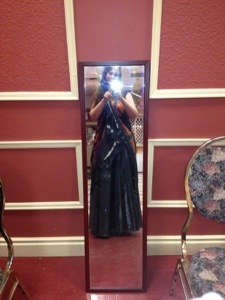 This mirror, as Gilane, one of last night's other performers pointed out, makes us all look super tall!
Catharine Crerar once again assembled an exciting cast of dancers, ranging from the dark and sultry group, Corazon, to the bodacious Basimah, from NY. Local and out of town dancers all gave their time and energy to making the 10th Anniversary Summer Sizzle a great show!
For me, since this post is all about me, it was a bit harder to get out there, and be full on 110%. While dancing rejuvenates my soul, as it does for many of my friends and colleagues, the preparation during my busiest work season cannot receive the attention I would like to be able to give it.
I would love to be able to walk into every event and honestly be present, but sometimes it's just not possible.
Thankfully, Eurika saved a table for the "friends of Bollywood For Fun" ( my anchors these past few weeks) and I was able to settle in between two strong and calming ladies who encourage me to misbehave and behave in alternating waves of much needed silliness and appreciation. You know who you are.
I also really enjoyed meeting some of the new and returning dancers who shared their stories with me during some quiet moments away from the main area, gifting me with their joy and enthusiasm!
While I did not get a chance to speak to many of our local community, it's always a pleasure seeing folks out supporting a local organizer. Many of us know how much work these events are and if you ever wonder, just ask.
I am unable to dance with my BFF ladies at the ICA Picnic today due to my abundance of bridal clients who need to book Saturday appointments, but I know they will be amazing as usual! So go see them if you can!
Thank you Catharine for the opportunity to perform last night, and I look forward to a much anticipated break for the most of the month of August from all of my work.
So does Sprocket: