This fall, I was able to set up, with the support of my advanced students, a session of Adventures in Bellywood, that allowed us to progress and continue to play!  We even had a chance to help Aziz and Company celebrate their 50th Anniversary and performed with Bollywood For Fun in that very cozy sparkly space!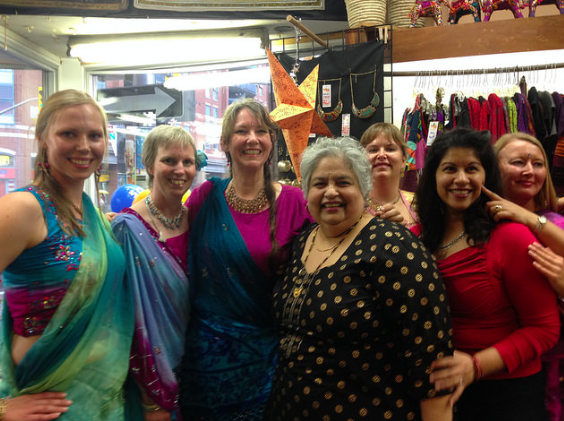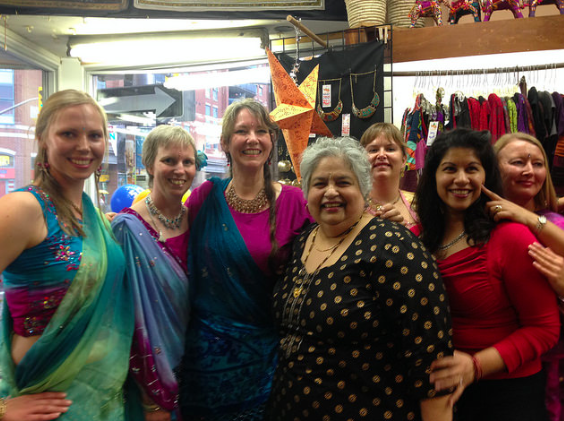 So grateful to Ameenah and Sadira for being able to join me that day!
We are working on a new routine for a December presentation – semi-private event, so not sure I can invite ya yet – but we look forward to continuing the fun on January!
Sadly, my schedule only allows so much time, so I am contemplating combining the "Awaken your inner Goddess" class with "Bellywood level 1".
I'll be teaching this class at the Routhier Community Centre starting in January 2015 – and it will depend on the energy of the participants as to how I approach the introduction of Bellywood into this more ethereal class format, but certainly mudras and poses will be there, as many of the classical indian moves are based on those found in depictions of gods and goddesses – so it should work!
So if you are thinking you might like to play with this and me in January – check my schedule and sign up with Ottawa.ca for the beginner classes, and if you are a more advanced dancer, you are most welcome to come play on Tuesdays with my private lessons!