As a belly dancer, bollywood dancer, teacher of both, and generally a person always open to good clean fun, getting a last minute email request for help in replacing a Zombie Dance group cancellation just makes my day!
And then I share the opportunity with some of my playmates!! (Read- I email folks to ask if they will join me!!)
These dancers are students, teachers, friends and fellow creative forces that come together when they can, under my long time umbrella rogue group, "Belly Dancing For Fun".
There are more than these ladies who come out for volunteer events, and when it's a real last minute rescue mission, I like to hand pick the ones who I think will be able to pull it off with me! And if the first picks can't make it, I then move along the list as Ottawa is Full of great dancers with whom I have had the pleasure of working and playing!
This round of dance fun, Eurika, Zamira, and Pink Pandemonium graciously accepted the challenge!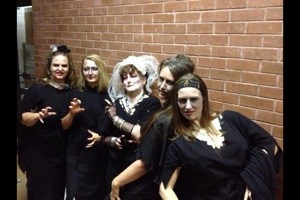 See more photos hereFlickr set
Combining solos and group numbers, culminating in a grand finale which challenged our brains due to the last minute versus busy lives syndrome, we had a stressful blast! When the organizers came to us and told us how pleased they were, we all breathed a sigh of relief!
Volunteer dancing at charity events is something that gives us a chance to give back, doing something we love and bringing joy and awareness of both how great belly dancing is for all ages, as well as how creative we, as Belly Dancing For Fun, are without the limitations imposed by classic middle eastern dance styles.
We hope to have more chances to perform for both charity and corporate and private events, showcasing both our classic middle eastern dance skills and our creative fusion styles that bring together cross-cultural energies in a fun and sometimes creepy way :/)
Be sure to keep us in mind for your events and give us more than 2 weeks notice and we will bring the house down!!