To see this as a website, click here . Also find more Events, Teacher Directory, Shopping Opportunities, and Healing, Guides and Energy workers, Pampering sections online
Good morning,
Change your clocks!
Enjoy the rain as it washes away the last vestiges of sad crusty snow!
And check out some of the new tidbits that have been sent it – including the beginnings of the Spring Classes!
Tracey/Halyma
Sunday, March 14
DANCERS' NEWSLETTER -UPDATE EDITION
2010 EVENTS
March 21, 2010




Fun with Cane/Stick and Zills with Isaden
Location: 172 Guigues St., Ottawa
Routhier Community Center
2nd Floor Room Page
Time: 1-4 pm
Learn basic cane/stick movements and basic zills. Then learn how to combine the two props together for fun and challenge in some movement combinations.
Cost: $30
If you don't have a cane/stick and/or zills please let me know. I will have some spares available for the day.
Email Isaden_dances@rogers.com for more details and to register.
MARCH 20, 2010 ~ Montreal




Ateliers et Spectacle




Les Tywalline célèbrent : Shem En'Nassim
www.tywalline.com
Spectacle : Samedi 20 mars 2010
Invitées : Bouchra, Simona et Zafirah
Ouverture des portes 19h, spectacle 19h30
Les billets sont en vente sur le réseau admission au coût de 20$ pour les adultes et 15$ pour les enfants de moins de 12 ans (plus frais de transaction) à l'adresse www.admission.com. Les billets non vendus seront disponibles à la porte au prix unique de 30$.
Ateliers, Samedi 20 mars 2010
Khadija vous invite à découvrir les couleurs de l'Afrique du Nord avec le Shaabi marocain et le Fazzani tunisien. Profitez de cette opportunité pour ressentir la chaleur et palper les tonalités si proches et si différentes des danses nord africaines.
Qui dit voile dit légèreté, nuage, rêve, émotion, beauté, grâce; avec Fouzia vous aurez tout en un. Vous explorerez une sensation voluptueuse! Fouzia vous apprendra à aimer votre voile et, croyez-le, il vous rendra la pareille. Toi, oui je m'adresse à toi qui veut atteindre ce summum de la sensualité! Fouzia t'apprendra comment ton voile et toi pouvez vous exprimer dans la joie, avec beaucoup d'émoi. Elle te donnera tous les atouts afin vous fassiez un tout.
Vous êtes chaudement conviés à Raqs El Hawary, pour découvrir cet esprit de bienvenue dont est comblé chaque Égyptien. Devez-vous absolument être invité pour aller au mariage de la fille ou du fils de votre voisin, qu'il soit mitoyen, sur la rue en face ou sur la ruelle? Joignez-vous à Khadija pour connaître la réponse et pour comprendre cette danse purement égyptienne à l'état brut.
Pour télécharger le formulaire d'inscription : http://tywalline.com/docs/Formulaire_inscription.pdf
Tarif : 75.00$
Lieu : Collège de Maisonneuve, 3800 rue Sherbrooke Est, Montréal, Qc, H1X 2A2 (métro Joliette et métro Pie-IX), Stationnement disponible
Spectacle : Salle Sylvain-Lelièvre
Ateliers : Palestre, entrée située au 2701, rue Nicolet (métro Joliette)
MARCH 31, 2010
Chris Gasci Workshop
An instructional & fun-filled evening of Middle Eastern drumming with Chris from California, multi-instrumentalist & drummer extraordinaire, well-known to Ottawa dancers & drummers from past workshops.  Chris will entertain, inform & challenge all levels of players to take a leap forward in drumming & technique.  Bring your own doumbek & a stool or cushion to sit on.  A few loaner drums available on request when registering.

When:  Wednesday, March 31st,  7 – 9 pm

Where: 301 Metcalfe St., Ottawa, Ontario, 3rd Floor

Cost:    $45 early-bird registration by March 23;  $55 later or at the door

Cash or cheques only, payable to Rosemary Corfield, 42 Putman Ave., Ottawa, ON  K1M 1Z3

Additional info:

zahra_haddad@hotmail.com
or call
613-298-0788
APRIL 10…SPRING FLING/HAFLA FUNDRAISER
ALL BELLY DANCE ENTHUSIASTS WELCOME!!
BOLLYWOOD FANS AND DANCERS ARE WELCOME TOO!!
Food will be served from 8:30 pm till close!
Everyone is invited to dance: soloists, groups, troupes, bunches….out-of-towners are welcome too!
Tickets available by calling/emailing Catharine, dragonslivehere.glebe@gmail.com
or through PayPal by contacting Tracey – tracey@tav-creations.com
Spread the word – forward the flyer to your friends!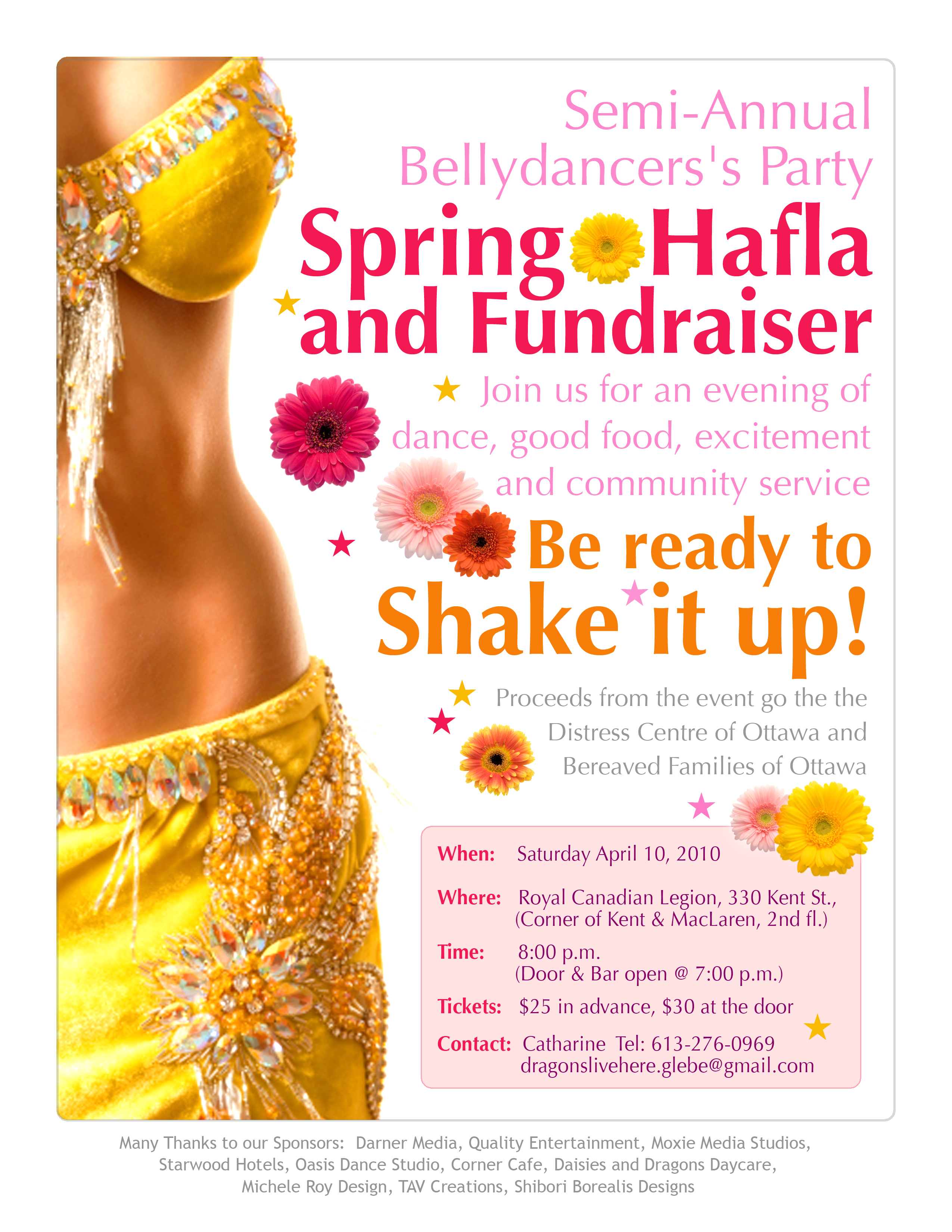 APRIL 18,2010




GENUINE ROMA DANCE WORKSHOP WITH LYNETTE HARPER (from British Columbia)
(Genuine Turkish/Gypsy style)
Lynette is a master level instructor and has spent many years studying, dancing and teaching this beautiful dance form!
12 to 2 pm, Sunday, at Oasis Studio, Hull
$35 in advance
Spaces available at Oasis Studio, 819-776-5033 and from Catharine – dragonslivehere.glebe@gmail.com
Workshop is already filling up quickly, so please contact us soon.
Open to all levels…but some dance experience required!
JULY 3-4, 2010~Montreal




The One and Only Mira Betz
will be in Montreal the week end of July 3-4th!
Absolutely unique as a dancer and teacher, Mira is a must see. Read more about here here :www.miramania.com
She will be with us for 9 hours of intimate teaching (max 25 people) and a show on july 2nd.
At first, we will only accept registration for the full week end. Individual workshops will be open for registration only if they don't sell out. We want to create a group energy that grows through the week end.
For 9 hours of workshops: 230 $
Registrations and workshop description at www.matjacob.com
NOT QUITE BELLY DANCE EVENTS:
DANCES OF INDIA: by Amrita Choudhury
MONTREAL
1–Classical/Sacred Dance(Odissi) 20 March(1:30-4:30)
Classical dance video: http://www.ananda-amrita.com/classical-dance.htm
2–Gypsy/folk/BOLLYWOOD Dance:17 April(1-3:30)
– 17 April Gypsy/Bollywood – Choreography combining workshops 1 & 2
Gypsy video: www.ananda-amrita.com/gypsy-folk-bollywood-workshop.htm
Bollywood video: http://www.ananda-amrita.com/bollywood-bhangra.htm
3–Yoga of Dance- The Joy of Shakti! 23, 24 et 25 April a 3 day retreat at L'Ermitage Centre de Retraite http://www.ermitage.ca/index.html
Video: www.ananda-amrita.com/video_test.htm
Reservation: www.ananda-amrita.com 514-768-9711 a_choud@hotmail.com
MARCH 20, 21, 2010


TAV Creations/Eco-TAV at the Ottawa Go Green Expo
New products along with the growingly popular Eco-TAV Napkins and Pouches!
Saturday, March 20 10:00 AM to 6 p.m.
Sunday March 21, 2010 10:00 AM to 5:00 PM
1015 Bank Street -Lansdowne Park, Aberdeen Pavilion, Ottawa, Ontario.
Free admission!


" This exciting, 2 day event features over 180 exhibitors, all dedicated to providing information, products and services that can help you live a greener lifestyle! With everything from home and garden ideas, eco-friendly food and clothing, transportation options, organic food and cooking, to guest speakers and interactive displays the Ottawa Go Green Expo offers many simple ways of going green and helping our environment!
Make a day of it; bring your friends and family and learn to "Go Green".
April 9-10, 2010




The Goddess Revealed
ANJALI and Company featuring Basia Gowing
The Goddess Revealed
Mixed Media: Indian Classical Dance, Video, Images Music Text
April 9-10
7.30 pm
Arts Court Theatre, Ottawa
$25, $22 info tickets 613 564 7240
Classical Indian Temple and Court Dances
Mixed Media Dance-Theatre – Performed in front of Video and Images from Hindu Temples, sculptures and miniature paintings throughout India
Journey back in time to savour the classical arts of Ancient India through their temple dances and sacred spaces. The unfolding of tradition, history and imagination is assisted by stunning imagery and poignant narration.
première: Dance meets Yoga with BASIA GOING of Adishesh Yoga
SPRING CLASSES
TRACEY/HALYMA – Byward Market Area and Old Ottawa South
OLD OTTAWA SOUTH area ( Near the May Fair theatre)
260 Sunnyside – call 613 247-4946 to register in person or go online to http://www.oldottawasouth.ca
Tuesdays – start April 6
Level 1 – 6:30pm.-7:30pm. – ($63/ 8weeks)
Level 2 – 7:30pm.-8:30pm. – ($63/8 weeks)
(No Class on May 18th ) – These classes take place in the Hopewell School( Bank and Sunnyside/Hopewell), north gym, but you register at the community centre – online is easiest.
BYWARD MARKET AREA
172 Guigues – call 613 244-4470 to register or online through the City of Ottawa and follow the "how to register" instructions on the sidebar.
Mondays- start April 26:
Level 1 – 6:30pm.-7:30pm. ( $45/6 weeks) course code:434367
Level 2 -7:30pm.-8:30pm. ( $45/6 weeks) course code:434406
Thursdays – start April 29:
Level 1 – 6:30pm.-7:30pm. ( $ 45/ 6 weeks) course code:434373
Level 2+ – 7:30pm.-8:30pm.( $45/6 weeks) course code:434422
* Level 2+, also called "creative Intermediate", will focus on more personal development as a dancer/performer
General info about classes: www.bellydancingforfun.com
Zamira's Classes
**New SPRING 2010 class schedule**
*Belly Dance for Adults and Teens all levels*
A Beginner-Intermediate Belly Dance class with an emphasis on flexibility, muscle isolation and increasing muscle strength and grace. To run this class a minimum of 6 students is required.
Wednesday 7:00-8:00 PM
Mar 24 – May 26, 2010: 10 one hour classes $110
Drop-in fee $12 cash per class – no registration necessary. Try a class any time.
Classes take place at Makin' Moves Dance Studio:
1196 Bank Street at Ossington Avenue Old Ottawa South
For registration and information contact Zamira:
zamira@theveiledeye.com
613-797-4068
Jalilah's Spring 2010 Sessions:
RA Centre 2451 Riverside Drive, Ottawa
Belly Dance for Fitness a fast paced cardio class using only Middle Eastern dance movements! Perfect for both beginners to learn the basic Middle Eastern Movement repertoire and for intermediate dancers to improve stamina and technique! Mondays 10:30-11:30 a.m. at RA Centre 2451 Riverside Drive or Wednesdays 7:00-8:00 p.m. at the Rideau tennis Club 1 Donald Street April 12-June 23 2010-03-10 Price: Free for Life Fit Members $89 for RA members $114 for non-members
To register contact the RA Centre Tel (613) 7335100 www.racentre.com
Greta Leemings Studio of Dance 1460 Merivale Road, Ottawa
Intermediate a fun mixture of technique, drills, fluidity exercises, choreography, improvisation and more! Tuesdays 11-12:15 March 30 to June 15 2010 $156
To register contact Jalilah (613)2288215 jalilah@rogers.com
Denise Enan's Studio Oasis 200 St. Joseph, Hull
Beginner 5:30-6:30 p.m. Learn the basic Middle Eastern Movement repertoire and get a fun and healthy workout ! $85 for 8 weeks
Intermediate 6:30-7:30 a fun mixture of technique, drills, fluidity exercises, choreography, improvisation and more! $85 for 8 weeks
Advanced 7:30-9:00 in addition to technique, drills, fluidity exercises, choreography, and improvisation also musicality, learning how to create your own choreography and improvise all by yourself! Good for dancers who have been dancing a while and would like a challenge! $100 for 8 weeks
The new session started March 3 however you can join any time and missed classes will be pro-rated!
To register contact Oasis Studio (819) 7765033 (819)9622645 www.baladi.ca
Classes with Zeevah
Cabaret Style Belly Dancing for Beginners/ Belly Dance Basics
Beginners will learn enough basic steps and veil movement for a complete choreography. The style taught is American Cabaret belly dance which allows for freedom in the interpretation of movement. Perfect for beginners. Wear comfortable clothes and bare feet or flat dance shoes.
Spring Dates 2010 8 Weeks $66/person + GST
St. Patrick's HS Tues 7:00 pm-8:00 pm Start Apr 20 (24028)
ON LINE www.winterconnections.com
Click on General Interest Courses to view program and to
sign up for a course. Login ID and PIN numbers are required for use of our online registration system. If you do not have an account but wish to create one please send your request for a login ID and pin number along with the student's full name, home phone, work phone, home mailing address, and return email address to Continuing.Ed@ottawacatholicschools.ca.