To see this on the main website, click here . Also find the Teacher Directory, Shopping Opportunites, and Healing, Guides and Energy workers, Pampering sections online!
Good Thanksgiving Weekend morning to you all!
What a fabulous weekend of dance and sunshine and eating!
I have the pleasure of helping out at the Fall Fusion Cabaret that took place on Friday evening and wanted to say WOW!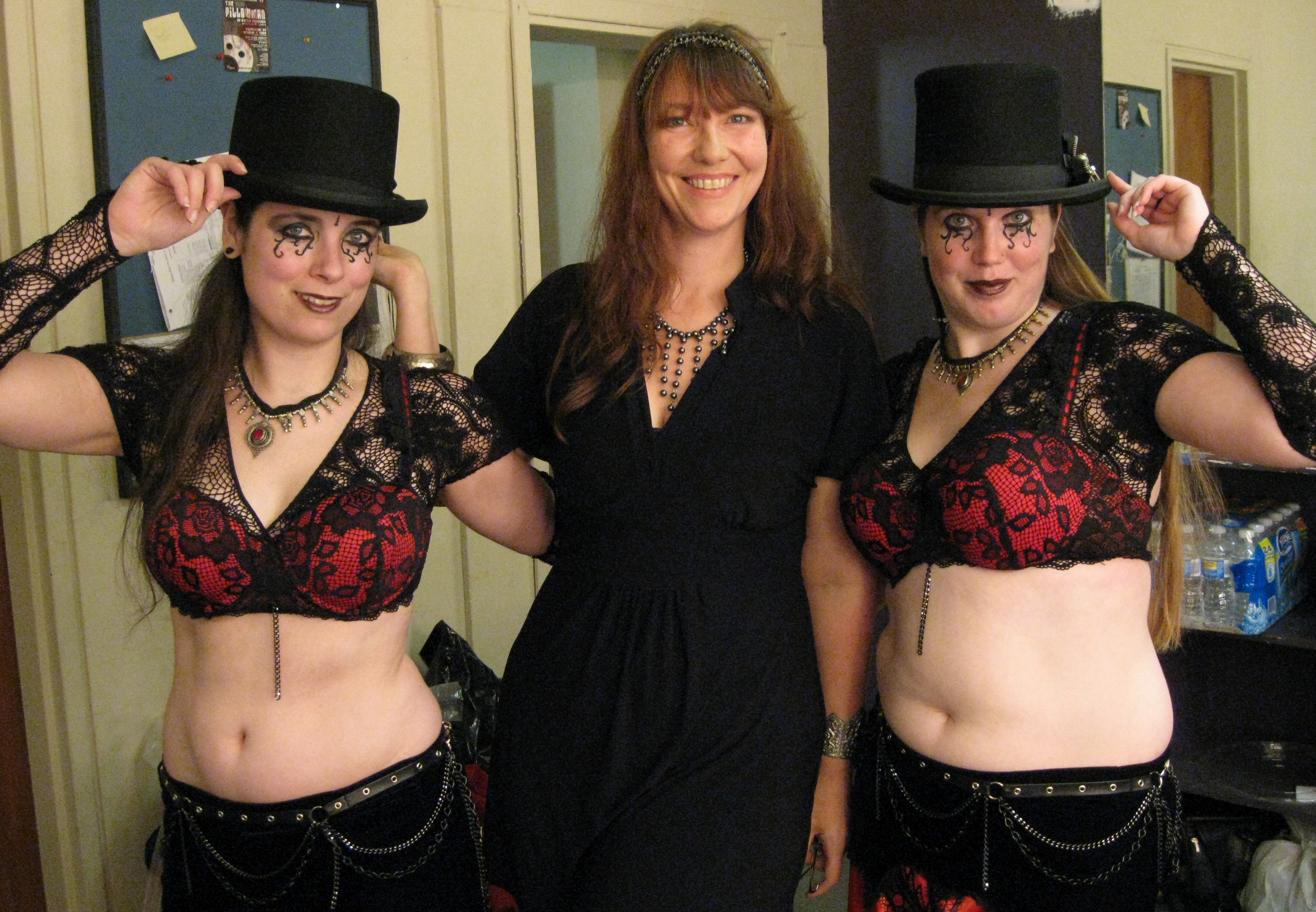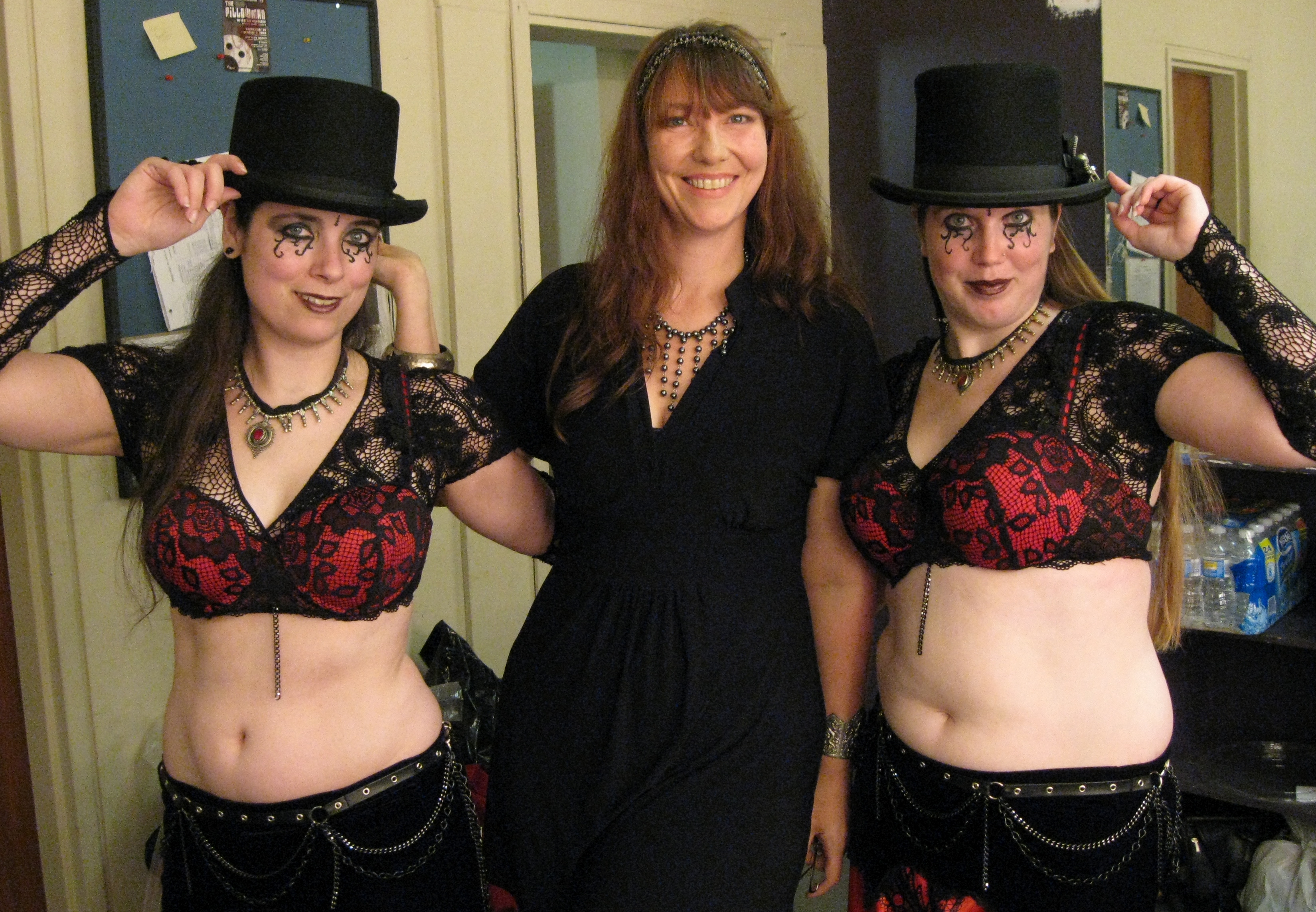 The lovely new dancers who joined our own local beauties were phenomenal and fun!  Congrats Leslie on putting on a great show!  And Rachel Brice. what a sweetheart!
Okay enough raving!  There is so much more happening today and this week and this month!  It was killer trying to edit down the "updates" to make sure I still included as much as I could without going overboard! Without any further ado – read on to set your fall dance calendar in motion!
Latest Dancers' Newsletter
Sunday, October 11
DANCERS' NEWSLETTER – UPDATE EDITION
Check out the Dancers' Newsletter Extra Features:
This week's Dancers' Newsletter Extra Feature is a visit to OTTAWA BOLLYWOOD NEWS – some fun local events that will include Bollywood For Fun! Contributors welcome! If you hear anything Bollywood/ Indian Dance/ Asian related that folks should know about – post it in the comments there!
Click here for a quick look!
Bollywood For Fun will be performing in Hintenburg/ Wellington street area for the Diwali festival – check the OBNews site for details!
2009 EVENTS
Le 11 Octobre ~ Montreal ~TODAY!
Atelier avec Rachel Brice:

Dimanche 11 octobre 2009, 12h00 à 16h00 (incluant une courte pause)
Cette classe est ouverte à tous les niveaux
Collège Montmorency à Laval: 475 De l'Avenir, Laval (salle #3105):
http://www.mapquest.com/maps?city=Laval&state=QC&address=475+De+L'avenir
Ce n'est pas facile de s'y retrouver dans le Collège alors voici les indications:
Vous devez entrer par la porte prinicpale #3, cage d'escalier à gauche, 3e étage, à gauche jusqu'au bout, salle #3105
Il y aura un bazar sur place (argent comptant seulement pour le bazar)
Pour plus de détails ou pour s'inscrire ou pour acheter les billets de spectacle: http://boutique.anichka.ca/
OCTOBER 11~ Montreal
Workshop with Rachel Brice

Sunday, October 11th 2009, 12h00 to 16h00 (short break included)
This class is open to all levels

College Montmorency at Laval: 475 De l'Avenir, Laval (room #3105):
http://www.mapquest.com/maps?city=Laval&state=QC&address=475+De+L'avenir
Entrance door #3, stairs on the left, 3rd floor, end left, room #3105
There will be a bazaar on the spot (cash only for the bazaar)
To see details or registrations (buy online): http://boutique.anichka.ca/
CONTACT ANICHKA TO REGISTER: soukanichka@gmail.com
OCTOBER 11, 2009 – TODAY
Tribal fusion workshop with Rosanna (Business as Usual, San Francisco/Toronto)
Please welcome Rosanna McGuire to Ottawa for the first in a series of tribal fusion workshops, a dancer well known for her original fusions of flapper style dance with tribal, and also for her infusion of liquid pops and locks. As she was in town for the Fall Fusion Cabaret, we didn't want to miss out on the opportunity to have her teach! For those of you looking to remain active on 'turkey day', this workshop will get you moving!
Sunday October 11th
2-4pm
1196 Bank St at Makin Moves studio
$35
to register please email cleoflaptra@gmail.com and for more info about Rosanna, visit her site: www.cleoflaptra.com
If you have never seen her perform before, check out her recent performances at Tribal Fest, in Sebastopol, CA!

Thanksgiving Monday Oct 12 – Work off your Turkey with Leslie!
The intention of this workshop is a high energy, fun filled afternoon of up-tempo drills with a tribal fusion approach! For those who had their turkey on Sunday, or who just want to get out for the afternoon, Leslie will lead you in a 2 hour session of energetic movement.
Info as follows:
1196 Bank
1-3pm
$35 for this 2 hour session!
Please RSVP to leslie@shaktifusion.ca – limited to ten participants!
Tuesday October 13th – Tribal Fusion class with Leslie 8-9pm – one night only!
Leslie returns for reading week, instead of reading, she'll be dancing 🙂
This is a Tribal Technique Basics class, all are welcome!
1196 Bank at Makin Moves studio
$15 drop in for this one hour class, coffee and tea at Bridgehead afterwards!
This is a Drop-in class.
Friday October 16th – Next Level Tribal Fusion workshop with Leslie 7-9pm!
This workshop is for the tribal experienced dancer. We will work on layering, drills, and begin formulating our next choreography, to be taught in December!
1196 Bank at Makin Moves studio
$35 for this two hour class!
To register: leslie@shaktifusion.ca
OCTOBER 17-18, 2009
CAROLINE LABRIE IN Kitchener
Caroline Labrie, well-versed in knowledge of Folkloric danceform from Egypt, will be gracing our dance centre October 17 and 18; show at Diwan on the Saturday (17th)
http://www.jannahdancer.info/registration.htm
Caroline's website is found at http://www.danseegyptiennebf.com/ for further information on her.
Jennifer (Jannah)
to Dance is Paradise!
www.jannahdancer.info 519.569-1432
OCTOBER 18, 2009 onwards – Montreal
Gypsy/Folklorique/Bollywood Dances of India– For Belly Dancers
Workshop Series 2009 by Amrita Choudhury
18 October – Gypsy/folklore Dances of Bengal (River Gypsies) (1-5) $90
After a successful run of the 2008 program of Indian Gypsy, Folklore, Bollywood dance workshops, Amrita is back from India again to offer the 2009 program. Because the participants of the 2008 workshops were mostly from the Belly Dance tradition, Amrita has designed these workshops to benefit dancers/teachers coming from the Oriental dance traditions. Come experience the joy and ecstasy of the vibrant gypsy, folklore and bollywood dance traditions of India; the beautiful and graceful hand gestures, facial/eye expressions, torso & hip movements, rhythmic feet movements and much much more! Please bring veils and joy in your heart! No experience is necessary.
For more information on Amrita, please see www.ananda-amrita.com
OCTOBER 16-18 2009 ~Sudbury, Ontario
Turc Gitane Workshop with Lucie De La Fontaine and Rachelle Connor
DETAILS are online
Vous pouvez communiquer avec moi au numéro sans frais
tél. 888-673-0841
Merci
Lucie
email : bellydance@luciedelafontaine.com for the registration pdf and more details
www.luciedelafontaine.com

October 16th-18th 2009- Sudbury, Ontario
Gypsy workshop with Lucie and Rachelle
You can contact me at toll free number tel. 888-673-0841

email : bellydance@luciedelafontaine.com for the registration pdf and more details
www.luciedelafontaine.com
OCTOBER 23, 2009 ~ TORONTO
Business as Usual proudly presents our inaugural bash: Hipnotech featuring Rosanna McGuire
Rosanna returns to Southern Ontario after spending 2 years studying and performing in San Francisco. There, she studied with a who's who of bellydance: Suhaila and Jamila Salimpour, FCBD, Jill Parker, Zoe Jakes, Rachel Brice, Mira Betz, Cera Byer, and Amy Sigil.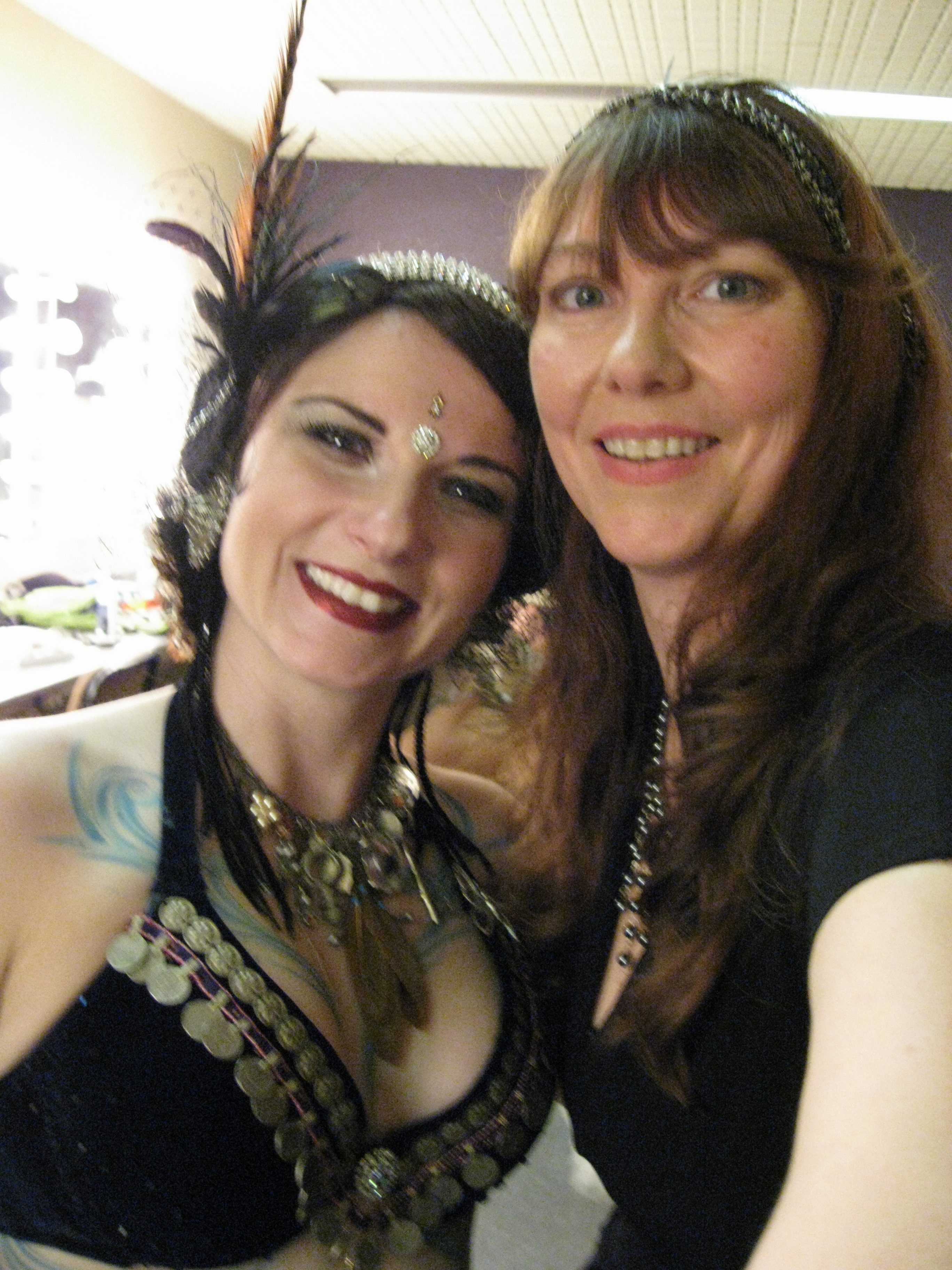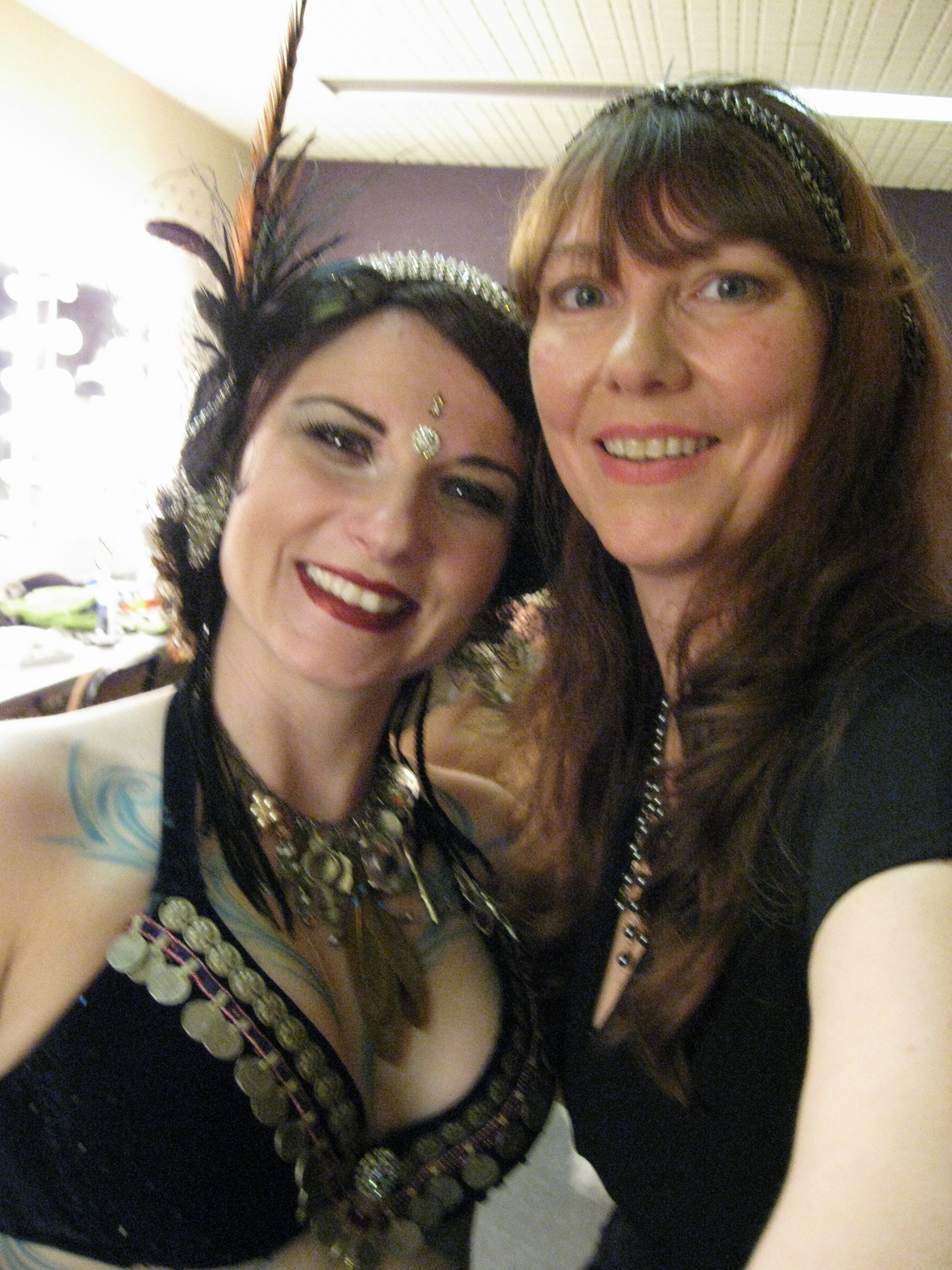 In California, Rosanna also had the opprtunity to expand her movement repertoire outside of bellydance and into vinyasa yoga, breakdance, house, and locking. She is known for her unique interpretation of tribal fusion, incorporating elements of vintage jazz dances as well as hip-hop, while referencing traditional styles of Middle Eastern dance. Rosanna continually strives to dance outside of her own box and fully admits to having dance ADD.
Tickets $10 in advance at
http://www.cleoflaptra.com/performance.html
Labspace Studio
2A Pape Ave at Queen
Toronto
Doors at 830, 1st set at 930, 2nd at 1030
Rosanna is also teaching a belly dancing workshop that same weekend.
Early bird prices have been extended to October 16th, per class
registration opening shortly. Weekly classes now being held in
Toronto. See http://www.cleoflaptra.com/instruction.html or details!
OCTOBER 24, 2009
Ottawa DANCERS' BAZAAR
TAV CREATIONS PRESENTS the Dancers' Bazaar
Saturday, October 24, 2009
12:00 PM to 4:00 PM
Where:
260 McArthur (Knights of Columbus Hall), Ottawa.
VOLUNTEERS NEEDED – Email me if you can help!
GO TO THE ONLINE POLL TO LET US KNOW WHAT YOU ARE LOOKING FOR!
Click here for a quick look!
Posters/ details: Http://wwww.tav-creations.com/bazaar
NOVEMBER 14, 2009
Nathalie Lebel Workshop
Double Veil Workshop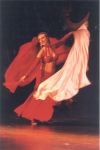 Saturday, November 14, 2009
10:30 a.m. to 4:30 p.m.
Lunch and Bazaar from 1:00 p.m. to 2:00 p.m.
DanceStudios.ca, 151 Chapel Street (parking entrance on the side of the building)
$70 if payment is received by November 4, 2009 $80 thereafter.
To register: Send a cheque made out to Mouvance and mail it to Julie Tierney 84 McDermot Court, Kanata, Ontario K2L 3V1
Info: julie(DOT)tierney(AT)sympatico.ca
NOVEMBER 14, 2009
DANCE THE NIGHT AWAY FUNDRAISER
Details are still ONLINE!
Legion Hall at the corner of Kent and MacLaren
Fundraiser for Kids Help Phone, Distress Centre, Bereaved Families
Doors open at 7:30
Party starts at 8 pm and goes 'till we drop!
Tickets $25
email: dragonslivehere.glebe@gmail.com
Buy your tickets with Paypal(.50 nominal fee) to make sure you get yours!
ONLINE TICKET SALES ARE READY TO GO:
There are only 150 tickets available so don't delay. If there are any left, they will be $30 at the door.
NOVEMBER 14 and 15, 2009~MONTREAL
WORKSHOPS WITH DEB RUBIN From San Fransciso
Deb Rubin has been a 5+year core member, and co-choreographer with Ultragypsy Bellydance Theater, until Fall 2007, and a regular sub for Jill Parker's classes. She also holds a level 1 certification from Suhaila Salimpour School of Dance.
Workshop details and registration:
http://www.matjacob.com
NOVEMBER 22, 2009
Creative Clothing by Roxane presents the WEST END BAZAAR:
Bell's Corners on Richmond Road and there is ample parking.
Sunday, 22 November, 2009, from noon to 5p.m.
All proceeds from the booth rentals are going to Qimaavik, the Women's Shelter.
Only a few booths remain!Regular booths, 8X8: $15@ or 2 for $30.
For more information contact Roxane at: roxkirkatsympaticodotca or phone: 613-726-9067.
NOT QUITE BELLY DANCE EVENTS:
October 13 and 20, 2009
Social Internet Crash Course
Presented by David Rostenne and Tom Leroux
This two night course (October 13 and 20th, 6:30 PM to 9:30 PM) is primarily geared towards small business owners, but can apply to anyone who is curious about participating in the online world.
We are covering a whole slew of "keeping in touch" methods in this course: having a web site, surfing the web, passwords and online safety, email and etiquette, newsletters, instant messaging, blogs, podcasts, Digg, StumbleUpon, Facebook, MySpace, Twitter – there's so much, and we will be doing our best to cover it all. We will let you know what it can (and can not) do for you, and answer your questions.
This will be followed by our :
Introduction to Video Editing with Final Cut Express
October 27 and November 3rd
Using iPhoto
November 10 and 17th
All classes are $150, or $275 if you sign up for two.
You can view more details online here: http://www.darnermedia.ca/training-and-consulting/classes/ , give me a call, or you can shoot an email to classes@darnermedia.ca.
Tom
MORE INFO:
classes@darnermedia.ca
http://www.darnermedia.ca
OCTOBER 30, 2009
Halloween Community Drum and Dance Circle
Bring your own hand drums, shakers, bells and other percussion instruments. There will be shakers for people to use if they don't have anything of their own.
Friday, October 30
7:00 p.m. to 8:30 p.m.
Maki House Community Centre
19 Leeming Drive, Crystal Beach
(Between Bayshore and Kanata)
417 to Moodie Drive North. Turn right at Carling avenue, right at Crystal Beach Drive (your second street), left at Leeming Drive (your first street) Maki House is on the left right after the school.
Cost: Free
Please RSVP by email to julie(DOT)tierney(AT)sympatico.ca
OCTOBER 31, 2009
11th Annual Witches' Gathering Charity Ball (2009)
Nightmares: That Which Haunts Us Through The Night
Barrymore's Music Hall
Ottawa, Ontario
DOORS OPEN: 7 PM
TRADITIONAL WICCAN SAMHAIN RITUAL: 8- 9 PM
COSTUME CONTESTS/DRUMMING/DANCING: 9 PM – 12:30 AM
Each year, on October 31st, the Witches Gathering Charity Ball brings together people from a diverse range of Ottawa's spiritual and cultural communities to celebrate Halloween while giving back to the local community.
DETAILS: http://witches-gathering.com/site/index.html
Tickets for this year's Witches' Gathering are $15 in advance and $20 at the door.
ADVANCE TICKETS AVAILABLE AT:
Perfect Books
258A Elgin Street
Tel:(613)231-6468
Crystal Dawn
217 Dalhousie Street
Tel: (613) 241-2262
crystal@storm.ca
Venus Envy
320 Lisgar Street
Tel: (613) 789-4646
ottawa@venusenvy.ca
Advance Tickets may also be purchased online:
http://www.facebook.com/l/7e758;www.ticketweb.ca/t3/sale/SaleEventDetail?dispatch=loadSelectionData&eventId=2949334
NOTE: service fees may apply to tickets purchased on-line.
As soon as we get confirmation from Barrymore's we'll let everyone know when tickets are available for purchase there…