DANCERS' NEWSLETTER – BLOG EDITION
2010 EVENTS
APRIL 18,2010
GENUINE ROMA DANCE WORKSHOP WITH LYNETTE HARPER (from British Columbia)
(Genuine Turkish/Gypsy style)
Lynette is a master level instructor and has spent many years studying, dancing and teaching this beautiful dance form!
12 to 2 pm, Sunday, at Oasis Studio, Hull
$35 in advance
Spaces available at Oasis Studio, 819-776-5033 and from Catharine – dragonslivehere.glebe@gmail.com
Workshop is already filling up quickly, so please contact us soon.
Open to all levels…but some dance experience required!
18 avril 2010 – LAVAL
Catherine De Sève atelier Tribal-Burlesque
Contenu de l'atelier: Technique et mini-chorégraphie
Dimanche 18 avril 2010 9h00 à 12h00
Lieu: École Anichka: 65 St-Judes, Laval
Tarif: 75$
Pour inscription, appuyez ici: http://www.boutique.anichka.ca/index.php?act=viewProd&productId=291
Vous devez mettre l'article dans votre panier, visualiser votre panier (en haut à gauche), puis suivre les indications Pour vous inscrire vous devez le faire via le site, car ce système comptabilise les inscriptions.
Vous pourrez choisir votre mode de paiement: Paypal, Chèque, Accès D ou dépôt bancaire Si vous désirez payer par chèque, votre chèque doit être post-daté pour maximum le 1er avril 2010. Aucun chèque ne sera accepté après le 1er avril, mais les autres modes de paiement seront toujours en vigueur.
Merci, Anichka
www.boutique.anichka.ca
April 25th, 2010
Fun and Funky Moves Workshop with Bahiya/Brenda
Time: 1:00 to 4:00
Cost: $35.00
Where: Manotick Legion
Things to bring: Snacks, yoga mat and of course your favorite shimmy belt.
Contact me at: brendastocker@rogers.com
We will be learning fun & funky moves to some great drum rhythms. We will practice some veil moves and also, how to connect to your audience when performing.
For class schedules you can check out my blog at:
ignite-your-inner-goddess.com or brendastocker.com


MAY 8, 2010




West End Bazaar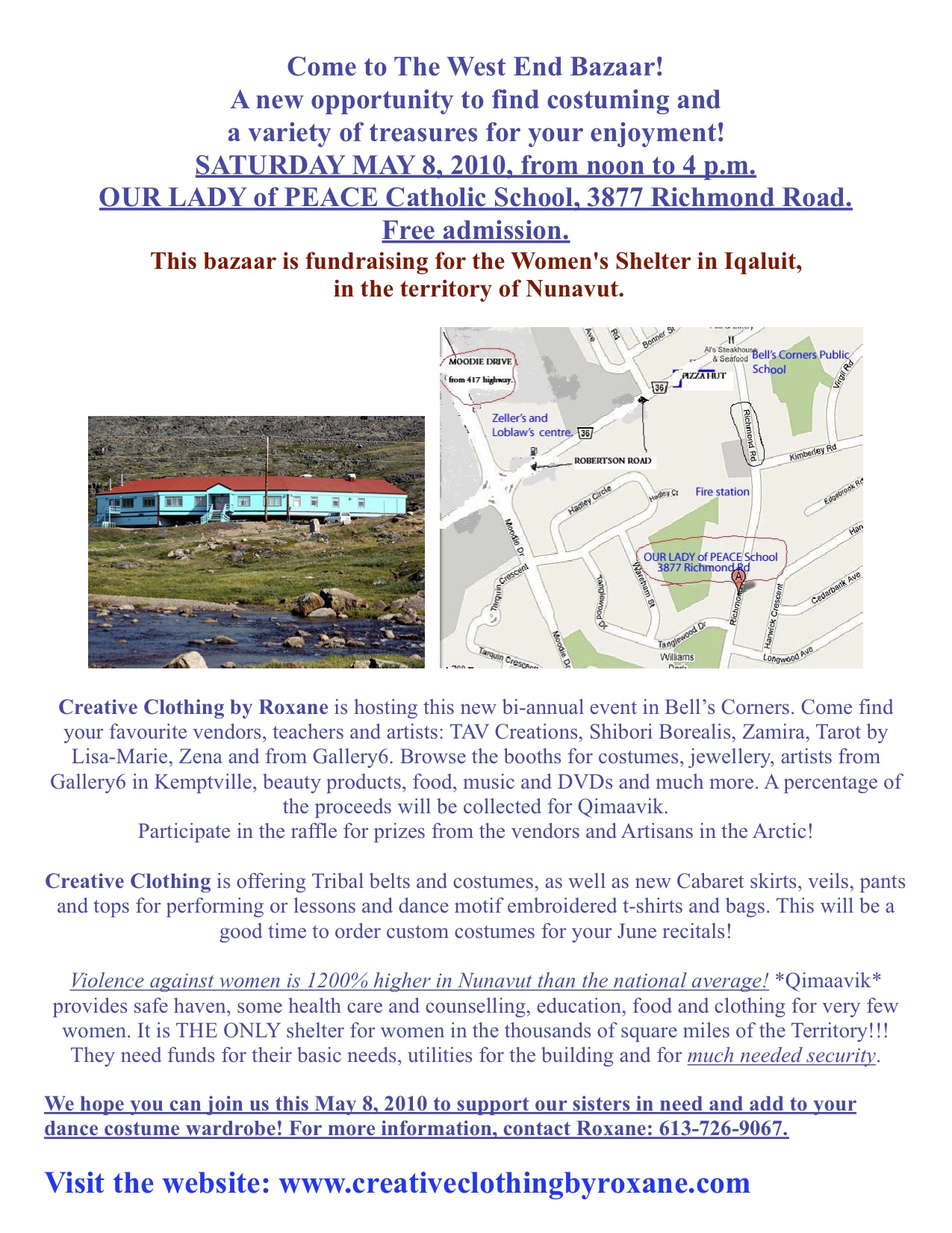 MAY 22, 2010
Annual recital
with the Enan Egyptian Troupe and special guest dancer Amelia from Montreal
Saturday May 22
Studios OASIS de la danse
Carleton University theatre
Contact Denise or Ahmed, or your OASIS teacher, for tickets
819-776-5033
info@baladi.ca
www.baladi.ca
MAY 23, 2010
Workshop at studio OASIS de la danse
Sunday May 23
200 boul St-Joseph Gatineau
with Amelia of Montreal
AQDO dance competition winner
http://www.ameliaorientaldance.com/services_en.html
Workshop sold out, but taking names for the waiting list.
Denise 819-776-5033
info@baladi.ca
www.studiooasis.ca


NOT QUITE BELLY DANCE EVENTS:
17 APRIL, 2010
CHOREOGRAPHY : BOLLYWOOD/GYPSY WORKSHOP! by Amrita Choudhury

STUDIO METRONOME, MONTREAL, QUEBEC. (1-5PM)
Reservations : 514-768-9711
a_choud@hotmail.com
www.ananda-amrita.com
$90
Gypsy/folklore workshop video:
http://www.ananda-amrita.com/gypsy-folk-bollywood-workshop.htm
Bollywood workshop video:
http://www.ananda-amrita.com/bollywood-bhangra.htm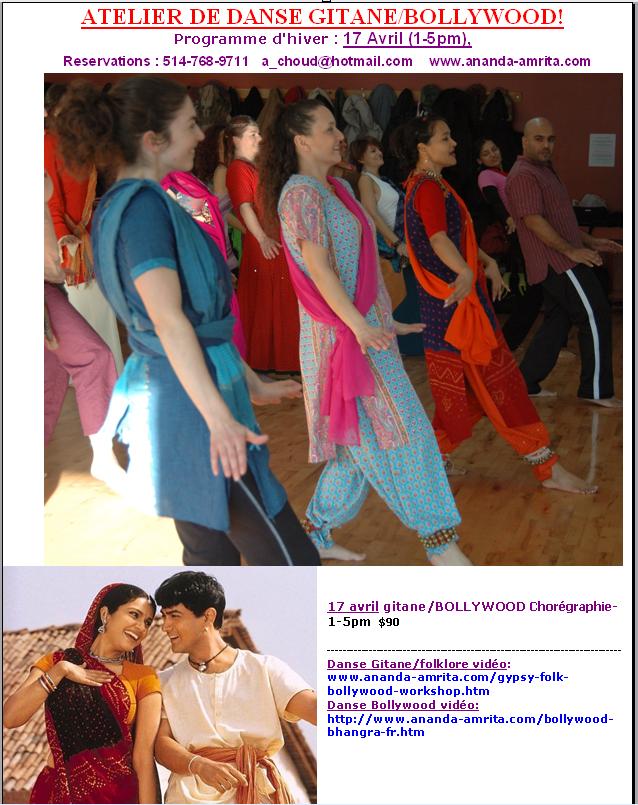 APRIL 23,24,25, 2010
Yoga of Dance- The Joy of Shakti! With Amrita Choudhury
23, 24 et 25 April a 3 day retreat at L'Ermitage Centre de Retraite http://www.ermitage.ca/index.html
Video: www.ananda-amrita.com/video_test.htm
Reservation: www.ananda-amrita.com 514-768-9711 a_choud@hotmail.com
APRIL 24, 2010
TAV Creations/Eco-TAV at the Ottawa Eco-Fair
Saturday, April 24, 2010
9:00 AM to 5:00 PM
2451 Riverside Drive, RA Centre, Ottawa, Ontario.
Website:
http://www.ottawaecofair.ca/
Come check out TAV Creations and Eco-TAV at the Ottawa Eco-Fair at the RA Centre, Ottawa.
New products along with the growingly popular Eco-TAV Napkins and Pouches!
"The Ottawa Eco-Stewardship Fair brings together community environmental groups, up-and-coming new small business ventures as well as large companies and all levels of government, to promote to the public a range of innovative new products, exciting services and appealing volunteer programs. "


SPRING CLASSES- Starting this week or later:
TRACEY/HALYMA – Byward Market Area
BYWARD MARKET AREA
172 Guigues – call 613 244-4470 to register or online through the City of Ottawa and follow the "how to register" instructions on the sidebar.
Mondays- start April 26:
Level 1 – 6:30pm.-7:30pm. ( $45/6 weeks) course code:434367
Level 2 -7:30pm.-8:30pm. ( $45/6 weeks) course code:434406
Thursdays – start April 29:
Level 1 – 6:30pm.-7:30pm. ( $ 45/ 6 weeks) course code:434373
Level 2+ – 7:30pm.-8:30pm.( $45/6 weeks) course code:434422
* Level 2+, also called "creative Intermediate", will focus on more personal development as a dancer/performer
General info about classes: www.bellydancingforfun.com
Jalilah's Spring 2010 Sessions:
RA Centre 2451 Riverside Drive, Ottawa
Belly Dance for Fitness a fast paced cardio class using only Middle Eastern dance movements! Perfect for both beginners to learn the basic Middle Eastern Movement repertoire and for intermediate dancers to improve stamina and technique! Mondays 10:30-11:30 a.m. at RA Centre 2451 Riverside Drive or Wednesdays 7:00-8:00 p.m. at the Rideau tennis Club 1 Donald Street April 12-June 23 2010-03-10 Price: Free for Life Fit Members $89 for RA members $114 for non-members
To register contact the RA Centre Tel (613) 7335100 www.racentre.com
Metro Y on Argyle with Christine
Starting April 3 to June 27 , 2010
• Tuesdays 7:15 – 8:15pm
• Thursdays 8:30 – 9:30pm
and again . . .
June 28 to August 29, 2010
• Tuesdays 7:15 – 8:15pm
• Thursdays 8:30 – 9:30pm
Join us for a girls night out of dancing, laughing and a did I mention, a great work out.
Belts and veils are provided for those new and curious to try a taste of Baladi.
Don't be shy 😉
Classes with Zeevah
Cabaret Style Belly Dancing for Beginners/ Belly Dance Basics
Beginners will learn enough basic steps and veil movement for a complete choreography. The style taught is American Cabaret belly dance which allows for freedom in the interpretation of movement. Perfect for beginners. Wear comfortable clothes and bare feet or flat dance shoes.
Spring Dates 2010 8 Weeks $66/person + GST
St. Patrick's HS Tues 7:00 pm-8:00 pm Start Apr 20 (24028)
ON LINE www.winterconnections.com
Click on General Interest Courses to view program and to
sign up for a course. Login ID and PIN numbers are required for use of our online registration system. If you do not have an account but wish to create one please send your request for a login ID and pin number along with the student's full name, home phone, work phone, home mailing address, and return email address to Continuing.Ed@ottawacatholicschools.ca.
Bellydancing with Zena
Spring Schedule
Kanata: Classical Dance Academy, 100 Castlefrank Rd., (613) 836-5725
Monday nights at 8:15-9:15 pm for Beginners starting Apr. 12, 2010. 10wks/$105
Thursday afternoons at 1:00-2:15 pm for Intermediate/Advanced starting Apr. 15, 2010. 10 wks/$105 taxes included.
Stittsville: Astral Fitness, 44 Iber Rd. (613) 831-2348
Thursday evenings at 6:30-7:30 pm for Beginners. Available to current gym clients with a full one year membership.
NEW! – CardioBellydance with Anna & Safiya!
Wednesdays 6:30 – 7:30 pm, starting April 21st, 2010
Capital City Dance, Ottawa
1309 Carling Avenue, Westgate Mall (lower level)
A fun and fast-paced hour of bellydance sequences danced to up-beat music!
All levels of Bellydancers will benefit from this class. There will be some explanation of moves, and various level options will be given, but the focus will be on cardio workout.
Come get in shape for summer…sweat and love it!
For pricing and location, please see www.annabellydance.ca/classes
Belly Dancing with Sha' Vega
MONDAYS at South Fallingbrook in Orleans:
REGISTER NOW!
Mom & Daughter belly dance – child (6-14 yrs) – $36
Course code: 435123
Mom & Daughter belly dance – adult (15+ yrs) – $38.75
Course code: 435120
April 12 – June 14 (no class on May 3 and 24)
5:15 – 6:15pm
Level 1/2 – $44.50
April 12 – June 14 (no class on May 3 and 24)
Course code: 435487
Level 2/3 – $44.50
April 12 – June 14 (no class on May 3 and 24)
Course code: 435488
Lisa-Marie Serafin
Ceramic Artist/Middle Eastern Dance Artist
Poterie du Lac la Blanche
http://lablanchepoterie.com/
TRIBAL CLASSES WITH LESLIE
Free Tribal Fusion class with Leslie this Tuesday, 8-9pm!
Always wanted to try a tribal fusion bellydance class but can't commit to a regular session – now's your chance! This Tuesday from 8-9pm, Leslie will teach some tribal fusion basics to funky beats at Makin Moves Studio, 1196 Bank St! Class is limited to 10 spots, so best to RSVP and confirm your attendance!
Tribal fusion classes with Leslie – 8 week session – starts Tuesday April 20!
This Tribal fusion Basics session will challenge both beginners and experienced dancers in a supportive environment. In this drill oriented class, you will learn the basic elements of this dance style, more advanced students will be asked to increase their speed and timing and practice layering. Some combinations will be taught near the end of the session.
Tuesdays April 20th to June 8th
8-9pm
1196 Bank St at Makin' Moves studio
Registration is $100, space limited to ten participants!
Drop-ins possible for $15/class, rsvp by email to confirm space is available.
to register: leslie@shaktifusion.ca
ANNOUNCEMENTS
Leslie Presents Abstract at Univerisity of California Riverside (UCR) Dance Conference: Dance Under Construction – Economies in Motion
http://dance.ucr.edu/DUC/index.html
Leslie has been selected to present an abstract entitled: Slow Motion: The Minimalist Economy of Movement at the Dance Under Construction Conference at UCR. This student run conference features dance presenters from the University of California Dance Programs and beyond. This is an exciting opportunity to present on bellydance to an audience of student and professional dancers and dance academics!
In order to support travel to this academic event, Leslie is doing some fundraising! While Leslie is applying to York University for funding to support her travel, the University only provides a small percentage of funds required for participating in this event. The total cost of the trip including travel (flight & car rental), accomodations, registration and incidentals is approximately $1000. You can donate by sending an email interac transfer to oceanfiretribal@gmail.com – or, you can join or drop into Leslie's weekly class, Tuesdays 8-9pm at Makin Moves, or check out her Tribal Bazaar at: http://www.facebook.com/home.php?#!/album.php?aid=184379&id=547580498 – (you can join Leslie's facebook here too!)
Leslie will be teaching her Dance Under Construction choreography and presenting her abstract at a May workshop in Ottawa, date TBD and keep an eye out for information! Leslie is currently completing her Master of Arts in Dance at York University and is back in Ottawa for eight weeks for summer work.
Angelo Luzio bellydance shoes
in nude, black, gold and silver available for fall delivery.
Place your reservation now so that you will be one of the ones with his new and improved shoes on your feet when the fall session starts.
Contact Marcelle at Boutiqueisis@aol.com.
Chaussures danse orientale par Angelo Luzio en rose (nu), noir, argent et or ?sont disponible pour livraison à l'automne!
Placez votre réservation dès maintenant pour recevoir vos chaussures ?améliorée lors de la session d'automne commence.
Contactez Marcelle au Boutiqueisis@aol.com
UNTIL APRIL 15, 2010
Renovation sale and BGGO Boutique
Please come and enjoy the sale on everything in the store. Mother's Day is approaching soon!!!! Get the best piece for your mother and for yourself at special sale price.
Please note: The store will be closed from 16th of April till 30th of April for Renovation.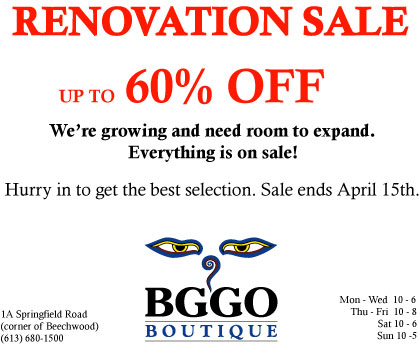 Best Regards,
———————————————————————
Bobby Gurung
President
BGGO Trading Inc.
1A Springfield Road
Ottawa, Ontario
Phone: +1.613.680.1500