To see this as the main website, click here . Also find the Late Fall Classes, Teacher Directory[new listings], Shopping Opportunities[new listings], and Healing, Guides and Energy workers, Pampering sections online!
Good morning,
Today brings a few updates and another busy week ahead!  Hope to see you today at the West End Bazaar – and remember to check out my 10  Tips for Shopping… for some ideas on making your experience as fun as possible!  It applies to pretty much any bazaar you might attend, including those craft fairs, Church bazaars and more!
Oh, and I went silly on Youtube too…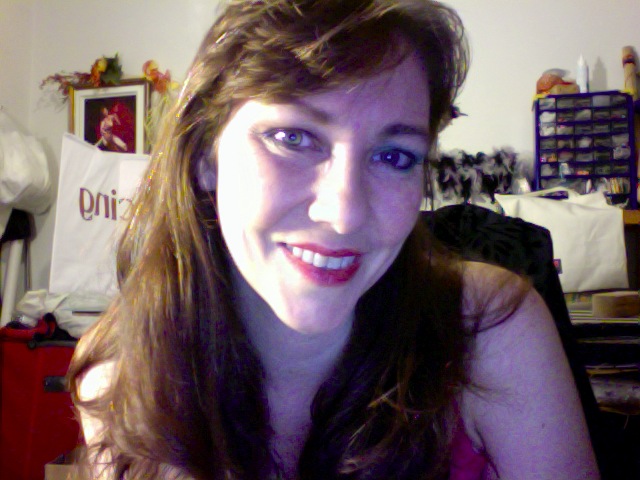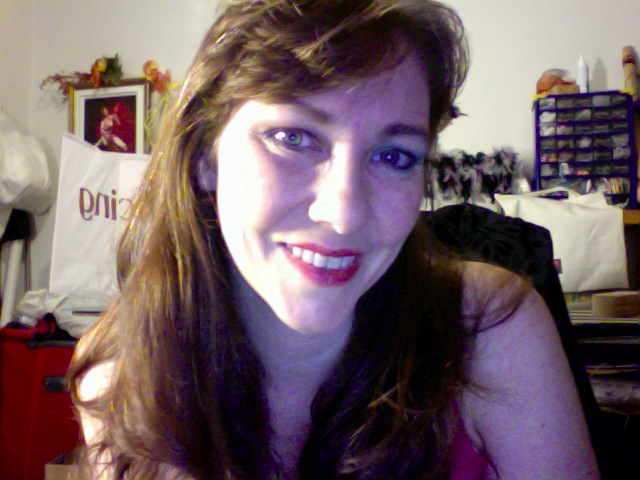 Have a lovely day and week!
Halyma/Tracey
Sunday, November 22
DANCERS' NEWSLETTER – UPDATE EDITION
Check out the Dancers' Newsletter Extra Features:
Eco-TAV is running a video contest with prizes! If you have bought – or will buy – anything from my Eco-TAV line, I hope you will have some fun shooting a quick video clip sharing the ways you are "green"!
You can find the details online here!
ANNOUNCEMENTS
The Dance the Night Away Fundraiser DVD $20 can still be ordered for those who attended. Please contact Catharine Crerar to order your copy of a fun night's dancing – what a joyful evening it was!
Email: dragonslivehere.glebe@gmail.com
And this is a quick note from our lovely hostess for the evening:
'Dancing through the Night' was a big success! Thanks to all who attended, performed, volunteered, filmed, decorated and who made it such a good night. We had lots of hurdles to make this party work…new format, new DJ, new location, 2 stage shows this month, a surprise party for Denise (congrats on her 65th!!)…and the fears of H1N1.
Even so, enough of you came out and partied that we were able to make a small profit to be shared between our charities. We are especially grateful for the wonderful performances by our visiting dancers (Caliana's troupe from Toronto, Nathalie Lebel from Sherbrooke, Donna Langois from North Bay, and Lynette Harper from Victoria, B.C.)
We hope to party again in mid-April and that you will all join in the fun. We will continue to bring in lots of great dancing, lots of interactive and open floor dancing, great prizes….and we will serve the food all night long so everyone gets a chance to sample the terrific mid-east flavours. (Corner Cafe Catering).
Special thanks to Tom of Darner Media for once again creating our wonderful DVDs. Another special thank you to Michele Roy for creating a wonderful ambiance in a very challenging room.
Thanks also to Starwood Hotels for their generous donations of gift certificates….and to all those other company's who have given so generously. Our volunteers are fantastic too!
You are all much appreciated….come back again! Catharine
p.s. Tracey, I am still getting compliments on the lovely dress you made for me! Thanks.:-)
And check online for some fun pics and comments – add your own too!
You can find the details online here!
2009 EVENTS
NOVEMBER 22, 2009
WEST END BAZAAR:
Creative Clothing by Roxane is hosting a Belly Dance Bazaar in the west end of Ottawa to raise funds for the Iqaluit Women's Shelter.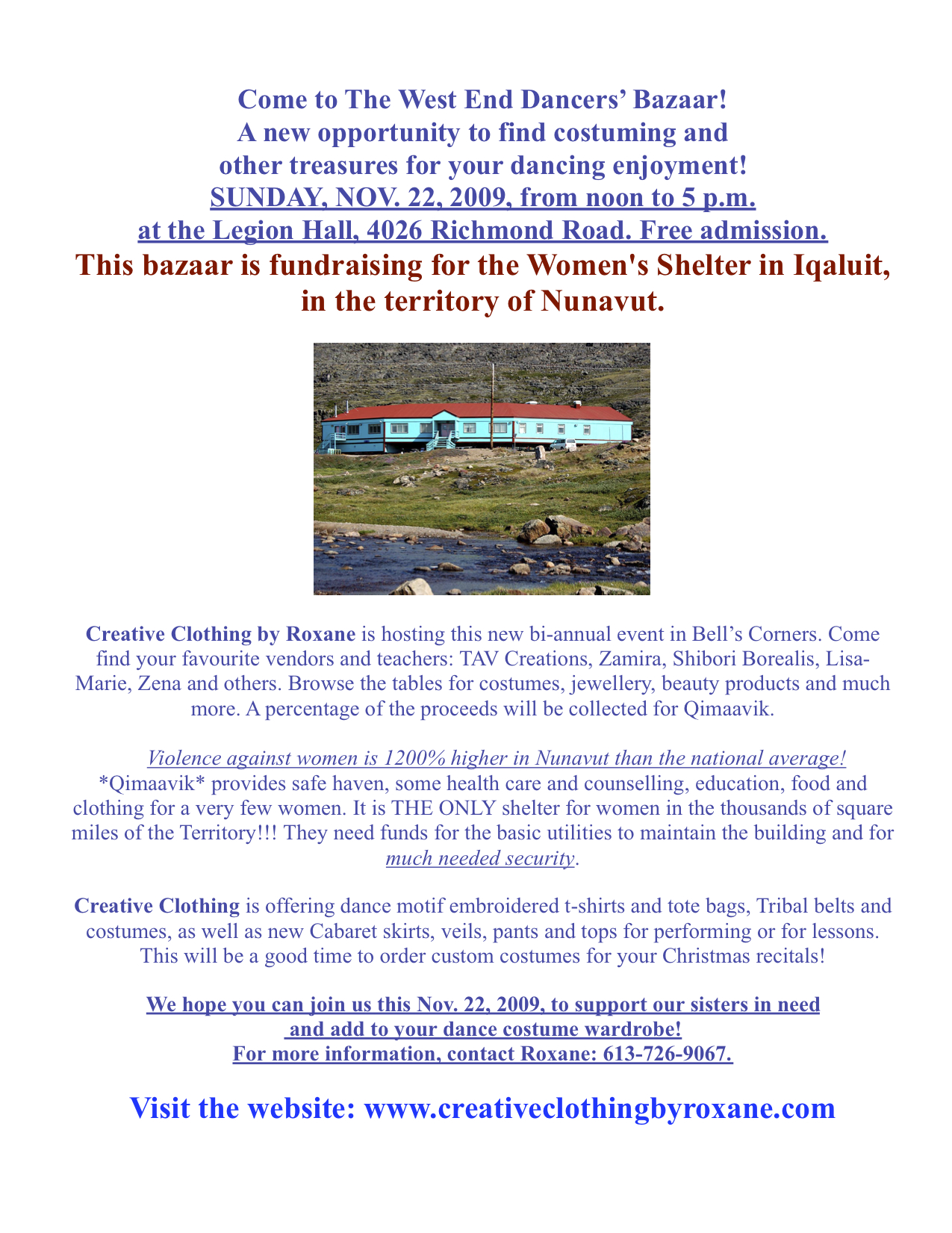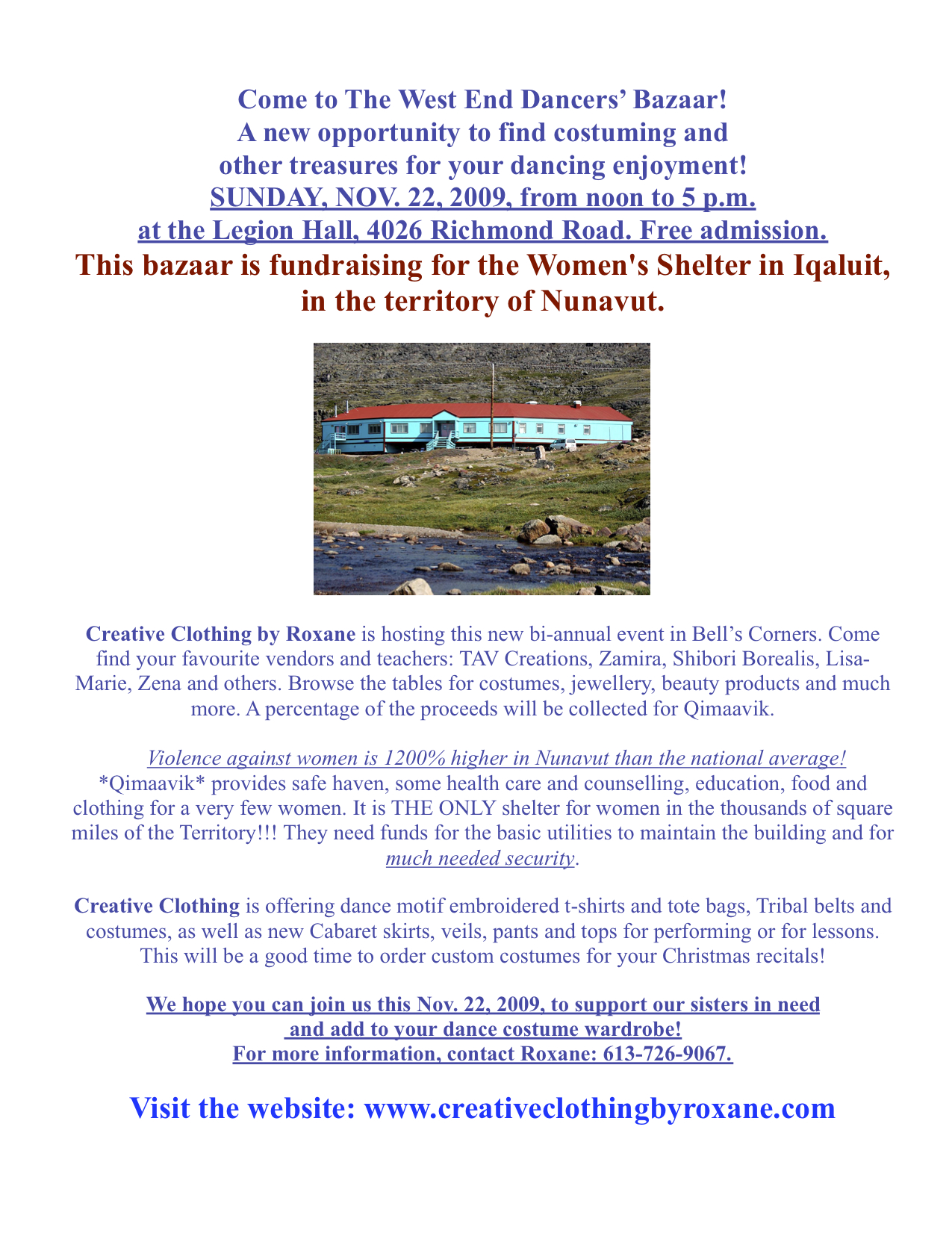 Don't miss the new West End Dancers' Bazaar:
Bell's Corners at the Legion Hall,
4026 Richmond Road: easy access and lots of parking.
Sunday, November 22, from noon to 5 pm.
We have over 15 vendors :
Creative Clothing by Roxane,
Tracey with TAV Creations,
*Tarot Card Readings with Lisa-Marie*,
Gailene *Zamira*,
Darlene *Shibori Borealis*,
Rain Kazymerchyk our lovely Silversmith,
Sylvie Girard and her food,
Val DeWitt *The Trader*,
Zena Nesrallah,
Curves (the gym people),
Melissa Wakeling from Belleville too
and a few new artisans amongst them.
Free admission: all money raised is for Qimaavik the Women's Shelter!!
For more information contact Roxane at: roxkirkatsympaticodotca or phone: 613-726-9067.
NOVEMBER 26-29, 2009


HADIA IN TORONTO
Authentic Turkish Rom (Gypsy) Workshop with Hadia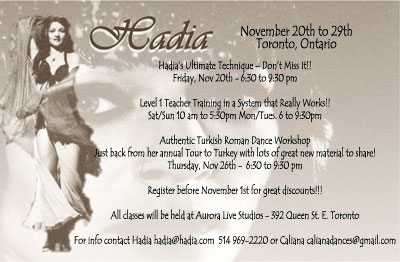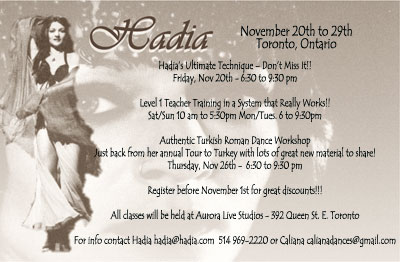 Thursday, November 26th, 6:30 to 9:30 pm
Aurora Live Studios
392 Queens St. E
Toronto
Hadia has lived, studied and taught the primary forms of Roman/gypsy dance for many years and is pleased to share with you a taste of Authentic Turkish Roma dance. After getting comfortable with the unique Turkish 9/8 rhythm, we will work with a range of basic steps and foot patterns and finish these off with a fascinating array of gestures and movements that connect this fascinating and visceral dance form to the mysterious history of these strong, proud and vital people.
Registration and full details http://www.hadia.com/index.php?id=15#toronto2009workshop
—
NOVEMBER 26-29, 2009
Hadia's Teacher Training Certification – Level 3 in Toronto
Don't miss your chance to achieve your well earned certification for Hadia's internationally recognized Middle Eastern Dance Training.
This 20 hour training will cement your technique, rhythm and musical interpretation, improvisation, communication and teaching skills, the art of cymbals, course/class planning, anatomy for dance, body balance, alignment, professional ethics, and guide you with business basics, advanced rhythms and musical interpretation, Mid East dance styles, history and evolution and more…
Thursday, November 26th 6:30 to 9:30 pm
Friday and Saturday, November 27 and 28, 10 am to 5pm
Sunday, November 29th, 10 am to 4 pm
Aurora Live Studios
392 Queen St. East.
Toronto
For Registration and Information
Hadia hadia@hadia.com
1 (902) 640-2473
http://www.hadia.com/index.php?id=11#torontoLv3
NOVEMBER 28, 2009
The 8th Annual "For the Love of Dance" Multi-Cultural Dance Showcase!

"For the Love of Dance" Multi-Cultural Dance Showcase…Tickets now available on-line at www.annabellydance.ca/events !
Saturday November 28th, 2009 (7:30 – 10:00 pm)
University of Ottawa Alumni Theatre (Jock-Turcot University Centre)
Tickets $10 in advance, $15 at the door
Bollywood, African, Tango, Vietnamese, Tap, Tribal, Persian, Hip-Hop, Bellydance, Latin Swing, Venezuelan, Contemporary…
Join us for a fast-paced evening of dance styles from around the world!
All proceeds donated to Propeller Dance, a local initiative providing dance programming to children and adults with and without disabilities. And they will be kicking off the show this year! www.propellerdance.com
Last year we were sold out prior to the event, so avoid disappointment by pre-purchasing tickets on-line (www.annabellydance.ca/events), or contact Safiya at safiyadancer@gmail.com to reserve tickets for purchase at the door.
November 29 2009 – Ottawa
WEIGHTED VEIL WORKSHOP with Zamira

Sunday, 29 November 2009 1:00-4:00 pm
Location: Routhier Community Centre, 172 Guigues Street, Ottawa
1:00-3:00 pm Basic Workshop:
In this workshop you will receive instruction on all the techniques and
skills required to use weighted veils in your favourite choreography. From
basic movements to complex combinations and incorporating dance movement
with the dynamic movement of the veils. Weighted veils are rapidly
becoming the prop of choice for many dancers wishing to achieve a more
dramatic effect in dance or to add a new visual element. We will finish
off with a short choreography that will use much of what you learn in the
workshop.
Cost: $30. Buy a set of veils in advance and get the workshop for $25
3:00-4:00 pm Advanced Workshop:
This advanced weighted veils workshop extension is for those who wish to
continue into more advanced spins, turns, combinations and choreography
work. You must have participated in at least one workshop before taking
this advanced class (includes the above workshop).
Cost: $15 . If you are taking the earlier
workshop that day you will receive a $5.00 discount for the extension.
PayPal payment accepted. Please add $1.00 service fee and PayPal to
zamira@theveiledeye.com
Email money transfer accepted. Please add $1.00 service fee and email to
zamira@theveiledeye.com
Routhier Community Centre, 172 Guigues Street, Ottawa
Parking available off-street. OCTranspo buses #1 & #9 stops within 1 block
For registration and information contact Zamira:
zamira@theveiledeye.com
613-797-4068
NOT QUITE BELLY DANCE EVENTS:
NOVEMBER 22, 2009
Sister Bazaar Open House

Check out our website to see some of the amazing new stock we have just received.
Glorious new stoles and shawls, cozy soft wool, unique weaves not available previously. And of course, some charming "stocking stuffer" type small gifts as well.
We are having an "Open House" event on SUNDAY November 22nd from 4 PM to 7 PM at 187 Holmwood Ave, apt 2.
Please plan to join us, and send any of your textile-loving friends to see these exciting and exclusive products before they disappear. Hope to see you there.
Andree & Madeleine