DANCERS' NEWSLETTER – UPDATES
2010 EVENTS
MARCH 31, 2010
Chris Gasci Workshop
An instructional & fun-filled evening of Middle Eastern drumming with Chris from California, multi-instrumentalist & drummer extraordinaire, well-known to Ottawa dancers & drummers from past workshops. Chris will entertain, inform & challenge all levels of players to take a leap forward in drumming & technique. Bring your own doumbek & a stool or cushion to sit on. A few loaner drums available on request when registering.When: Wednesday, March 31st, 7 – 9 pm

Where: 301 Metcalfe St., Ottawa, Ontario, 3rd Floor

Cost: $45 early-bird registration by March 23; $55 later or at the door

Cash or cheques only, payable to Rosemary Corfield, 42 Putman Ave., Ottawa, ON K1M 1Z3

Additional info: zahra_haddad@hotmail.com or call 613-298-0788
APRIL 10…SPRING FLING/HAFLA FUNDRAISER
ALL BELLY DANCE ENTHUSIASTS WELCOME!!
BOLLYWOOD FANS AND DANCERS ARE WELCOME TOO!!
Food will be served from 8:30 pm till close!
Everyone is invited to dance: soloists, groups, troupes, bunches….out-of-towners are welcome too!
Tickets available by calling/emailing Catharine, dragonslivehere.glebe@gmail.com
or through PayPal by contacting Tracey – tracey@tav-creations.com
Spread the word – forward the flyer to your friends!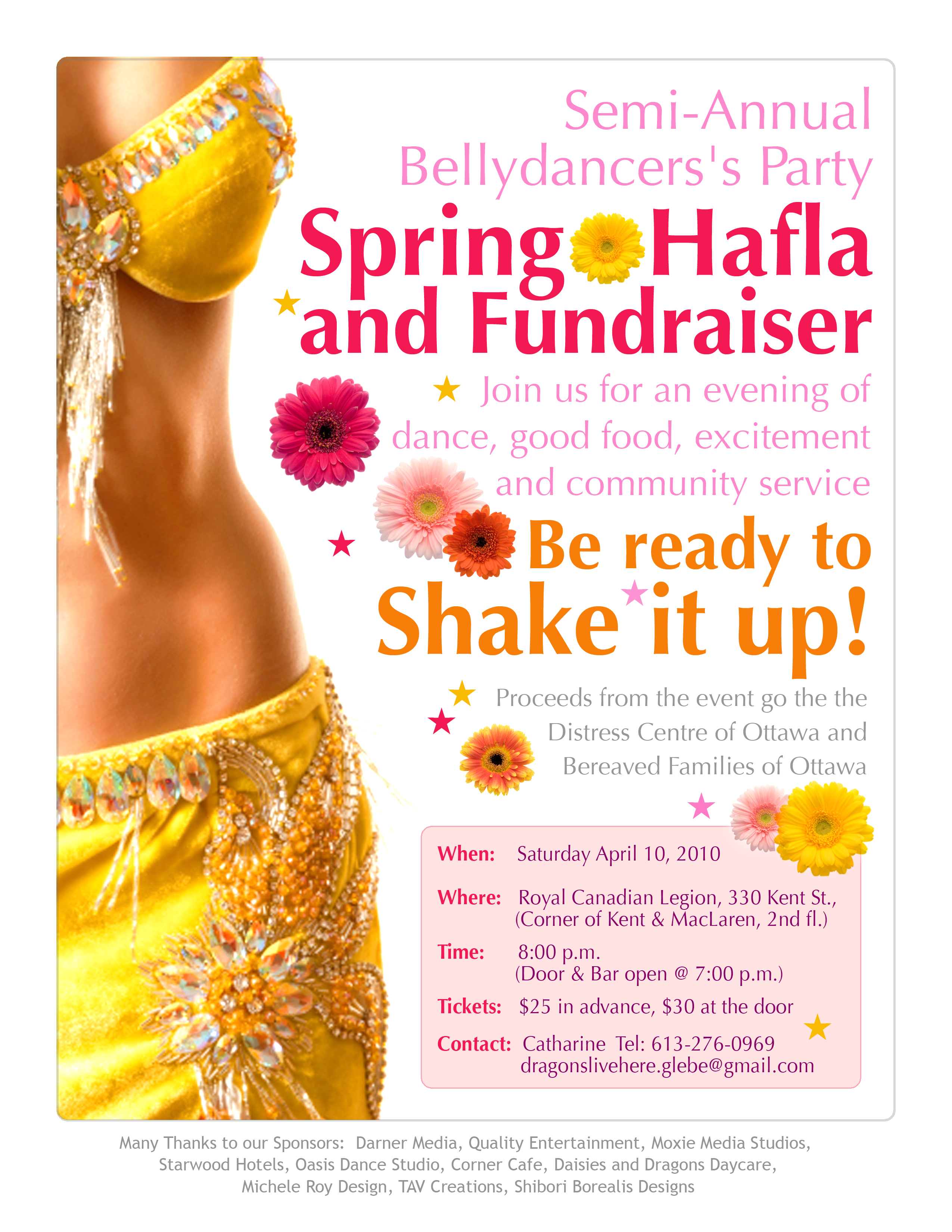 APRIL 18,2010




GENUINE ROMA DANCE WORKSHOP WITH LYNETTE HARPER (from British Columbia)
(Genuine Turkish/Gypsy style)
Lynette is a master level instructor and has spent many years studying, dancing and teaching this beautiful dance form!
12 to 2 pm, Sunday, at Oasis Studio, Hull
$35 in advance
Spaces available at Oasis Studio, 819-776-5033 and from Catharine – dragonslivehere.glebe@gmail.com
Workshop is already filling up quickly, so please contact us soon.
Open to all levels…but some dance experience required!
18 avril 2010 – LAVAL
Catherine De Sève atelier Tribal-Burlesque
Contenu de l'atelier: Technique et mini-chorégraphie
Dimanche 18 avril 2010 9h00 à 12h00
Lieu: École Anichka: 65 St-Judes, Laval
Tarif: 75$
Pour inscription, appuyez ici: http://www.boutique.anichka.ca/index.php?act=viewProd&productId=291
Vous devez mettre l'article dans votre panier, visualiser votre panier (en haut à gauche), puis suivre les indications Pour vous inscrire vous devez le faire via le site, car ce système comptabilise les inscriptions.
Vous pourrez choisir votre mode de paiement: Paypal, Chèque, Accès D ou dépôt bancaire Si vous désirez payer par chèque, votre chèque doit être post-daté pour maximum le 1er avril 2010. Aucun chèque ne sera accepté après le 1er avril, mais les autres modes de paiement seront toujours en vigueur.
Merci, Anichka
www.boutique.anichka.ca
April 25th, 2010
Fun and Funky Moves Workshop with Bahiya/Brenda
Time: 1:00 to 4:00
Cost: $35.00
Where: Manotick Legion
Things to bring: Snacks, yoga mat and of course your favorite shimmy belt.
Contact me at: brendastocker@rogers.com
We will be learning fun & funky moves to some great drum rhythms. We will practice some veil moves and also, how to connect to your audience when performing.
For class schedules you can check out my blog at:
ignite-your-inner-goddess.com or brendastocker.com
MAY 8, 2010




West End Bazaar
This is a bazaar fundraiser for the women's shelter known as Qimaavik, in Iqaluit, Nunavut. These ladies need help for supplies, utilities and security at the only shelter in the entire Territory.
25 vendors will be offering their wares, from Belly dance and Tribal costumes and accessories to food and Artists. Here is the list:
Creative Clothing by Roxane: costumes
TAV Creations and Eco-Tav: costumes
Shibori Borealis: hand painted silk veils
Zamira: costumes and weighted veils
Zena: accessories for dance
Hollywood Music Centre: CDs and DVDs
Patricia Zaid and Bahiya: costumes and dance accessories
Boutique Baladi Ruby: coin belts, accessories, costumes
Nassim Naturals: natural make-up
Rain Kazymerchyk: from Gallery6: silver jewellery
Wendy Stevenson: from Gallery6: photographer
Carol Pillar: from Gallery6: watercolour artist
Tara Heft: glass jewellery
Margaret Toner: gemstone beaded jewellery
Tarot by Lisa-Marie
Curves Gym
Carolyn Penney: jewellery
Margaret Cape: jewellery
Divine Image: dance teacher
Janet Brown: A More Beautiful You esthetician
Joan Jesion: BeautiControl beauty products
Aloette products ptresented by RoseMarie Keogh
Sylvie the Incredible Pastry chef
Belly Dance Supplies
Venue:
OUR LADY of PEACE Catholic School
3877 Richmond Road
Ottawa (Bell's Corners), ON, K2H 5C1
Canada
contact Roxane at : roxkirk at sympatico dot ca
Online POSTER
Check our FACEBOOK EVENT
NOT QUITE BELLY DANCE EVENTS:
April 9-10, 2010




The Goddess Revealed
ANJALI and Company featuring Basia Gowing
The Goddess Revealed
Mixed Media: Indian Classical Dance, Video, Images Music Text
April 9-10
7.30 pm
Arts Court Theatre, Ottawa
$25, $22 info tickets 613 564 7240
Classical Indian Temple and Court Dances
Mixed Media Dance-Theatre – Performed in front of Video and Images from Hindu Temples, sculptures and miniature paintings throughout India
Journey back in time to savour the classical arts of Ancient India through their temple dances and sacred spaces. The unfolding of tradition, history and imagination is assisted by stunning imagery and poignant narration.
première: Dance meets Yoga with BASIA GOING of Adishesh Yoga
APRIL 10,2010
Ottawa Turkish Music Ensemble Concert
Saturday, April 10, 2010 8:00pm
at Alumni Theatre, University of Ottawa,
85 University Private
Jock-Turcot building
Tickets $15.00 Adults, $10 students,
Reception to follow


SPRING CLASSES
TRACEY/HALYMA – Byward Market Area and Old Ottawa South
OLD OTTAWA SOUTH area ( Near the May Fair theatre)
260 Sunnyside – call 613 247-4946 to register in person or go online to http://www.oldottawasouth.ca
Tuesdays – start April 6
Level 1 – 6:30pm.-7:30pm. – ($63/ 8weeks)
Level 2 – 7:30pm.-8:30pm. – ($63/8 weeks)
(No Class on May 18th ) – These classes take place in the Hopewell School( Bank and Sunnyside/Hopewell), north gym, but you register at the community centre – online is easiest.
BYWARD MARKET AREA
172 Guigues – call 613 244-4470 to register or online through the City of Ottawa and follow the "how to register" instructions on the sidebar.
Mondays- start April 26:
Level 1 – 6:30pm.-7:30pm. ( $45/6 weeks) course code:434367
Level 2 -7:30pm.-8:30pm. ( $45/6 weeks) course code:434406
Thursdays – start April 29:
Level 1 – 6:30pm.-7:30pm. ( $ 45/ 6 weeks) course code:434373
Level 2+ – 7:30pm.-8:30pm.( $45/6 weeks) course code:434422
* Level 2+, also called "creative Intermediate", will focus on more personal development as a dancer/performer
General info about classes: www.bellydancingforfun.com
Zamira's Classes
**New SPRING 2010 class schedule**
*Belly Dance for Adults and Teens all levels*
A Beginner-Intermediate Belly Dance class with an emphasis on flexibility, muscle isolation and increasing muscle strength and grace. To run this class a minimum of 6 students is required.
Wednesday 7:00-8:00 PM
Mar 24 – May 26, 2010: 10 one hour classes $110
Drop-in fee $12 cash per class – no registration necessary. Try a class any time.
Classes take place at Makin' Moves Dance Studio:
1196 Bank Street at Ossington Avenue Old Ottawa South
For registration and information contact Zamira:
zamira@theveiledeye.com
613-797-4068
Jalilah's Spring 2010 Sessions:
RA Centre 2451 Riverside Drive, Ottawa
Belly Dance for Fitness a fast paced cardio class using only Middle Eastern dance movements! Perfect for both beginners to learn the basic Middle Eastern Movement repertoire and for intermediate dancers to improve stamina and technique! Mondays 10:30-11:30 a.m. at RA Centre 2451 Riverside Drive or Wednesdays 7:00-8:00 p.m. at the Rideau tennis Club 1 Donald Street April 12-June 23 2010-03-10 Price: Free for Life Fit Members $89 for RA members $114 for non-members
To register contact the RA Centre Tel (613) 7335100 www.racentre.com
Greta Leemings Studio of Dance 1460 Merivale Road, Ottawa
Intermediate a fun mixture of technique, drills, fluidity exercises, choreography, improvisation and more! Tuesdays 11-12:15 March 30 to June 15 2010 $156
To register contact Jalilah (613)2288215 jalilah@rogers.com
Denise Enan's Studio Oasis 200 St. Joseph, Hull
Beginner 5:30-6:30 p.m. Learn the basic Middle Eastern Movement repertoire and get a fun and healthy workout ! $85 for 8 weeks
Intermediate 6:30-7:30 a fun mixture of technique, drills, fluidity exercises, choreography, improvisation and more! $85 for 8 weeks
Advanced 7:30-9:00 in addition to technique, drills, fluidity exercises, choreography, and improvisation also musicality, learning how to create your own choreography and improvise all by yourself! Good for dancers who have been dancing a while and would like a challenge! $100 for 8 weeks
The new session started March 3 however you can join any time and missed classes will be pro-rated!
To register contact Oasis Studio (819) 7765033 (819)9622645 www.baladi.ca
Advanced Belly Dance Choreography with Shadia
Come and learn a challenging drum solo that will be performed in June.
Date: Starts this Tuesday, March 30th from 8:30-9:30pm
Location: 858B Bank Street at 5th Ave. Below Booster Juice.
Cost: $90 for 7 weeks or $77 for full-time students
Please register at http://dancewithalana.com/register.php
Classes with Zeevah
Cabaret Style Belly Dancing for Beginners/ Belly Dance Basics
Beginners will learn enough basic steps and veil movement for a complete choreography. The style taught is American Cabaret belly dance which allows for freedom in the interpretation of movement. Perfect for beginners. Wear comfortable clothes and bare feet or flat dance shoes.
Spring Dates 2010 8 Weeks $66/person + GST
St. Patrick's HS Tues 7:00 pm-8:00 pm Start Apr 20 (24028)
ON LINE www.winterconnections.com
Click on General Interest Courses to view program and to
sign up for a course. Login ID and PIN numbers are required for use of our online registration system. If you do not have an account but wish to create one please send your request for a login ID and pin number along with the student's full name, home phone, work phone, home mailing address, and return email address to Continuing.Ed@ottawacatholicschools.ca.
Spring classes with Loulouh
Sandy Hill Community Centre (613) 564-1062
Wednesdays
Level 1 – Mar 24 to May 26
$68 for 10 weeks
6 to 7 pm
Program Code 437079
Thursdays
Level 2 – Mar 25 to May 27
$68 for 10 weeks
5:30 to 6:30 pm
Program Code 437081
Level 2/3 – Mar 25 to May 27
$75 for 10 weeks
6:30 to 7:45 pm
Program Code 437084
Level 3/4 – Mar 25 to May 27
$75 for 10 weeks
7:45 to 9 pm
Program Code 437088
Contact Loulouh at:
www.fusesite.com/gratitude
loulouh@rogers.com

Bellydancing with Zena
Spring Schedule
Kanata: Classical Dance Academy, 100 Castlefrank Rd., (613) 836-5725
Monday nights at 8:15-9:15 pm for Beginners starting Apr. 12, 2010. 10wks/$105
Thursday afternoons at 1:00-2:15 pm for Intermediate/Advanced starting Apr. 15, 2010. 10 wks/$105 taxes included.
Stittsville: Astral Fitness, 44 Iber Rd. (613) 831-2348
Thursday evenings at 6:30-7:30 pm for Beginners. Available to current gym clients with a full one year membership.
Belly Dancing with Sha' Vega
Spring Session
If you have yet to register, do so as soon as possible to avoid disappointment. These are the last classes Sha' Vega will be teaching in Ottawa for a while, so if you have ever wanted to study with her, now is the time to do it.
~~~~~~~~~~~~~~~~~~~~~~~~~~~~~~~~
MONDAYS at South Fallingbrook in Orleans:
Mom & Daughter belly dance – child (6-14 yrs) – $36
Course code: 435123
Mom & Daughter belly dance – adult (15+ yrs) – $38.75
Course code: 435120
April 12 – June 14 (no class on May 3 and 24)
5:15 – 6:15pm
Level 1/2 – $44.50
April 12 – June 14 (no class on May 3 and 24)
Course code: 435487
Level 2/3 – $44.50
April 12 – June 14 (no class on May 3 and 24)
Course code: 435488
~~~~~~~~~~~~~~~~~~~~~~~~~~~~~~~~~~~~
TUESDAYS at McNabb Rec Centre in Centretown
Level 1 / 2 – $91
Apr. 6 – June 22
6:00 – 7:15 pm
Course code: 423318
Level 3 / 4 – $91
Apr. 6 – June 22
7:15 – 8:30 pm
Bar Code: 423330
~~~~~~~~~~~~~~~~~~~~~~~~~~~~~~~~~~~~~
THURSDAYS at McNabb Rec Centre in Centretown
Level 1 / 2 – $91
Apr. 8 – June 24
6:00 – 7:15 pm
Bar Code: 423323
Level 3 / 4 – $91
Apr. 8 – June 24
7:15 – 8:30 pm
Bar Code: 423334
Lisa-Marie Serafin
Ceramic Artist/Middle Eastern Dance Artist
Poterie du Lac la Blanche
http://lablanchepoterie.com/