This is a guest post from Renee – enjoy:Remember to click on any coloured and underlined text for more detailed info!
Bellysurfing #3 Jalilah's Journey by Renee
Back in January, I signed up for a beginner's belly dance class at the Greta Leeming dance studio . Our instructor was Lorraine Chamas or Jalilah.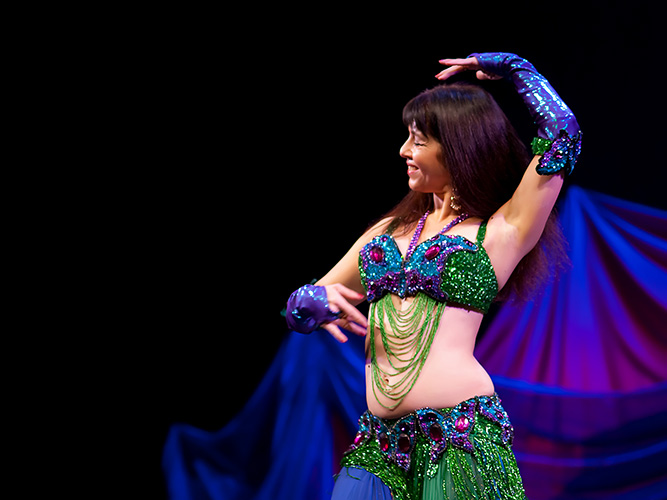 Click on photo to see more pics by Howard Sandler
After a few classes, I began to notice that Jalilah had a diverse approach to belly dancing. She taught various forms of shimmies that I had never seen before. She diligently dissected dance movements and emphasized the importance of hand and arm co-ordination with each step. As I watched her demonstrations, I almost felt that Jalilah had a spiritual connection to her art form.
It turns out the Jalilah has been practicing Oriental dance or Raks Sharki since the 1980's. She travelled throughout Europe performing with "The Musicians from the Nile". She danced in 5 star nightclubs and hotels in Egypt and Morocco. She was featured in two television documentaries and in a Spanish TV production and she had something else, music. Wonderful music.
Around lesson five, I knew nothing about Jalilah at this point; I had to ask her where she bought her CD's. In her lovely gentle voice she replied, "I sell them." At first I thought that she meant she sold them for a friend or bought them through a distributor. I couldn't have been further off the mark. "I've produced 6 CD's, " she said. Produced? Did I hear that correctly?
Jalilah happily conveyed her business adventures with Piranha musik , the German record company and with Ishan Al-Mounzer , the composer/musician that conducted and played on the recordings.
Below is a short interview about Jalilah's musical journey.
Why did you want to work on this project?
I lived in Berlin, Germany from 1980 to 1995. I went there originally to study and got involved in the dance in 1984.
Around 1989, I was performing at least 5-10 times a week, and going to Egypt regularly to study with various instructors. I worked with Piranha, which at that time as well as producing CDs was an agency for artistic talent. They were booking tours for me, and I knew that they produced records as well.
Piranha music started sending me samples from recordings sent to them by various artists to ask my opinion. These tapes were often heavily synthesized, even the violins and the qanoon on them weren't real, and I didn't like most of them. This was the type of music that was very popular in this genre in the late 1980's and early 90's: lots of synthesized sound.
What was the motivation behind the records?
I told Piranha that I liked the style of music that I heard in Cairo during the dance performances. This music had a full orchestra with violins, oud, qanoon and nays. There are excellent albums of this kind produced in the 70s on LPs.  By the late 80s, there really weren't many productions with that type of sound. Nowadays that is no longer the case.
Dancers today don't realise how lucky they are to have so many good recordings! After listening to all these new synthesized music tapes, I asked myself, "Why don't I produce my own music, in the traditional style that I keep hearing in Cairo?' and so the idea behind the "Jalilah's Raks Sharki" series was born! I approached Piranha, and while they were hesitant at first because of my inexperience recording, they decided to give me the go ahead.
It took two trips to Cairo in 1990 to find and interview people to work with. I was up against a huge barrier: I was a woman, a dancer and from the West. They had the image of me as a "dumb western dancer" and did plenty to test me. People would come up to me, with tapes from old productions that had been already done years ago, and try to pass them off to me as original. Or would ask me to pay them outrageous sums. It was unreal. But I finally met Mokhtar Al Said, and knew I could work with him.
He completely understood what I wanted. He was easy to work with, so I decided that he would be the one to help me with the album, and I returned to Germany to make the arrangements. In October 1990 I returned to Cairo for the recording. I was in the recording studio the entire time of the production (dancing I should add!) as well as during the postproduction, mixing and so on. The result was the first CD "Raks Sharki- Mokhtar al Said."
Since then I have also worked with other musicians/arrangers like Hossam Shakir (Volume #3 Journey of the Gypsy dancer) and Ihsan Al Mounzir (Volume #5 Stars of the Casino Opera and Volume#6 In a Beirut mood)
What did you do as an artistic producer?
Aside from playing finger cymbals, I don't play any instrument. But as the Artistic producer I find the arranger and his musicians. I select all the songs, decide their order, and which instruments highlight in each song. I write most of the sleeve notes on the CD cover as well.
Where did you find the musicians?
I always let the arranger pick his own musicians. It is easier that way, however I always insist on taking a dancers drummer and not a studio drummer. At first I had to really fight for this!
Who is your inspiration?
Aisha Ali an American dancer who in the early 70s went to Egypt, Tunisia and Algeria to record music.
She put out 3 LPs, Music of the Ghawazee, music of the Oulid Nail and Music of Tunisia.
———
Jalilah is also an accomplished writer herself, with her latest article on the Gilded Serpent, an online magazine with fabulous resources!
Her next workshop: Understanding and Interpreting Middle Eastern Music in Ottawa hosted by Julie Tierney is filling up quickly!
Thank you to Renee and Jalilah for their time and effort to produce this article!  If you enjoyed this article, please add you comments below!T/H