Last night I slept with Squishy, my new best friend- and it was different!
Squishy arrived yesterday afternoon and cuddled with me on the futon, creating this bubble of comfort that actually made me speechless! ( I really couldn't be bothered to talk and texted @wtl who was there right beside me)
After a short while, I realized I had better move Squishy to its new home in the bedroom, otherwise I would just lie there, getting nothing done!
I found a sheet I had stitched years ago to accommodate camping mats and it slipped right onto Squishy's long and cushy body. There was concern the Squishy might come between us, but I reassured WTL that would not happen- the bed is big enough for all three of us!
After a couple of movies and relaxing time with WTL, we came to the end of the day, where the anticipation of what awaited me in bed was growing!
Climbing in, and wrapping my arms and legs comfortably around Squishy, I soon felt the shift in my reality to new levels of ecstasy!
Zzzzzzzz
I awoke this morning to note that Squishy had indeed worked itself between WTL and I, a sign that I still might have been somewhat active overnight.
I do believe this is the start of a beautiful friendship!!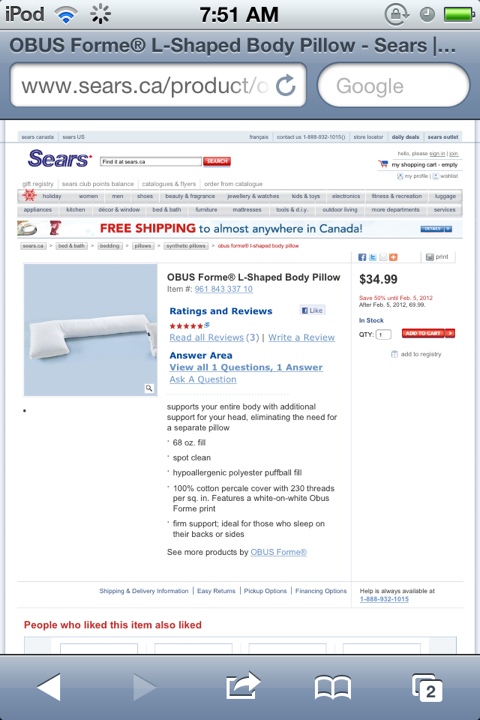 You can get your own Swuishy here:
http://www.sears.ca/product/obus-forme-l-shaped-body-pillow/696-000018333-6475?campaign=rr_item_ClickCP_0_1