I've made piecaken/ Cherpumple in the past and this smaller version has one other difference- the Lemon Cake with Blueberry pie baked into it.
It is also Dairy free, with the substitution of lactose free margarine in the buttercream icing, coconut oil melted with the dairy/nut free dark chocolate drizzle, and reduced fat in the cakes, using apple sauce instead of oil.
The gallery shows the stages- the concept being to have 3 pre made and baked pies, mix 3 cakes up and put cake batter and a pie in each cake pan.
Bake for longer than recommended, about 20 minutes extra.
Chill each layer completely for at least 3 hours before assembling.
Apply a crumb coat to the cool cake.
Chill again and then frost fully and decorate as you wish.
The spiderweb was created by melting coconut oil and dark chocolate together and drizzling it onto the surface, letting it drip.
The gnarly cake bits were cut off from the overflow that happened when the cakes were baking. I thought there might be some spillage, so I put each tin on a cookie sheet, and the overflow looked like cooled lava! Great fluke that added to the finished look!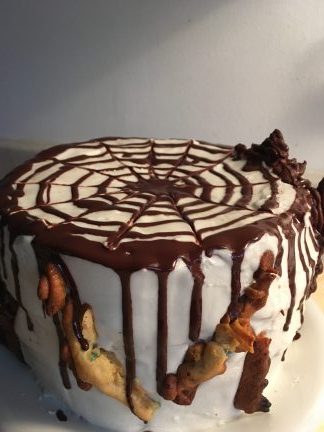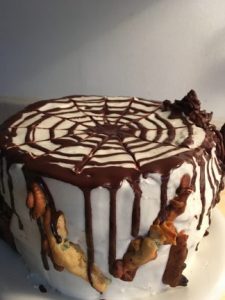 Cake drippings create a fab gnarly texture!