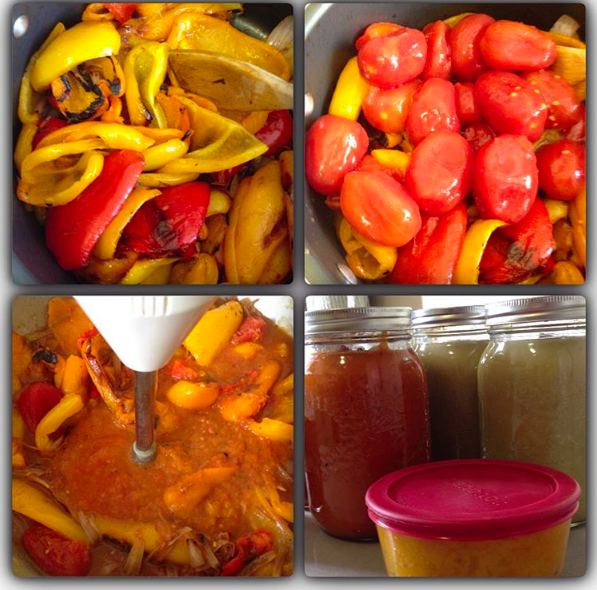 Today is this week's Domestic Day/ Zero People Day/ 0CommitmentDay / Do Whatever I want Day.
So when I am not sewing, seeing clients for sewing, dancing, teaching dance, teaching sewing, and planning for either upcoming sewing or dance events, I like to cook and bake. Oh, I know – you know that already…
Ok – here's the Roasted Pepper Tomato Soup recipe.
Roast a pile of peppers:
Lightly oil 2 cookies sheets for about 10 medium size peppers.
Oven = 400 degrees Farenheit
Wash the peppers, split in half, take out the seeds and toss them all in a huge bowl with a bit of olive oil.
Spread them out on the cookie sheets and get them roasting while you take care of the rest of the soup. Maybe 20 minutes… check 'em – see when they start to char. them take them out.
I leave them on the cookie sheet until I'm ready for them, then take them off and peel away any really burnt skin/ section.
In a large saucepan, start cooking the onion, and tomatoes:
Heat 1 tablespoon of olive oil on medium heat. Chop an onion – I used red and it was large so I only used half.
toss it in and saute until it smells awesome. Add in one can of whole tomatoes, and cover and let simmer. < Purists are welcome to peel and seed fresh tomatoes, if that's your prerogative.>
If your peppers are ready, toss them into the pot and let it all continue to cook.
Add spices to your liking – salt and pepper, basil, oregano, I went italianesque for this batch.
I happened to have roasted a small pumpkin while roasting the peppers and could not fit all of it into my 2 cup container, so I added the remaining pumpkin to the soup too.
Once the peppers are tender, or you are bored, do what you do to puree soup.  I toss it into a big stainless bowl and use an immersion blender – as you can see.
Jar it/ serve it/ find a friend who makes homemade bread and barter some in exchange for a fresh loaf…
Enjoy.